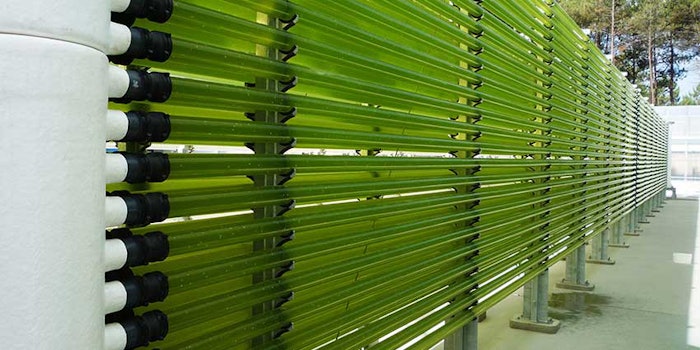 Allmicroalgae
Allmicroalgae has unveiled its expansion plan, including the installation of a second fermenter, which will be key in helping to achieve an expanded production capacity of 120 tonnes by 2022.
Related: Yemoja Opens Sustainable Microalgae Plant
Allmicroalgae is also planning to expand its capabilities to produce specific species tailor-made to customer requirements for different market sectors.
Customers can request algae species Nannochloropsis oceanica, Chlorella vulgaris, Tetraselmis chuii, Phaeodactylum tricornutum and Scenedesmus sp., which are reportedly quality sources of macro- and micronutrients with valuable nutritional profiles and a wide range of functionalities.
This makes the algae ideal not just useful in food supplements targeted at the sport and fitness sectors but also in feed and cosmetic applications.
Allmicroalgae's expansion plans were given a boost thanks to the announcement of a recent partnership with Greentech. The joint venture is supporting Allmicroalgae to expand its global presence.

The company's microalgae are cultivated in photobioreactors and fermentation vessels with continuous monitoring of cultural parameters and contaminants before biomass is harvested through ultrafiltration. The microalgae are then spray dried and packed in a protective atmosphere with each batch verified as free of contaminants by an independent third-party laboratory.
According to Allmicroalgae, the company does not use fertilizers or pesticides in the species it produces and is committed to using minimal energy. Furthermore, the water that circulates in photobioreactors is reused, as are any nutrients still present in the water after production.
"The rapidly growing market for natural, sustainable ingredients with added health benefits proves the importance of our goal to make nutritious and sustainable microalgae accessible to all," said Margarida Eustáquio, business development at Allmicroalgae. "In response to the increasing demand for algae-based solutions, we are more than happy to be able to expand delivery and to further approve services to our customers. Our products combine the best of both worlds–functionality and a clear ethical conscience. Our expansion demonstrates that economic growth and sustainability can be smartly combined when using future-proof raw materials and techniques."