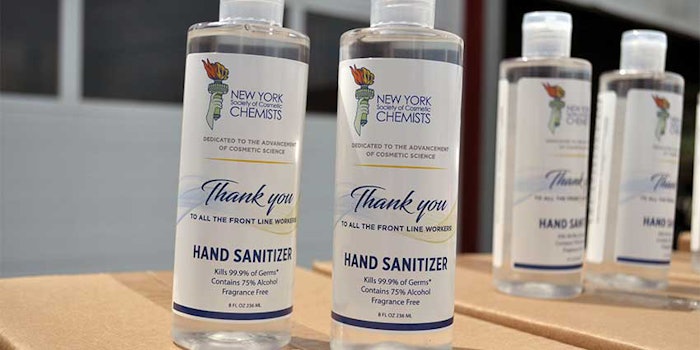 NYSCC
The New York Society of Cosmetic Chemists (NYSCC) has donated more than 8,000 bottles of U.S. Food and Drug Administration (FDA)-approved hand sanitizers to front-line workers in New York and New Jersey medical centers, hospitals and care centers, as well as veterans' and nursing homes. 
Related: Andalou Naturals Donates 1K Sanitizer Units to American Red Cross
In addition, the NYSCC has provided customized COVID-19 prevention kits including medical masks, handle protectors, hand sanitizers and more to several of its sister chapters and select members.
The customized hand sanitizers, in particular, benefited organizations including Access Medical Associates, Express Home Care, NYC Health + Hospitals, The Oaks of Denville Independent Living and many others.
Reportedly, the NYSCC and other organizations have been able to distribute almost 7 million PPE items to front-line health care and civil servant workers, as well as small businesses that need protection. 
The customized hand sanitizers were manufactured by a NYSCC member company. Many member companies in personal care and product development either donated or switched their manufacturing process at the start of the pandemic to produce products for front-line workers. 
"NYSCC has witnessed heroic actions and resiliency from front-line workers throughout the cities and states that are the home base for our membership and member companies," said Giorgino Macalino, chairman of the NYSCC. "We are honored to provide some virus protection to these health care professionals and civil servants during this unprecedented time."