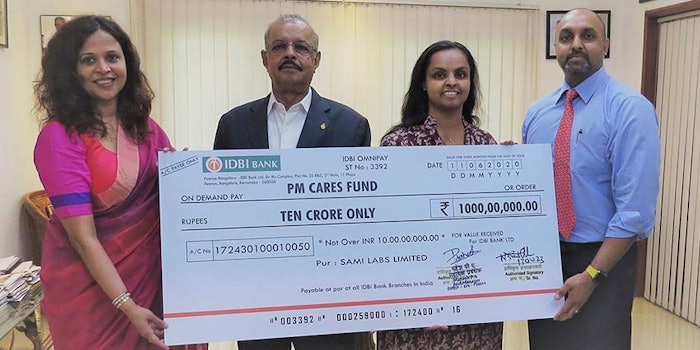 The Dr. Majeed Foundation, a non-profit institution established by Muhammed Majeed, Ph.D., founder and chairman of Sami-Sabinsa Group, has channeled significant support to individuals impacted by the COVID-19 pandemic through contributions to organizations and its own community outreach programs to vulnerable communities in Bengaluru and Hyderabad, India. Financial contributions include $1.32 million (₹10 crores) to the Prime Minister's Citizen Assistance and Relief in Emergency Situations Fund (PM CARES Fund), and more than $250,000 (₹2 crores) to the Karnataka State Disaster Management Authority.
Created in response to the pandemic in India, the PM CARES Fund will be used for combating, containment and relief efforts against the COVID-19 outbreak and similar situations in the future. Money raised by the PM CARES Fund has supplied 50,000 ventilators, invested in vaccine development and funded the care of migrant laborers.
Over the past several weeks, in Bengaluru and Hyderabad, the Dr. Majeed Foundation distributed a total of 3,600 kits containing essential food items, protective equipment, hand sanitizers and health supplements. Teams from Sabinsa's parent company, Sami Labs, helped to distribute items to poor, aged and vulnerable people living near the company's Hyderabad facility.
"We have always believed in supporting the less fortunate while giving back to society and the nation," Majeed said. "Today, as the COVID-19 pandemic poses an unprecedented challenge for the country, supporting efforts such as the PM CARES Fund is a step toward helping combat the virus."