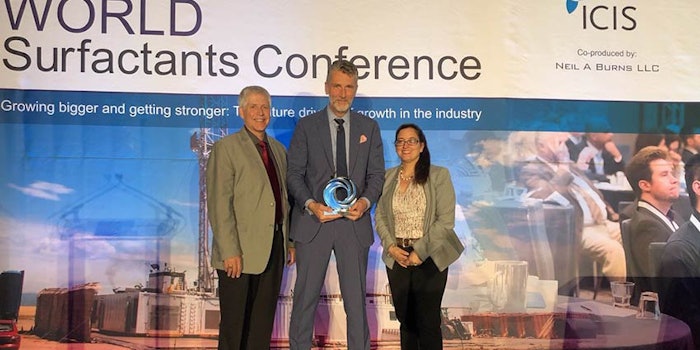 Eastman's care chemicals division has received the 2019 ICIS Surfactants Award for Technology Innovation, for its Eastman GEM amphoteric surfactant.
The awards recognized "excellence, innovation and outstanding achievements" in the industry; the Technology Innovation award is bestowed upon a new technology or technological solution. Eastman's GEM technology is a novel amphoteric surfactant with properties similar to traditional amphoteric surfactants. It can be applied in both personal and home care.
The award was presented to Marcie Natale, market development manager, and Neil Boaz, technology fellow, during the ICS World Surfactants Conference in New Jersey.
"Neil and I are incredibly proud to be part of this technology development team in Care Chemicals," said Natale. "Our customers have an appetite for innovation, and they rely on innovative material companies like Eastman for practical solutions. This award reflects our long-term commitment to fulfill our purpose to enhance the quality of life in a material way."