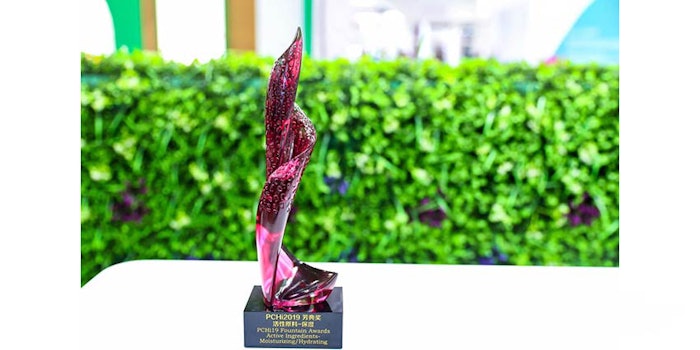 Symrise's Hydrolite 5 Green took home the "Actives, Moisturizing & Hydrating" Fountain Award at the 2019 Personal Care and Homecare Ingredients (PCHi) trade show in February.
As the "green" version of the company's pentylene glycol, Hydrolite 5 Green (INCI: Pentylene Glycol) is made from bagasse, a by-product from production from sugar cane. It moisturizes the skin; boosts the efficacy of other ingredients; and improves the aesthetics of and enhances the protection of cosmetic products.
Related: Symrise to Debut Hydrolite 5 Green at in-cosmetics Latin America
When presenting the award, the jury noted that the product "was created with sustainability in mind. It meets all the requirements of resource recycling, and also the reuse of renewable resources." They also cited its certifications and "good market prospects."
"This award that we have received at PCHi, represents China's recognition of our approach to sustainability" said Chung Sin Wong, vice president, Symrise cosmetic ingredients division, Asia-Pacific. "It also raises awareness of our expertise in sustainability, in Asia, as the PCHi awards are highly regarded throughout the region."
Symrise presented a number of products made from renewable raw materials at the trade show, including SymFinity 1298 (INCI: Echinacea Purpurea Extract); SymVital AR 3040 (INCI: Zingiber Officinale (Ginger) Root Extract), a 100% natural ingredient for preventing pollution-induced pigmentation; and SymMatrix (INCI: Maltodextrin (and) Rubus Fruticosus (Blackberry) Leaf Extract), a natural multilevel protection against premature skin aging.