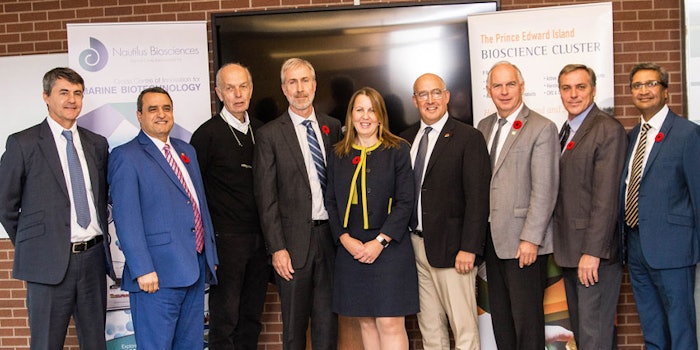 Croda International celebrated the official opening of its Center of Innovation for Marine Biotechnology. According to the company, the center, located on Prince Edward Island (PEI) at Nautilus Biosciences, will accelerate the company's R&D program to identify sustainable and natural sources for functional ingredients for a broad range of industries, including personal care.
Celebrating a Biotech Future
The ribbon-cutting celebration on Oct. 31, 2018, was held at the Regis and Joan Duffy Research Center at the University of PEI and included senior representatives from Croda, as well as the President of UPEI, Alaa Abd-El-Aziz, Ph.D.; Provincial Minister of Health and Wellness Robert Mitchell; and members of PEI's bioscience business and research community.
"Croda is a company that values innovation and invests in new technologies to deliver value to our customers today and in the future," said Sandra Breene, president of personal care for Croda International.
"The acquisition of Nautilus [early in 2018] is part of our journey to expand from being a manufacturer of specialty chemicals into an organization that embraces biotechnology as the answer to many of our customers' and the consumer needs for new actives in a truly sustainable way."
Speeding Discovery
The Nautilus facility opening follows an investment by Croda in an automated high-throughput screening system to speed the discovery of new products derived from the marine microbe library. 
Russ Kerr, Ph.D., Canada research chair in Marine Natural Products at UPEI and founder of Nautilus Biosciences, has worked since 2007 to establish the Marine Microbial Library at UPEI by collecting marine samples from oceans around the world. He also has developed techniques to assess their value as sources of sustainable chemistry. Through a six-year collaboration with Croda, UPEI has realized the potential of marine natural products in providing new chemical entities.
"This is an exciting day for us," said Kerr, research fellow, Nautilus Biosciences Canada Inc., now part of the Croda group of companies. "We've been very fortunate to build on a relationship with a multinational specialty chemical company that values growth through sustainable innovation, enhancing our ability to discover even more marine microbes as a potential source of commercial ingredients. We are very proud to be opening this Center of Innovation in Marine Biotechnology in Prince Edward Island."
Community Support
According to Croda, Nautilus's partnership with UPEI, along with support from the Atlantic Canada Opportunities Agency, National Research Council, and the Government of PEI, were key to its success. Nautilus has become one of the successful spin-offs from the University of Prince Edward Island, building the university's reputation as a leading innovation centre in Atlantic Canada.
"To see Dr. Kerr take a great idea, collaborate with other faculty and our students, and develop this idea into an entrepreneurial opportunity like Nautilus Biosciences is so wonderful, and what the University is here to support," said Alaa Abd-El-Aziz, Ph.D., president and vice-chancellor of the UPEI.
"Through the hard work of many in our UPEI community—faculty, staff and students—this partnership between Nautilus Biosciences and Croda has become reality. Many thanks to Croda for choosing our campus and Nautilus Biosciences as the location for its Center of Innovation for Marine Biotechnology."
Expanding Expertise
The Nautilus Biosciences Croda Center of Innovation for Marine Biotechnology further expands Atlantic Canada's expertise in ocean technologies. The R&D capabilities and infrastructure that Nautilus Biosciences has established through Croda's support and investments are also a magnet attracting other businesses to the PEI Bioscience Cluster.
"Croda's investment in Nautilus is a testament to the quality of the innovation ecosystem in PEI. Our business, research and government partners work together to help academics and early stage companies commercialize their technologies and attract new investment," said Rory Francis, executive director of the PEI BioAlliance.
"This is how we continue to grow this sector and increase its contribution to our provincial economy."