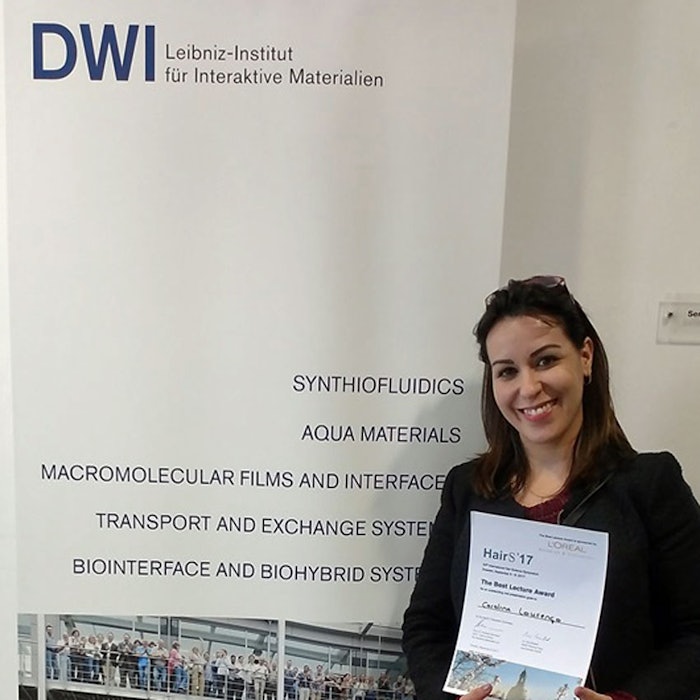 DRESDEN, Germany—During this year's HairS'17 hair science symposium, the German Wool Institute (Leibnitz Institute for Interactive Materials, or DWI) presented Symrise with a Best Lecture Award for its paper on a hair tress specification study. According to the company, the findings presented will play a key role in developing ingredients and formulations to solve different hair needs.
In the paper, "Damage Specification for Human Hair Tresses Using Fluorescence Microscopy and DSC," hair researchers examined the differences between virgin and damaged human hair tresses using these techniques, complemented with mechanical properties studies. They used hair tresses such as virgin dark brown Caucasian hair. During their work, the researchers noticed differences within the same hair type and studied the implications of these differences in tests. Similar work was described previously by Evans.
Gerhard Schmaus, Ph.D., head of research for cosmetic ingredients at Symrise, congratulated his colleagues on this achievement: "My thanks go to Adelino K. Nakano and Carolina Lourenço for their hard work and professional engagement," he said. "You have reached a landmark in our hair research efforts. This award will definitively have an impact on the visibility and credibility of Symrise as a major player in hair research and product development for our customers."
Indeed, the company has stepped up its presence in the hair care category; additionally presenting posters at HairS'17 on: evaluating split ends using a novel image analysis technique; and on the effects of a hair treatment to address the adverse effects of bleaching and dyeing, as well as UV, thermal and mechanical damage on both Caucasian and African hair.
The company's focus on hair repair aligns well with Euromonitor's observations for rising consumer demands from hair care products. In a new report, the market research firm noted that along with efficient cleansing, "hair care products are expected to moisturize, nourish and offer reparative benefits." Further, While many consumers engage in time-intensive, deep conditioning treatments, busy daily routines provide an opportunity for products that provide multifunctional benefits.