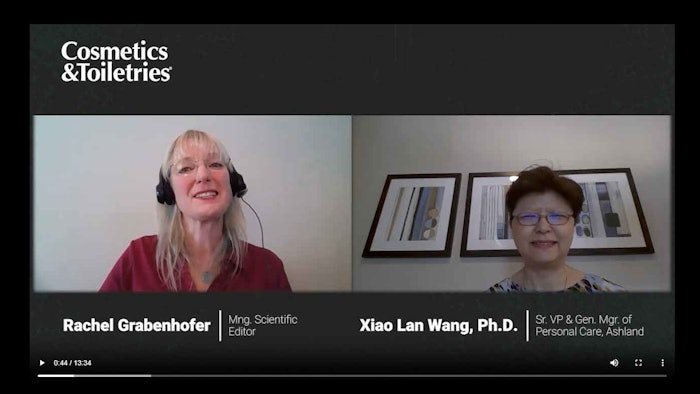 This video is sponsored by:
Ashland Specialty Ingredients
The narrative of sustainability has cycled through many stages to arrive at what consumers want today: responsible beauty, according to Xiao Lan Wang, Ph.D., senior vice president and general manager of personal care for Ashland. In this sponsored interview, she explains how Ashland's latest launches advance responsible beauty – and do it with style, as seen during in-cosmetics Global. Ashland brought these and other ingredients to life through a nature-inspired fashion show, complete with models strutting the catwalk in apparel made from natural materials.
"I think we're certainly in a very exciting era, with demand from consumers [being driven] probably by the realization that we've got to do something to protect our environment. ... There is a drive for sustainability, a call for biodegradability and for a naturality index ... In my view, what the consumer is really looking for and wants to see is the supplier or brand owner take responsibility — really doing something, taking care of the environment ... and also taking care of the consumers' well-being."
Committed to meeting these demands, Ashland has launched several ingredients that strictly follow ESG guidelines. The two described here are Softhance MR, a nature-derived, biodegradable conditioning agent, which was launched at in-cosmetics Global; and Sclareance, a biofunctional from clary sage designed for anti-dandruff and scalp care applications.
Register now to watch learn more; it's free.