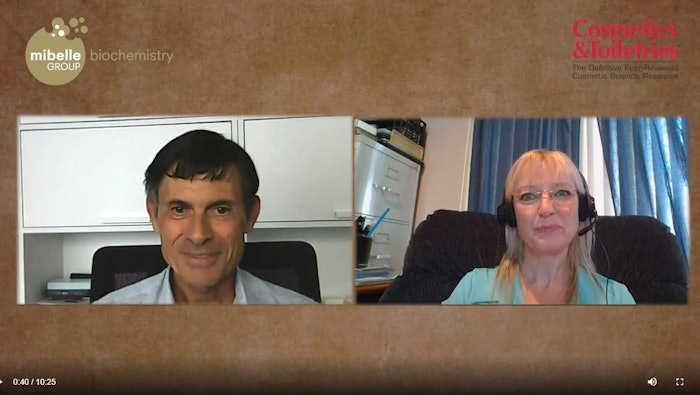 This video is sponsored by:
Mibelle AG Biochemistry
Retinol's benefits for skin are well-known, but so are its instability and proclivity for irritation. As an alternative, Mibelle AG Biochemistry innovators identified an active in the aromatic resin of mastic tree bark that can provide similar effects through a novel mechanism: inhibiting the CYP-26 enzyme that degrades skin's innate retinoic acid. This, in turn, increases natural levels in skin.
From this specific tree, which grows only on the Greek island of Chios, a novel ingredient was developed and tested for skin-rejuventating and clarifying effects: NovoRetin (INCI: Pistacia Lentiscus (Mastic) Gum (and) Lecithin (and) Pentylene Glycol (and) Glyceryl Caprylate/Caprate (and) Caprylic/Capric Triglyceride (and) Water (Aqua)). Fred Zülli, Ph.D., founder and business development director for the company, explains how it fits into today's anti-aging market in this sponsored video.
Retinol is a old ingredient rediscovered, according to Zülli. It is recognized by consumers as an active molecule for skin rejuvenation and impurities. "It is interesting that consumers are again interested in this molecule," he said, adding, "so companies try to formulate versions of this molecule; but it is unstable and can be irritating." 
This prompted the company's work to find an alternative approach to impart retinol-like activities without the issues of instability and irritation. "By inhibiting the CYP-26 enzyme that degrades retinoic acid in our skin, it maintains a higher level of innate retinol in skin for the same effects. We 'stole' this idea from pharma," said Zülli. 
Learn more about the product's development—plus current and future trends in anti-aging in this sponsored video. Watch now: