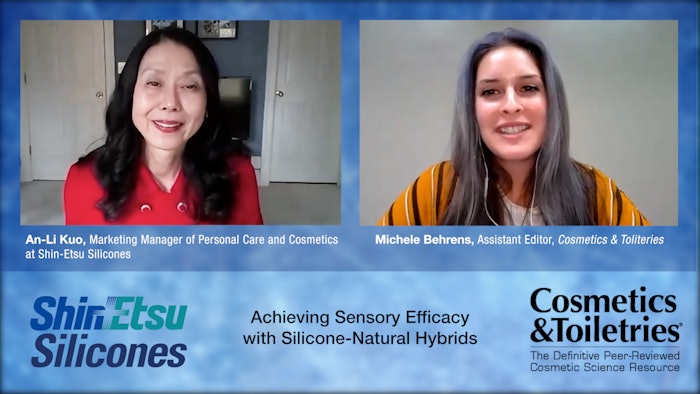 In this video interview, sponsored by Shin-Etsu Silicones, Michele Behrens, of Cosmetics & Toiletries, connects with An-Li Kuo, marketing manager of personal care and cosmetics for the company, about recent silicone-natural hybrid launches. Kuo further discusses each ingredient's properties and what it means to improve product feel naturally in skin creams and color cosmetics such as foundation. 
A few key silicone-natural hybrids highlighted include emulsifying elastomers, non-emulsifying elastomers and a film-former. Each ingredient has been used in combination to create various formulations such as face creams and a foundation. 
"It's very important for material producers, like us, to deal out products that address both natural and efficacy," explained Kuo. "Silicones have a proven track record for beautiful sensorial properties and have a tried-and-true safety profile. I hope consumers will not give up on silicones anytime soon, even though naturals are such a large trend, and that's what we try to do today [by combining naturality with silicones]."
Watch now; it's free.