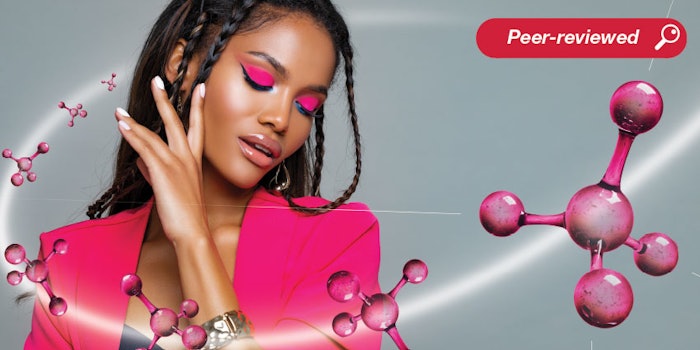 For the full version, read the April 2023 edition of C&T magazine.
The global color cosmetic market in 2021 was estimated at $70.34 billion, which is projected to reach $94.49 billion by 2029.1 For this expanding market, the need for new and innovative solutions is a must to stay competitive.
Within the sphere of color cosmetics, polymers have played a crucial role. Traditional acrylates and silicones have been used in makeup to make them waterproof, prevent smudging and provide long-lasting color. Despite their wide use, however, they pose some technical challenges. Traditional polymers are ineffective at low levels, requiring a large amount (> 30%) in formulations to meet acceptable performance criteria for wear/water resistance. This adds to the cost of formulas and still may not meet customers' standards and/or environmental regulatory requirements.
The present work applies acrylates and other polymers differently. Here, a polymeric composition is used to form a 3D network that acts as a medium for spontaneous molecular encapsulation. It does not function as a one-dimensional film former as traditional polymers do; e.g., dimethicone and cyclopentasiloxane. Rather, it forms a microsphere suspension in which the polymeric strands weave through one another.2 The resulting network demonstrates increased strength, as will be shown.3 Furthermore, the microspheres encapsulate and seal the colorant, supporting its retention both in solution for a stable appearance, and on the skin.
The purpose of this article is to introduce the color-encapsulating network to support formulators creating color cosmetics. First the polymeric network was characterized visually with and without pigment. Its particle size distributions for both also were compared with that of free pigment alone. Then, its color stay performance in a test lip color base was evaluated in volunteers in lab and at-home experiments over the course 24 hr.
For the full version, read the April 2023 edition of C&T magazine
.
References
Fortune Business Insights (2022, Apr). Color cosmetics market size, share and COVID-19 impact analysis by target market (prestige product and mass product), by distribution (offline and online), by application (nail product, hair product, lip product, face product and others) and regional forecast 2022-2029. Available at https://www.fortunebusinessinsights.com/colour-cosmetics-market-104305
Pure and Applied Chemistry. (2007). Definitions of terms relating to the structure and processing of sols, gels, networks, and inorganic-organic hybrid materials (IUPAC Recommendations 2007). Available at http://publications.iupac.org/pac/79/10/1801/index.html p 814
Curtius, A.J., Covitch, M.J., Thomas, D.A., and Sperling, L.H. (1972). Polybutadiene/polystyrene interpenetrating polymer networks. Polymer Engineering and Science. 12(2) 101–108.