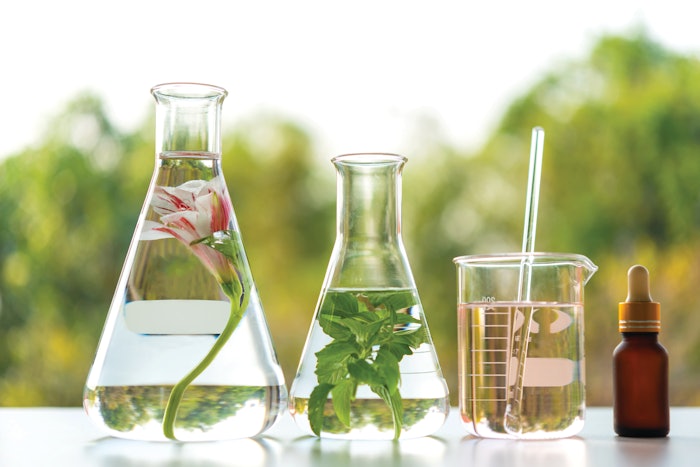 Read the full version in the February edition of  C&T magazine
This month's Expert Opinions addresses skin barrier protection, which is subject to interpretation. According to a paper in the Journal of Clinical and Aesthetic Dermatology, by definition, a topical formulation that adequately blocks commonly encountered irritants and allergens from gaining access to the skin is said to provide skin barrier protection. Ingredients stated to provide this effect include aluminum magnesium hydroxide stearate and silicate derivatives (dimethicone, cetyl dimethicone, cyclomethicone).1 The same source states that such products differ mechanistically from a formulation that provides skin barrier repair by incorporating ingredients that reduce TEWL, increase stratum corneum hydration, replenish physiological lipids and exhibit properties that appear to support SC function and integrity. Example ingredients in this case include hyaluronic acid, niacinamide, ceramides and precursor lipids.
Clearly, formulating a product for each of these perspectives takes different approaches and ingredients. So from a commercial perspective, perhaps the better questions to ask are: What do consumers consider to be barrier protection? What ingredients do they seek?
Skin care brand La Clinica calls it out for consumers in, "9 Best Ingredients for your Skin Barrier." Ingredients named include ceramides, hyaluronic acid, niacinamide, glycerin, oat beta glucan, allantoin, panthenol, ethyl linoleate and chia seed oil.2 Similarly, retailer Beauty Bay outlines: "8 Ingredients Your Skin Barrier Will Love" and its list includes ceramides, squalane, niacinamide, omegas, SPF, hyaluronic acid, colloidal oatmeal and probiotics3 — notably, both articles came out in 2022, underscoring the relevance of this subject to today's consumers. Healthline additionally suggests plant oils, ceramides, hyaluronic acid, petrolatum and glycerin for skin.4
Growth in several of these ingredient markets shows the message has reached consumers. The global ceramides market was valued at US $95.14 million in 2021 and is projected to reach $163.49 million by 2030.5 The hyaluronic acid market reached $8.9 billion globally in 2021 and will climb to $9.4 billion in 2022.6 The fatty acids market is also anticipated to grow to $51.21 billion by 2028, reportedly owing to the emollient benefits of these ingredients for skin.7 Indeed, solutions for skin barrier protection will continue to grow alongside the expanding skin care market, which is estimated to reach $145.82 billion
by 2028.8
The next questions to ask are: What current market drivers influence the skin barrier protection market? And where will future innovations come from? We asked industry experts to weigh in; following are their responses.
Read the full version in the February edition of  C&T magazine
References
1. Del Rosso, J.Q. (2014 Feb). Incorporation of a barrier protection cream in the management of chronic hand dermatitis. Available at https://www.ncbi.nlm.nih.gov/pmc/articles/PMC3935650/
2. La Clinica. (2022, Jun 3). 9 best ingredients for your skin barrier. Available at https://www.laclinica.com/blogs/news/9-best-ingredients-for-your-skin-barrier
3. Beauty Bay. (2022, Apr 16). 8 ingredients your skin barrier will love. Avaiable at https://www.beautybay.com/edited/best-ingredients-for-skin-barrier/
4. Stanborough, R.J. (2022, Aug 31). What to know about your skin barrier and how to protect it. Available at https://www.healthline.com/health/skin-barrier#bottom-line
5. Straits Research. (Accessed 2023, Jan 6). Ceramide market. Available at https://straitsresearch.com/report/ceramide-market
6. Grand View Research. (Accessed 2022, Nov 30). Hyaluronic acid market size, share and trends analysis report by application (dermal fillers, osteoarthritis, ophthalmic, vesicoureteral reflux), by region (MEA, EU, North America, APAC), and segment forecasts, 2022 - 2030. Available at https://www.grandviewresearch.com/industry-analysis/hyaluronic-acid-market
7. The Brainy Insights. (2022, Feb 16). Fatty acids market to reach $51.21 Bn, globally, by 2028 at 8.70% CAGR: The Brainy Insights. Available at https://bit.ly/3GnmiGi
8. Fortune Business Insights. (2022, Aug 17). Skincare market size to surpass USD 145.82 billion by 2028 at a 5.52% CAGR. Available at https://www.globenewswire.com/en/news-release/2022/08/17/2499901/0/en/Skincare-Market-Size-to-Surpass-USD-145-82-Billion-by-2028-At-5-52-CAGR.html