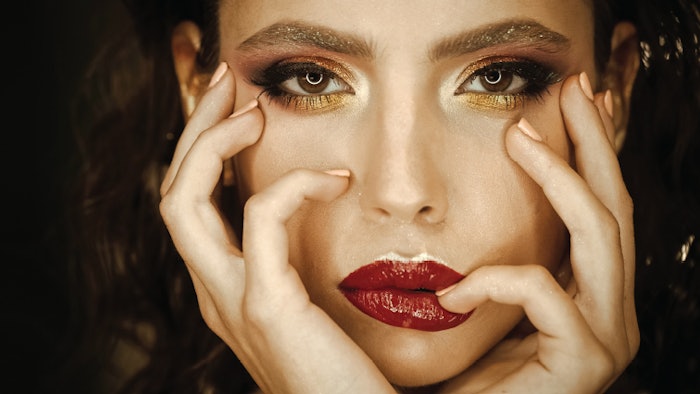 Color cosmetics refer to a broad category of makeup products designed for skin, cheeks, eyes and lips. By one estimate, this segment was valued at US $76.59 billion in 2021 and is projected to reach $112.9 billion by 2028.1 This multi-billion-dollar segment continues to grow, building on centuries of color use in personal care routines dating as far back as the ancient Egyptians.2 Such regimens might not be as recognizable as today's cosmetics but are similar, and have played a role in religious rituals, beauty enhancement and the promotion of good health.
From the roaring 1920s with dark eye shadow and bright red lipstick, to the iconic 1980s with dramatic and bold colors of electric blue, orange and green, color cosmetic trends continue to evolve. Today, color cosmetics have morphed into products that provide inclusive options for all shades of skin and dual functions that not only provide color, but skin care benefits as well.
Color and Payoff
With a large gamut of color options, consumer skin tones and potential skin benefits, formulating color cosmetic products demands a strong attention to detail and multiple variables to be addressed. For starters, the various color hues of human skin require different ratios of red iron oxides, yellow iron oxides and black iron oxides and sometimes titanium dioxide to achieve products that accommodate all skin shades.
The mathematic ratios required to achieve these hues can sometimes seem counter intuitive. Black iron oxide does not always make the overall color hue darker, but sometimes makes it deeper in shade. To achieve a darker skin tone hue, it often requires an increase in both red iron oxide and black iron oxide.
The same is true when trying to achieve lighter skin tone colors. It would seem as easy as decreasing black iron oxide or red iron oxide or both, but this is not the case. Adding titanium dioxide does not always lighten up the blend; it usually only increases the payoff of the current color. The best fix is to slightly increase titanium dioxide and increase yellow iron oxide in tandem.
Read more in the September issue
References
Brandessence Market Research and Consulting Pvt. Ltd. (2022, Mar 28). CAGR of 5.7%, color cosmetics market size to hit USD 112.90 billion in 2028, says Brandessence Market Research. Available at https://www.prnewswire.com/news-releases/cagr-of-5-7-color-cosmetics-market-size-to-hit-usd-112-90-billion-in-2028--says-brandessence-market-research-301511564.html
Mark, J.J. (2017, May 4). Cosmetics, perfumes and hygiene in ancient Egypt. Available at https://www.worldhistory.org/article/1061/cosmetics-perfume--hygiene-in-ancient-egypt/