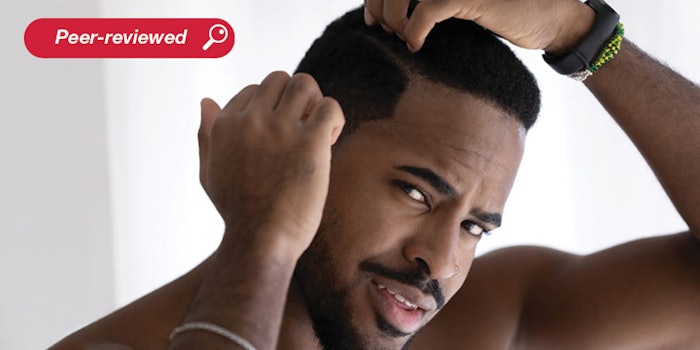 Read the full article in the June 2022 digital edition. . .
Seborrheic dermatitis (SD) and dandruff are often considered the same chronic dermatological condition, although the former affects multiple seborrheic areas of the body such as the face, chest and scalp, whereas the latter is restricted to the scalp.p1ppThe symptoms associated with such conditions are often uncomfortable and can include irritation, itching and increased scaling of the scalp; it is still heavily debated whether inflammation symptoms such as red rashes and pruritus are specific to SD or if they can also occur in dandruff. In terms of scaling and flakes, these can be dry or greasy and are in fact clustered corneocytes detaching from the stratum corneum.
Dandruff is a major concern of our time as it is widespread, with approximately 50% of the adult population affected, and it does not discriminate—every gender in every corner of the world experiences it.3 The psychological impact of both SD and dandruff should not be underestimated. Those afflicted often suffer feelings of shame, embarrassment and loss of self-confidence, mainly due to itching in public and the appearance of flakes or scaling, which are falsely linked to a lack of hygiene.1, 2
A Head-scratcher
Even though dandruff is a highly discussed and researched dermocosmetic subject, many questions subsist. Defining a unique cause for its occurrence has not been possible, as its etiology is thought to be a multifactorial process, i.e., factors playing interdependent roles.
However, a link between dandruff and increased scalp colonization by the lipophilic Malassezia yeast genus has been established by multiple studies. While colonization of the skin by fungi is nothing abnormal, and Malassezia yeasts are part of the commensal human flora, compared with those who are not affected, the development of Malassezia yeasts is strongly increased.5, 6
. . .Read more in the June 2022 digital edition. . .
References
Borda, L.J. and Tongyu, C.W. (2015). Seborrheic dermatitis and dandruff: A comprehensive review. J Clin Inves Derm 3(2).
Meray, Y., Gençalp, D. and Güran, M. (2018, Dec). Putting it all together to understand the role of Malassezia spp. in dandruff etiology. Mycopathologia 183(6) 893-903.
Manuel, F. and Ranganathan, S. (2011). A new postulate on two stages of dandruff: A clinical perspective. Intl J Trichology 3(1) 3-6.
Turner, G.A., et al. (2012). Stratum corneum dysfunction in dandruff. Intl J Cos Sci 34(4) 298-306.
Hay, R.J. (2011, Oct). Malassezia, dandruff and seborrhoeic dermatitis: An overview. Br J Dermatol 165 suppl 2:2-8.
Vijaya Chandra, S.H., Srinivas, R., Dawson, T.L., Jr. and Common, J.E. (2021) Cutaneous Malassezia: Commensal, pathogen or protector? Front Cell Infect Microbiol 10 614446.