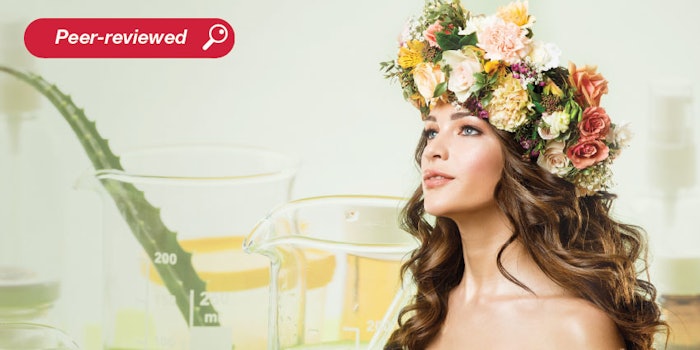 Read the full article in the February 2022 digital edition. . .
It is well-known that natural cosmetics are no longer niche; the natural beauty sector awakened in the 1990s1 and its global market value has increased ever since.2 However, natural cosmetics are not (yet) officially regulated in harmonized legal terms on a global level. While the International Organization for Standardization (ISO) released guidelines for technical definitions and criteria for natural and organic cosmetics in 2016 and 2017,3, 4 these are not obligatory and individual countries may choose to implement them or not. On the other hand, there are many other certifying bodies governing so-called natural cosmetics, which are discussed next.
Indeed, natural may be everything that is found in nature; or, even stricter, it may be everything that is found in nature and is not man-made—and so on. The present article considers certifications for not only natural cosmetics but also evidence-based concepts in product development and scientific progress. It also explores the balance between performance and composition and posits whether natural is rational.
Certifying Bodies
The ambiguous meaning of naturalness and natural cosmetic ingredients, the lack of harmonized5 legislation and the evolving consumer demand for environmentally friendlier products have contributed significantly to the establishment of certification institutions as authorities that set standards for so-called natural cosmetics. These certifiers and standards, outline the various mandated criteria and recommendations products must meet in order to be labeled as natural. Today, from the average consumer's perspective, certification institutions play an important role because they are trusted as a reliable tool to recognizing "truly" natural products.6, 7
. . .Read more in the February 2022 digital edition. . .
References
Dayan, N. and Kromidas, L. (2011). Formulating, Packaging and Marketing of Natural Cosmetic Products. John Wiley and Sons. Available from http://www.wiley.com/go/permission.www.wiley.com.
Statista (accessed 2021, Aug 13). Global market value for natural/organic cosmetics and personal care in 2018-2027. Available at https://www.statista.com/statistics/673641/global-market-value-for-natural-cosmetics/
ISO (2016, Feb). ISO 16128-1:2016. Guidelines on technical definitions and criteria for natural and organic cosmetic ingredients and products—Part I: Definitions for ingredients. Available at https://www.iso.org/standard/62503.html and https://www.iso.org/standard/65197.html
Beerling, J. and Sahota, A. (2014). Green standards, certification and indices. In: Sahota, A., ed.: Sustainability: How the Cosmetics Industry is Greening Up, 1st edn. Chichester, John Wiley & Sons. p 218.
Pitman, S. (2017, Sep 21). Why consumers struggle with natural and organic labelling and how to fix it. Available at https://www.cosmeticsdesign-europe.com/Article/2017/09/15/How-to-stop-confusing-consumers-with-organic-and-natural-labelling
Culliney, K. (2021, Mar 25). Natrue study finds 'naturalness' top driver in EU beauty purchases. Available at https://www.cosmeticsdesign-europe.com/Article/2021/03/25/Natrue-beauty-market-study-finds-naturalness-key-for-German-French-consumers
Janeš, D. and Kocevar Glavac, N., eds. (2018). Modern Cosmethics. Ingredients of Natural Origin, A Scientific View, vol 1. Velenje, Slovenia: Širimo dobro besedo d.o.o. Available at https://moderncosmethics.com/product/modern-cosmetics/