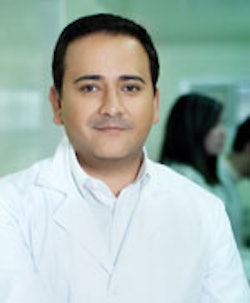 Senior Researcher, Belcorp Colombia
John Jiménez was trained as a pharmacist at the National University of Colombia. He earned his master's degree in sustainable development at the Escuela de Organización Industria (EOI) business school in Madrid, with specialized studies in marketing, neuromarketing and cosmetic science.
Jiménez began his carrier in the cosmetic field in 1999. He joined the R&D department at Belcorp in 2005, where he currently is the senior exploration scientist for the skin care, personal care and sun care categories. His research activities include pipeline innovation development, and exploratory and applied investigation.
Before joining Belcorp, Jiménez was employed at Whitehall A.H. Robins, Fresenius Medical Care and Esko Laboratories in Colombia. He is the author or coauthor of more than 25 scientific publications, has participated in many conferences and congresses, and has written a regular column on market trends in Cosmetics & Toiletries Brasil since 2013.
He also has received a number of awards, including: the Maison G. de Navarre Prize, at the 23rd IFSCC Congress (USA 2004); best scientific papers at XIX Colamiqc (Ecuador 2009), XXI Colamiqc (Brazil 2013) and Farmacosmética (Colombia 2014); and the Henry Maso award, at the 29th IFSCC Congress (USA 2016).