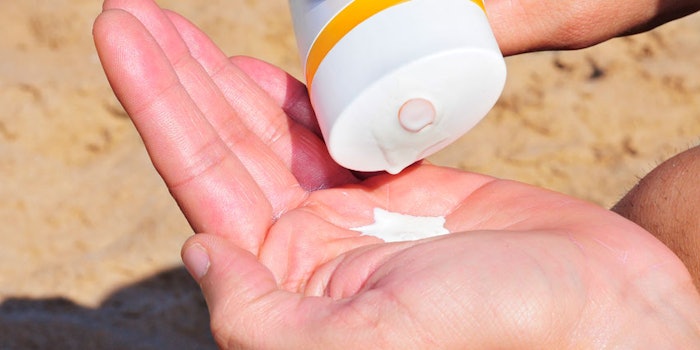 A new surface-treated zinc oxide technology with enhanced aesthetics will take the main stage during the 2019 Sunscreen Symposium, thanks to Vizor, LLC.
According to the company, it will present on this technology during the Florida chapter Society of Cosmetics Chemists' event in Lake Buena Vista, FL, to be held on Sept. 12-14, 2019. The presentation, "Surface Modifications and Impact on SPF Efficacy—Zinc Oxide, a Case Study," will introduce the company's two new next-generation inorganic sunscreen ingredients, marketed under the Super Zinc brand: Super Zinc Natural (INCI: Zinc Oxide (and) Polyhydroxystearic Acid) and Super Zinc 1000 (INCI: Zinc Oxide (and) Triethoxycaprylylsilane (and) Ethyl Ferulate).
The company reports its patent-pending surface modification technology is oil dispersant-free and can nearly double SPF values with less material and better aesthetics than conventional zinc oxide ingredients. Presenting on behalf of Vizor will be Kevin O'Brien, general manager. 
O'Brien noted in a press statement, "Barrier sunscreens like zinc oxide and titanium dioxide are the future of the sun care market—across all product types—particularly as regulatory agencies look more closely at chemical sunscreens. In a market that is rapidly changing and where consumers are looking for innovation in new product forms with ultimate convenience, the Super Zinc line of sunscreen ingredients is a real opportunity to develop products that combine high levels of protection with consumer-pleasing aesthetics in safe products."
Both Super Zinc Natural and Super Zinc 1000 feature USP grade zinc oxide with a critical wavelength of > 376 nm, suggesting broad-spectrum coverage and very high UVA-PF. Both ingredients are non-nano, photostable, GRASE and approved for global markets. Furthermore, products are provided in formulator-friendly dispersions that can easily be dosed into finished products, whether it calls for an oil-in-water, water-in-oil, pickering emulsion or alcohol-based suspension.
For more information, visit the Florida Chapter SCC Sunscreen Symposium website.