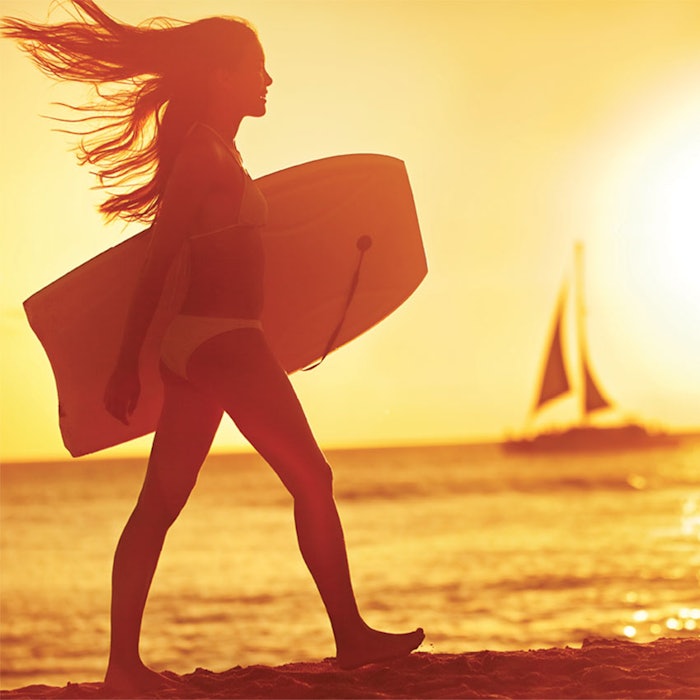 It's the solstice today (I wrote this in June), the height of outdoor engagement and merriment. Like many, our family is planning a summer vacation—boating and swimming on a lake with friends for an entire week. Moments like these are what skin care formulators have been training for. What do I mean?
As your consumer, what greater exposure will I have to the elements? I'll certainly put sunscreen (and deodorant) to the test under sweat, water and UV/vis/IR. No doubt my hair color will be tasked, and moisturizer, anti-wrinkle cream and skin-soothers like aloe (hopefully not much) will enter the equation. Not to mention the lake, with its own microbial inhabitants and possible pollutants; thus, body washes, too.
None of this will stop the fun, although as my family and friends plan our travel route and meals, I'll be focused on packing the right personal care products. But I have full confidence in your formulas because you read Cosmetics & Toiletries.
That brings me to this edition. Here we explore a novel approach to UV protection: fortifying skin's natural folate pool, which protects against free radical damage (see Page 34 in digital edition). We examine what happens after "the dust settles" on skin, in a test method to scan promising anti-pollution solutions (see Page 50 in digital edition). We also learn how natural antimicrobial peptides preserve not just products, but harmony within skin's microbiome (see Page 24 in digital edition). And three must be our lucky number this month, as we take a look at internal hair damage (see Page 58 in digital edition) and skin separation techniques (see Page 16 in digital edition); both of which are part III in their respective series.
As I pack our bags for vacation, I thank you for your skill and effort to make these products (and our trip) possible. There's no way I'd want to spend hours in the sun, sweating and burning, then return to a rental house with 10 other sore and smelly people for days in a row. You make it not just bearable but beautiful.
~Rachel L. Grabenhofer, Cosmetics & Toiletries Managing Editor