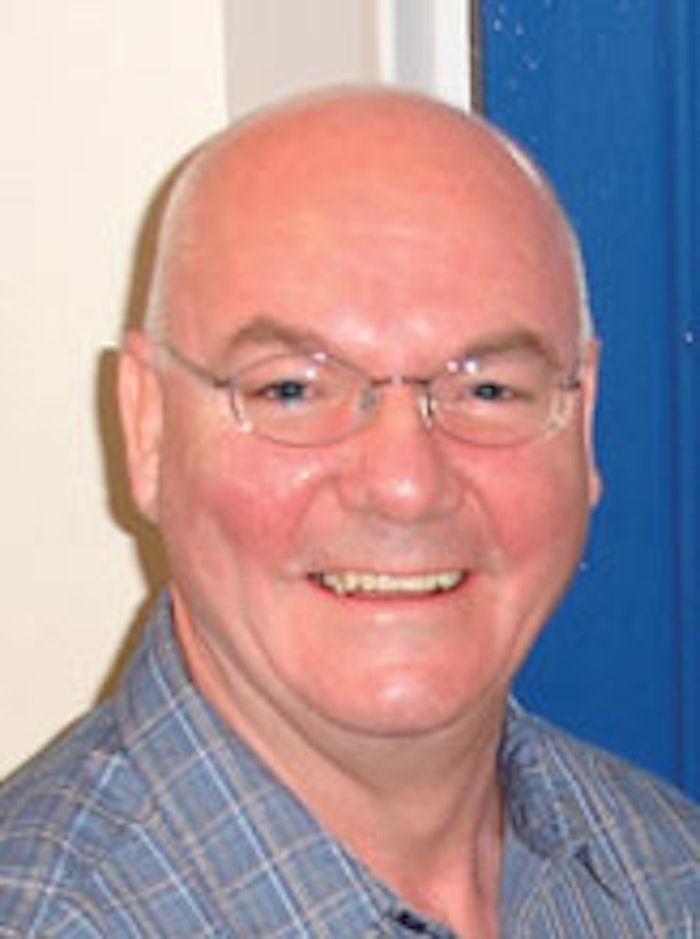 Jack Ferguson, PhD, believes that gaining a deeper understanding of consumer needs has propelled the industry forward, and he would know—part of his role is to think like consumers, as he advises on cosmetic product claims for British television. "You have to have better claims and products that work," says Ferguson, who adds, "and cosmetics are knocking on the borderline of drugs." He notes that unlike the U.S. marketing rules, in the UK, manufacturers have the opportunity to offer cosmetics that are physiological, so long as there is good support data and the products are safe. This belief for scientific support and products with real benefits echoes that of his early mentors, as the following highlights of his career demonstrate.
C&T: Describe your background and education interests.
Most of my studying was in Scotland at the University of Strathclyde, in Glasgow. My first degree was in biology and chemistry, then I went straight into my PhD but in bioengineering—a slightly different route. Bioengineering is the application of engineering to biology and medicine, so here I studied with engineers, physicists, etc. My focus was on skin's structure and mechanical properties, and the effects of substances on the skin. During that time, I also worked with Professor [Pierre] Agache in the dermatology department at the Hôpital St. Jacques in Besançon, France. This was really a nice experience that led me into skin; at that point, it was either go into cosmetics or pharma.
C&T: How did you get started in personal care?
I first got into skin care in 1978 when I went to work for what was then the Beecham Products company in London. It eventually merged with SmithKline Beecham, then Glaxo Wellcome to become what's now GlaxoSmithKline. Beecham had quite a number of cosmetic products at the time, many in Europe and some in South Africa. There, I measured the skin benefits of products and ingredients. It was an interesting place to start.
Then I moved to Boots in Nottingham, again looking at skin benefits, but moved on to innovative technologies. Here I was looking at ingredients and testing methodologies for product claims. At a senior manager level, I had greater responsibilities including testing and innovation for the Soltan brand and for Boots baby and No.7 Brand. I also worked on pharma skin care for eczema and photosensitive skin. Boots is also where I looked at sun protection in a new way, and jointly developed the UVA star rating system.
After Boots, I went to Oriflame Cosmetics in Dublin as R&D director for the Swedish company and was responsible for all of product development, formulating, testing, etc. It is a fast-moving consumer goods (FMCG) company, with several hundred cosmetic products of all different types launched every year, although some are outsourced. The culture there was based on the hard-working Swedish philosophy with a can-do spirit. When a company is oriented in this way, ideas are rapidly put through into product.
C&T: Who were your mentors? Can you share any stories?
Max Bryce, the chap who recruited me into Boots, was one. He emphasized the importance of a scientific basis behind cosmetics. For him, it was just not about theory, but about getting results—and being sure to question results to make sure you know how they work. Cosmetics should not just be decorative, but have functional benefits. In fact, he demonstrated this at a big press event launching a product, where he famously applied the barrier cream he had developed and put his hand in concentrated acid, showing the product's protective effects.
Mary Lord, the current VP of R&D at Oriflame, was another. She highlighted the importance of working with people, utilizing their skills and giving them fair opportunities in the work environment to get the best results from a hard-working, focused team. Also, Prof. Agache, who had strong dermatological skills and an inquisitiveness about the science; he had a special interest in cosmetics.
C&T: What led to your current focus in sun care?
As I mentioned, while at Boots, we introduced a new way of looking at sun care via the UVA/UVB ratio and UVA star rating system. I was a primary promoter on the technical side when it was launched. What the UVA star-rating system does is provide sunscreen manufacturers an option of labelling UVA protection levels higher than the minimum European standard 1/3 ratio of UVA to UVB, which is equivalent to UVA three stars. It allows for the differentiation of higher UVA protection up to five stars, which is close to a 1/1 ratio. This is important because we still don't fully know what role UVA plays in cancer, although it definitely promotes photoaging. Providing more protection is better—and I would argue the higher the UVA protection, the better.
I also have operated at international levels with the CTPA and Colipa European trade associations, served on a number of standardization committees for product testing, and chaired the European Task Force for sun products. The first European SPF test was defined and published by Colipa when I was chair.
C&T: In your experience, how has the industry changed?
Mainly, science and technology have improved. Consider European and U.S. sunscreen test methods. Both regions are looking at UVA and trying to optimize tests in regard to SPF. These are big changes in the level and quality of protection we are providing the consumer. Europe has better opportunities to provide consumers with protection because the U.S. Food and Drug Administration has limited the use of certain UV filters. But many new and current projects include strategies for sun protection in a wider range of product types. Larger companies are also investing in developing innovative products and improving offerings to consumers; and the understanding of consumers' needs has improved.
Suppliers are stepping up to the plate too, developing and innovating new raw materials and actives, and making it possible to create super product textures and provide better functional products. Suppliers play a key role in cosmetic product innovation and help in the creation of new product concepts, which keeps taking the industry forward. The collaboration between suppliers and developers is very important for this process to continue to be successful.
C&T: What advice can you give novice cosmetic scientists?
To do a job well, you have to be involved in the detail of product development. Whether it is formulation, testing or regulatory, gaining personal hands-on experience is irreplaceable. Understand the science and technology, experiment and learn.
C&T: What is on the horizon for the industry?
Science and technology are important and will continue to push the industry further. Another main driver is that we're becoming very much aware of the world market, yet there's still a need for niche products. For instance, you might see growth in sun care products in Europe, eastern regions like China and India, or Latin America, but you have to consider the reasons why people are using these products. Do the consumers want full sun protection, or a gradual tan? The cultural reasons for protecting against the sun can also be different. So once again, it all comes down to understanding consumer needs. It's an exciting time for cosmetics; the industry is broadening, creating more challenges for formulators and other cosmetic scientists and, in turn, the need for imagination and innovative skills. The demand for this is increasing, pushing for creativity in formulating, testing and claims.