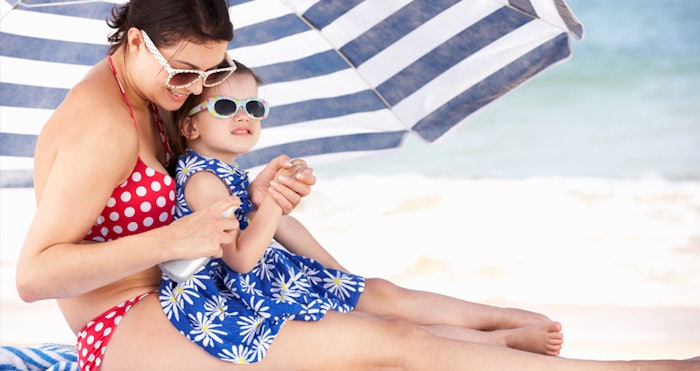 A Fast-changing Market
Following years of intense communication around the danger of repeated sun exposure, it is now well-accepted that sun protection should be an essential part of our daily routines. This growing awareness keeps fueling not only the solid growth of the sun protection category (5% CAGR over the next 5 years), but also the extension of sun protection-related claims into other categories such as Color Cosmetics, which have grown 42% since 2015!
This growing popularity has propelled the sun care category under the spotlight and has brought tighter scrutiny over its use and composition. Consumers are being bombarded with information that creates confusion around the overall safety and efficacy of sunscreens. To keep users satisfied with the performance of these essential products and sustain the previous growth made category, the industry needs to promptly address the main challenges it is facing.
Aesthetic Challenge
Sun protection only works if people want and remember to apply it. Not just once, but consistently throughout the time of sun exposure. Unfortunately, sun care products are often associated with negative sensorial attributes, like stickiness and greasiness. Poorly formulated products created with mineral filters can create a white coverage on the skin. If the user believes a product is unpleasant to apply to the skin, this will considerably reduce its application, which will lead to increased, direct exposure to damaging UV radiation.
Enticing usage by creating a pleasing experience should be one of the key aspects of any formulation work.
Safety Challenge
There has been extensive coverage of the recent developments around the concerns related to the use of sun filters. Sun filters are heavily regulated ingredients and the rules dictating how they should be used in sun care formulations vary from one country to another. Lately, several discussion and changes have impacted the category.
In Europe, the European Commission has recently reviewed its regulations for mineral sun filters:
Size of the particle: Several investigations have investigated the safety of nano particles used in cosmetics in general.  Most studies have shown no evidence that nano-particles of titanium dioxide or zinc oxide can cross the skin in excess amount. Breathing in nanoparticles, however, has been identified as a potential source for lung irritation and inflammation. The use of nanoparticles has thus been limited to non-breathable applications.
Photo-activity: While zinc oxide is a rather inert material, titanium dioxide can demonstrate significant photo-catalytic activity and generate accelerated oxidation on skin. This activity is strongly based on the type of titanium dioxide particle and on its surface. For these reasons, the European Commission only allows rutile form of nano titanium dioxide, and only accepts a limited range of surface treatments.
Environmental Challenge
Several studies have recently concluded that the presence of sunscreen ingredients can be detected in coastal waters. When swimmers go into water, these particles can be washed off the skin and accumulate in local biosystems. The National Oceanic and Atmospheric Administration (NOAA)  has published several studies on the toxicity of commonly used sun filters for coral reefs and marine life in general.  The administration has a long list of ingredients, including many organic sun filters, that they believe should be avoided.  In the wake of these findings, the state of Hawaii and other countries have recently passed new laws regulating the presence of these ingredients in the sun care products sold locally.
What Consumers Want
There is no question that sun protection is essential to public health and it is important that consumers have access to products that are safe, effective and pleasant. Mineral sunscreens have started to gain popularity as they resonate with people's appeal for more natural formulations and interest for ingredients that present less risk of skin penetration. This enthusiasm can be felt across the globe, from China where most women favor mineral sunscreens, to the USA where sales have shown steady growth over the past few years.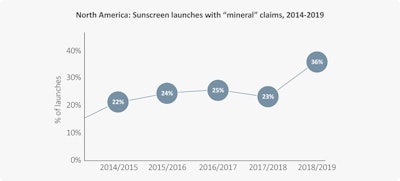 Interest for non-nano zinc oxide, in particular, has dramatically increased. Because zinc oxide has been left out of many recent regulatory changes and controversy, it is becoming the active ingredient of choice for sunscreen formulations positioned as safe and natural.
Working with non-nano particles is especially challenging when trying to create formulations with high transparency on skin, a nice feel and a high SPF.  Formulators need to pay attention to several factors:
Shape of the particles
Size of the particles
Dispersibility
With all of this in mind, Sunjin Beauty Science has designed a new grade of non-nano zinc oxide, SUNZnO-OLEO 200. Sunjin's process creates zinc oxide particles at a size of 200 nm, which makes them non-nano by European regulations, but their unique shape contributes to their high level of transparency. When compared with traditional nano zinc oxide, SUNZnO-OLEO 200 demonstrated a similar level of transparency, making it a great candidate for sun care formulations that feel invisible.
SUNZnO-OLEO 200 particles are surface-treated with naturally-derived cetyl alcohol. This coating helps increase zinc oxide particles' lipophilic performance, which contributes to a better dispersion in the oil phase. With improved dispersion comes increased SPF, as zinc oxide particles more homogenously cover and protect the skin surface. Sunjin Beauty Science also is using an environmentally friendly process, which allows SUNZnO-OLEO 200 to be COSMOS-certified.
This new technology offers formulators an ideal ingredient to create high performance sun care formulations that will address customers' needs for safe and effective sunscreens. Request a sample today to try this new technology.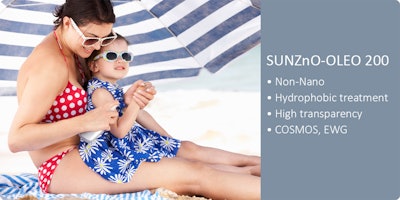 Disclaimer:
The above paid-for content was produced by and posted on behalf of the Sponsor. Content provided is generated solely by the Sponsor or its affiliates, and it is the Sponsor's responsi­bility for the accuracy, completeness and validity of all information included. Cosmetics & Toiletries takes steps to ensure that you will not confuse sponsored content with content produced by Cosmetics & Toiletries and governed by its editorial policy.