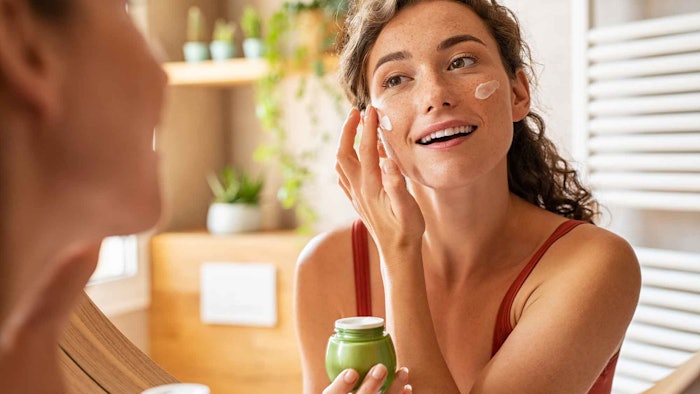 Cambrium, a Berlin-based expert in the design and manufacture of high performance molecular building blocks, has released the ex vivo efficacy data results for its NovaColl vegan-certified collagen. The ingredient is described as a new class of collagen produced through yeast fermentation, rather than animal extraction; it debuted at in-cosmetics Global in 2023.
A micro-molecular and 100% skin-identical collagen, Novacoll (INCI: Sh-Polypeptide-47) was designed for premium personal care formulations. Its efficacy was tested by a third party in ex vivo human skin explants treated (or not, control) with NovaColl. Assessments were made for changes in the density of the collagen matrix, expression levels of collagenase and the synthesis of procollagen 1 (the precursor to collagen) and collagen 1. Following is an overview of the results, which corroborated previous in vitro studies; the full details are available upon request,
See related: Cambrium Debuts NovaColl, to be Featured at in-cos Global 2023
Antioxidant, Protectant and Collagen-building Effects
In terms of skin density, the ingredient was shown in vitro (RT-qPCR technology) to protect native collagen against UV-induced oxidative stress by signaling the transcription of the gene that encodes for HO-1, an enzyme that synthesizes antioxidants. Ex vivo, birefringence revealed this effect prevented the degradation of and improved the collagen matrix density.
In terms of skin maintenance, in vitro results (RT-qPCR technology) demonstrated NovaColl reduced the expression of the gene encoding for MMP-1 in skin cells. Ex vivo, immunofluorescence showed the ingredient decreased MMP-1 levels in UVA-treated skin explants.
Finally, NovaColl was shown ex vivo (immunofluorescence) to stimulate the production of procollagen I, in turn enabling the synthesis of collagen I in skin explants treated with collagenase (i.e., aged). This effect was significant after three days of use.
"Our molecular design technology enables us to achieve unprecedented material performance," said Lucile Bonnin, Cambrium's head of R&D. "We are very pleased that this data supports the unique 'protect, maintain and enhance' claim for NovaColl." 
Further efficacy studies for the ingredient are in progress.
See related: PCA Skin Announces Pro-Max Age Renewal, Microgravity Anti-aging Serum
Smaller Size + Skin Identical = Greater Efficacy
According to Mitchell Duffy, Ph.D., CEO and co-founder of Cambrium, the micro-molecular structure is what, in part, enables the ingredient's efficacy. "It is smaller than the usual collagen ... you would produce from animals," he said, which per Duffy is about 1,000 amino acids long. Instead, the most efficacious segment of the collagen was identified.
"We only produce the very efficacious subsegment," he explained, adding that instead of having to break down collagen to work with its smaller parts — which are also less efficacious — you're getting only the part you need. "We can just make 100% of this [subsegment], and that is great for our customers as they can use less volume while getting even better efficacy results."
Furthering NovaColl's efficacy is its 100% skin-identical structure that is said to provide new levels of biocompatability and enable powerful effects across skin layers. "It's 100% skin identical," said Duffy. "It is not biomimetic. It is not biosimilar. It is exactly the same sequence that you and I have in our skin."
He continued, "We have tested [NovaColl] head-to-head in in vitro studies with competing products, both naturally occurring as well as biomanufactured, and have seen results that are significantly better ... because from the very beginning, we designed NovaColl to have these effects. It's really about designing it and starting with that end in mind."
What does this mean for formulators? "[It provides] high efficacy, high levels of purity and a product that you can integrate into aqueous formulations," said Duffy. "We're also working on other interesting formulations ... and ways that NovaColl  could be delivered to the customer to further expand formulation capabilities. ... Right now, we have a great aqueous pre-formulation that you can 'hot-swap' out for your current soluble collagens but if you stay tuned, we're going to continue to roll out new innovations."
AI, Fermentation and the Future of Molecular Design
Identifying the precise collagen subsegment to produce NovaColl took using the capabilities of artificial intelligence (AI). Duffy explained, "Basically there are 1018 possible subsections of human collagen and trying to understand which ones are going to be the most efficacious is quite a multidimensional or multi-objective problem. Thankfully, we have a fantastic engineering team that was able to really comb through and find the very best and most efficacious that our skin has to offer."
These findings were then translated to a yeast fermentation process to create NovaColl. "Biofermentation is a pretty amazing process," said Duffy. "[It can] create some of the most complex and interesting actives out there with massive efficacy that you wouldn't really have access to with traditional chemistries. Or, you wouldn't be able to access in the purity that you'd like." He highlighted that this process is also sustainable.
Looking ahead, he projected, "If we look at molecular design in the future, there are a lot of [great] functionalities and benefits that can be created, and it's really marrying design with sustainable fermentation. ... What's even cooler about our focus on proteins is that, in the end, they are programmable materials. [Rearrange] the same 20 amino acids in a different order and you get completely different material properties."
Duffy concluded, "It has been my great desire for the world to bring really amazing new materials to life. ... but it's been a team effort between [R&D and engineering] to create a program and take the outputs of that to produce NovaColl."