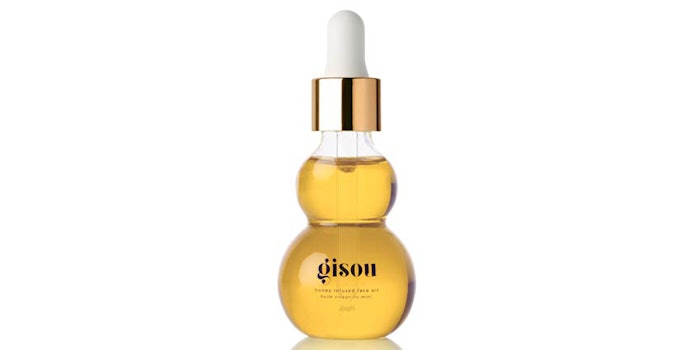 Gisou has launched the Honey Infused Face Oil—an antioxidant-rich face oil formulated to nourish skin and inspired by the botanical sources of the Mirsalehi Bee Garden, owned by Gisou founder Negin Mirsalehi.
Related: Gisou Launches Honey-infused Leave-in Conditioner
Mirsalehi extracts Gisou's honey from her family bee garden. According to the company, the rich botanical sources of the garden have natural beauty benefits to even skin tone, smooth texture and reduce aging lines.
The product is formulated with natural actives and 95.7% cold-pressed oils from botanicals inspired by the Mirsalehi Bee Garden. It is multi-purpose and suitable for all skin types.
The face oil also includes safflower oil, evening primrose and rosehip seed oil. The natural remedy is said to moisturize, nourish and sustain the skin barrier.
Gisou Honey Infused Face Oil costs $60 per 26 ml bottle and is available exclusively at gisou.com.
Mirsalehi says, "The Honey Infused Face Oil was inspired by the rich botanical sources of our Mirsalehi Bee Garden, sustainably sourced and loved by our bees, to enhance your natural beauty. Each of these botanical sources has unique natural beauty benefits for the overall complexion. I was inspired to combine nourishing natural ingredients, such as Mirsalehi honey, vitamin E and freshly cold-pressed oils of the safflower, rosehip and evening primrose."