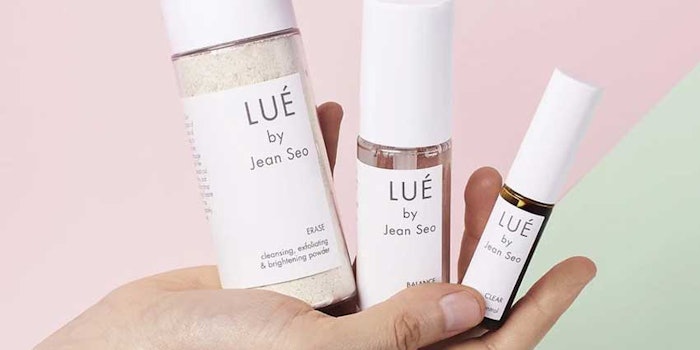 https://evolue.com/collections/lue-by-jean-seo/products/skin-solution-set
Lué by Jean Seo has created the Skin Solution Set to tackle complexion issues such as acne. 
Related: The Anti-Acne Club Skin Care Supplement Brand
Designed for men, women and teenagers, Lué is a three-step solution to help control and tone acneic skin. 
Step 1—Erase
Erase is a cleansing, exfoliating and brightening powder that reduces the appearance of imperfections and leaves skin feeling soft and smooth. Made with non-fat milk powder, finely milled whole grain oats and magnesium carbonate, this pH-balanced gommage product reportedly clears the complexion, balances skin and leaves it radiant and smooth. 
Users are directed to turn the powder into a paste by adding half a tablespoon of water. They then apply it to face and let it dry for one minute. While it is still damp, users gently massage the product away. According to the company, the paste should come off like eraser peels, removing blackheads, softening the complexion and reducing the appearance of large pores.
Step 2—Balance
Balance is a hydrating and calming serum, which firms and tones the skin while controlling oil and shine. Made with a concentration of sodium hyaluronate, this gentle oil-free moisturizer can be used on all skin types to increase moisture retention and counteract environmental aggressors. The company adds this serum can be used to assist with shaving by mixing it with shaving cream.
Step 3—Clear
Clear is a natural blend to reduce forming blemishes. According to the company, using a blend of 12 herbs and organic alcohol, this tincture is a spot control treatment to clarify skin. Users are advised to dip the applicator or a cotton swab into Clear and apply it to skin spots for 30 seconds, up to three times.
Previously: When Life Gives You Lemons Acne-fighting Makeup
Ingredients (Clear): Organic Alcohol (Cane), Aloe Barbadensis (Aloe Vera) Leaf Juice, Hamamelis Virginiana (Witch Hazel), Angelica Sinensis (Dong Quai), Rheum Palmatum (Rhubarb Root), Cassia Senna (Senna), Pimpinella Saxifraga (Theriac Venezian), Camphor, Curcuma Zedoaria (White Tumeric), Fraxinus Ornus (Manna), Commiphora Myrrha (Myrrh), Carlina Vulgaris (Carline Thistle), Crocus Sativus (Saffron).