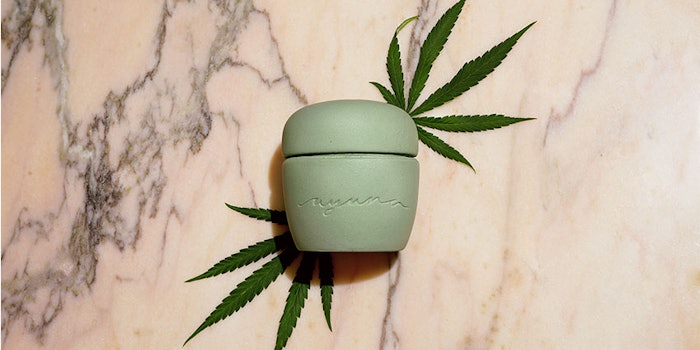 Ayuna
Ayuna 'Less is Beauty' has introduced the latest addition to its Terra line. According to the company, the product, Terra-Bella, is an emulsion-based on a rejuvenating and stimulating formula comprising cannabis stem cell extract, and inspired by environmentally friendly biotech.
Related: Calming the Storm: Cannabis Sativa Cell Culture Extract Eases Neurogenic Inflammation
The cell culture extract from Cannabis sativa contains terpenes and micro-lipids, which when integrated into the skin, reportedly stimulate a cascade connection between the microbiota-skin-brain triad. This triple connection is said to trigger the sensory system, resulting in a better appearance for the skin and a higher attitude toward oneself, as this increases the oxytocin hormone. These pleasure, empathy and emotional connections with the user, in turn, create a multidimensional relationship between the user as a living organism, the environment and the perception of beauty.
Furthermore, Terra Bella is a vegan emulsion, containing plasma-rich cell factors from turmeric along with lipid-replenishing jojoba and rice bran waxes. Finally, revitalizing properties are imparted by sublimated grape water to result in a treatment specifically designed for damaged skin.
Additional Terra-Bella claims include:
Encourages the awakening of the skin's natural repair and regenerating mechanisms;
Strengthens and protects the skin from internal and external aggressors;
Diminishes the signs of fatigue, anxiety and stress;
Increases skin's resistance to sagging;
Leaves skin visibly nourished and supple;
Soothes and provides deep hydration;
Prevents the appearance of red, irritated skin; and
Provides a smooth, soft and radiant appearance.