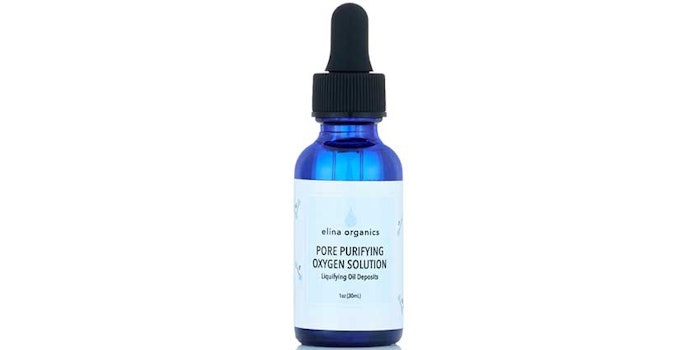 Elina Organics
Elina Organics has launched its Pore Purifying Oxygen Solution, a product designed to liquefy excessive oil deposits and bubble out the blackheads from pores with the help of oxygen.
Related: Elina Organics' Crushed Copper Mask Purifies, Prevents Acne
Users are instructed to apply the solution over congested areas of the skin using a cotton swab or a cotton pad. After waiting 30 sec, during which blackheads in pores come to the surface, the impurities are then wiped away from the skin in circular motions using the same cotton swab or pad.
According to the company, oxygen has antiseptic properties and helps to prevent future breakouts. It also assists in reducing the hyperpigmentation that occurs as a result of previous breakouts. The product is reportedly 100% organic, cruelty-free and hand-made.
Ingredients: (Note: as listed on the product label): Purified Water Infused with Bio-energetic Imprints of Amethyst, Hydrogen Water Infused with Oxygen, Colloidal Silver.