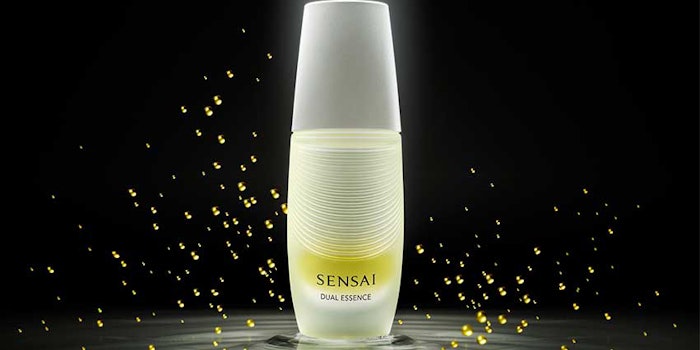 On September 9, 2020, Kanebo Cosmetics will release a dual-phase oil serum, Sensai Dual Essence, in Europe, the Middle East and Japan.
Related: Kanebo Revamps Products for Deep Moisture and Gender Inclusivity
The company reports this is the first product in its Sensai "Expert Items" line of optional care products. These will offer personalized solutions to achieve a silky skin feeling by bringing out the distinct qualities of an individual consumer's skin.
Sensai Dual Essence is a lightly textured product that is formulated to care for the skin by combining the qualities of oil and essence to respond to changing skin challenges; such as moisture depletion or loss of firmness. The oil phase contains ingredients gathered from selected botanical sources, such as olive oil and squalene, which reportedly easily absorb into the skin to condition and soften. The key moisturizing ingredient in the essence phase is Koishimaru Silk Royal, an ingredient that contains amino acids to repair the skin's damaged and aging cells.
A shake of the bottle mixes the two phases and infuses the essence with air, which is said to lighten the texture to ensure the mixture blends into the skin surface without a sticky feel. Sensai Dual Essence aims to moisturize skin that is typically overly dry and, with regular use, the serum imparts radiance while conditioning the skin to a smooth texture.