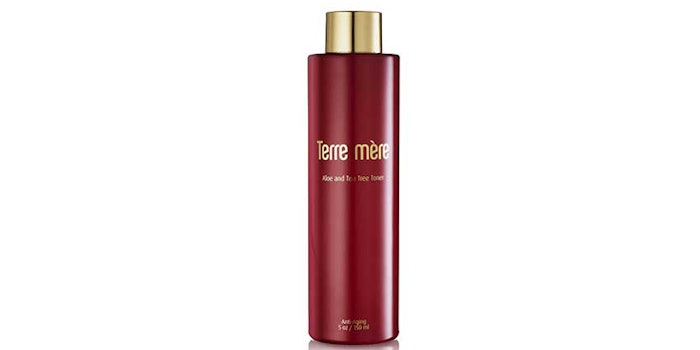 Terre Mère Cosmetics, known for its natural, vegan and organic products, has an Aloe and Tea Tree Toner to soothe and tone the skin and to meet the needs of consumers looking specifically for 'clean' products and ingredients.
Related: schülke Adds to 'Clean' Preservative Line: Euxyl ECO 910 and Effisin LA Natural
According to Terre Mère, the "clean" beauty ingredients in the Aloe and Tea Tree Toner work in synchronicity to soothe and tone skin, correct imperfections and slough away dead skin cells to offer users a fresh-faced and radiant glow.
Concentrates of organic aloe leaf juice are included to replenish dehydrated skin with added moisture and support collagen synthesis levels, providing the skin with long term anti-aging benefits. Tea tree oil provides the skin with antioxidant support, fighting off environmental toxins that prematurely age skin.
Previously: Aloe: Activity, Consistency, Authenticity and More—A Review
This toner is also infused with methylsulfonylmethane (MSM), a sulfur compound that is reportedly proven to support the skin cell's collagen structure. In addition to its skin-strengthening benefits, MSM is said to rebuild protein bonds and maintain delicate skin tissue for a smooth and firm complexion.
Vegan dimethylaminoethanol (DMAE) is added as well to improve the texture and appearance of fine lines. Finally, willow bark extract is added to boost the cellular renewal process and provide the exfoliation needed for a vibrant, clear and glowing complexion.  
The toner is also claimed to be fragrance-, gluten- and cruelty-free.
Ingredients: Aloe barbadensis (Organic Aloe) Leaf Juice, Vegetable Glycerin, Phenoxyethanol, Polysorbate, Tetrasodium EDTA, Salix Alba (Willow Bark) Extract, Melaleuca Alternifolia (Tea Tree) Essential Oil, Methylsulfonylmethane (MSM), Dimethylaminoethanol (DMAE Bitartrate).