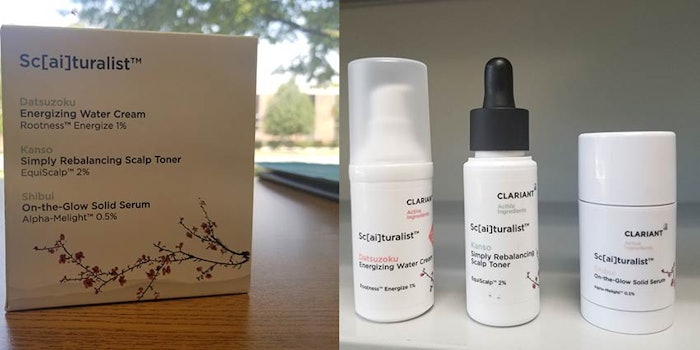 Note: This story has been updated with new details as of August 21. -Editor
Clariant's trio of J-Beauty inspired concept formulas, including a daily cream, scalp toner and solid skin serum, are backed not only by science, but also the silver 2020 BSB Innovation Award in the 'applied concept' category.
According to the company, the "Zenspiration" prototypes respond to consumers searching for a "less is more" approach to products. In relation, Japan, the second-largest cosmetics and personal care market, has a long history of beauty tradition embodied by authentic elegance and simplicity.
The Market
J-Beauty products focus on minimalist routines and research-proven ingredients. As such, multipurpose products and traditional ingredients with known benefits are key to keeping the regimen simple but effective.
"Time pressures and daily stresses leave little time for complex regimes," said Alexandre Lapeyre, global head of marketing for Clariant Active Ingredients. "...Many women are reducing their daily products, such as U.S. consumers [under 35]; or following simple facial routines, as in France," he notes. "There's a growing need for multifunctional products and trustworthy ingredients, and 'Zenspiration' brings all the elements needed for formulators to rise above the ordinary and to reinforce natural beauty."
See related: 4 Things Brands Can Learn from J-beauty
The Prototypes
Designed with sensory experiences and Japanese principles in mind, the "Zenspiration" prototype formulas include a daily cream, scalp toner and solid skin serum. Each uses natural ingredients with proven efficacy, including Clariant's Rootness Energize (INCI: Dicaprylyl Ether (and) Luffa Cylindrica Root Extract) and Equiscalp (INCI: Malus Domestica Fruit Cell Culture Extract (and) Hydroxyacetophenone (and) Ethylhexylglycerin) products.
Datsuzoku 'Enlightened' Energizing Water Cream
This concept aims to capture the feeling of serenity one feels when realizing the daily stresses of life are irrelevant to one's true self. The formula delivers replenishing and skin energy-boosting effects via Clariant's Rootness Energize product. It also is said to leave a silky soft finish.
The formula supports skin hydration and protects against premature aging with the company's Epseama (INCI: Laminaria Japonica Extract); HerbCool (INCI: Propanediol (and) Water (Aqua) (and) Mentha Rotundifolia Leaf Extract (and) Thymus Vulgaris (Thyme) Leaf Extract (and) Camellia Sinensis Leaf Extract); and Waterin Plus (INCI: Not Provided) ingredients.
Kanso 'Simplicity' Simply Rebalancing Scalp Toner
This concept relates to simplicity and the elimination of the ornate, appraising things by their nature as truthful and reserved. This scalp toner contains only 16 ingredients, including those recognized to support the scalp microbiome and the scalp's well-being to provide relief and comfort from irritation.
The formula is built around the company's EquiScalp ingredient to rebalance sebum production while being mild to the scalp's microbiota. It combines the soothing benefits of Eosidin (INCI: Propanediol (and) Water (Aqua) (and) Citrus Unshiu Peel Extract) with the resynchronizing properties of B-Circadin (INCI: Propanediol (and) Water (Aqua) (and) Lespedeza Capitata Leaf/Stem Extract) and the refreshing sensation of Actience Fresh (INCI: Menthyl Lactate).
Shibui 'Simple Complexity of Experience' On-the-glow Solid Serum
According to this concept, the beauty of simplicity is perceivable through time and experience, which constantly finds new meaning that grows in aesthetic value over the years. These tenets were translated to a serum formulated in a practical stick that reveals, application after application, its efficacy.
The calming effects of Calmyang Wax (INCI: Butyrospermum Parkii (Shea) Butter (and) Chamomilla Recutita (Matricaria) Leaf Extract (and) Glycyrrhiza Glabra (Licorice) Root Extract (and) Centella Asiatica Extract (and) Rosmarinus Officinalis (Rosemary) Leaf Extract (and) Tocopherol (and) Scutellaria Baicalensis Root Extract (and) Camellia Sinensis Leaf Extract (and) Polygonum Cuspidatum Root Extract) are combined the with skin-toning and age spot-reducing benefits of natural Bisabolol Alpha-Melight (INCI: Bisabolol). Take together, this prototype is designed to perfect skin's healthy glow.
For more information, contact Clariant.