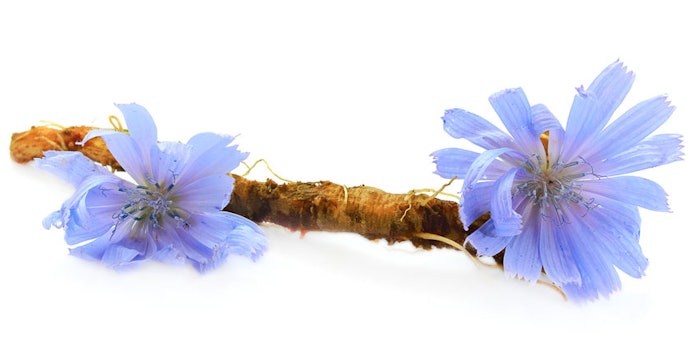 Microbiome care is the latest requirement for skin care, and inulin from chicory root serves as a natural prebiotic. Here, we highlight several ingredients based on this source recently added to our free Cosmetics & Toiletries Bench Reference directory by supplier GoBiotics BV.
Sugar serves as a basic "food" and prebiotic for protective skin microbiota, such as Lactobacilli. Several variations based on the oligosaccharide inulin were thus created for various skin and formulation benefits.
Balanced Biome
Biolin P (INCI: Inulin Lauryl Carbamate (and) Alpha-Glucan Oligosaccharide) is a food supplement for skin's protective micro-organisms. The undesired organisms reportedly cannot digest this prebiotic. In the presence of the ingredient, skin microbiota recover faster while harmful organisms are reduced. Skin disorders caused by micro-organisms are consequently reduced. COSMOS-approved, this ingredient has been clinically proven to prevent the recurrence of severe skin conditions such as diaper rash. It also is effective in keeping extreme sensitive skin healthy, e.g., diabetic skin, and is clinically proven to improve intimate washes.
Counter-preservative Hydration
preBiulin AGA (INCI: Inulin) is a long-chain inulin extracted from chicory roots and agave pinas. It provides hydration through the skin microbiota and is said to outperform hyaluronic acid. The ingredient is positioned to counteract the damaging effects of preservatives left behind on the skin by supporting the skin microbiota for survival; according to the company, these effects are quite underestimated.
Thick and Rich
preBiulin C90 (INCI: Celluose (and) Xanthan Gum (and) Inulin (and) Celluose Gum (and) Fructose) is reportedly an effective thickener for natural shampoos and body washes, enabling transparency with a smooth and elegant aspect. It has been shown to form clear natural gels even under extreme conditions of pH and salt. This natural alternative reportedly surpasses the capabilities of acrylate thickeners, performing without tackiness but with a w/o/w after feel. It provides rich, silky feel in both rinse-off and leave-on formulations and supports microbiome care.
Visit the Cosmetics & Toiletries Bench Reference for more information on GoBiotics BV and other ingredients.