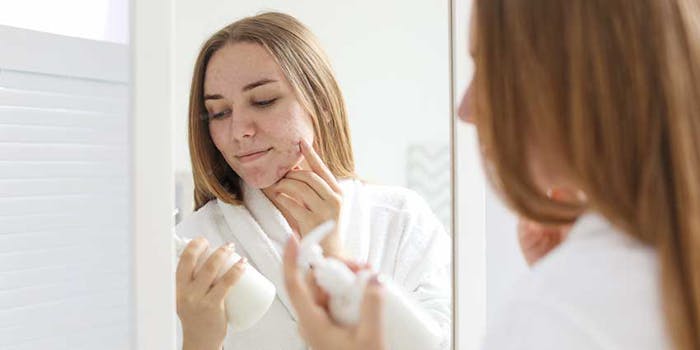 Acne vulgaris (acne) is a skin disease that can be caused by multiple chronic issues including: hyperkeratinization, sebaceous gland hyperplasia with seborrhea, Propionibacterium acnes proliferation and inflammation.1, 2 Seborrhoeic dermatitis is an inflammatory skin dermatosis that is observed as red plaques covered with greasy, yellowish squames that are pruriginous and predominant in the seborrhoeic areas. Seborrhoeic dermatitis produces an excess of sebum that can be periodically more susceptible to infection from bacteria, yeasts and fungi. Seborrheic inflammation can be considered as a form of acne vulgaris, an obstruction of the sebaceous flow that can cause the formation of pimples.
Excess amounts of sebum in the sebaceaous duct and on the skin acts to block or stagnate the continuous flow of sebum from the follicle duct, which in turn produces a thickened sebum that becomes the solid plug known as a comedone or "blackhead." The oily, waxy substance excreted from the sebaceous gland (sebum), which is physiologically associated with skin protection and lubrication, can become blocked by dead skin cells, dirt, pollutants and cosmetics, where a nutrient-rich anaerobic environment is established. This blockage can also be due to diet, stress, poor hygiene, steroidal medications and hormonal changes. The usual result is an elevation of the skin surface (papule), which is often contaminated with bacteria that can cause a secondary infection. Deeper inflammation can form a red or white small elevation based on necrotic inflammatory cells (pustule). Still deeper inflammation can result in the formation of a closed sac called a cyst, an epithelial lined cavity containing liquid or solid matter; or hard swellings called nodules, similar to a papule but deeper and larger. These occurrences characterize the disease today known as acne—development of P. acnes (saprophytic bacterial flora), and in lesser severity, seborrhea. The management of acne can be complex, often requiring aggressive combination therapy and a long-term therapeutic strategy.3-5 Maintenance therapy is necessary for many acne patients, as acne lesions have been shown to return after discontinuing a successful treatment regimen.
Hormone therapy treatment of acne is one possible approach for women, the objective being to prevent the effects of androgens on the sebaceous gland. Typical OTC topical therapy for acne is based on 21 CFR 333, a monograph by the US Food and Drug Administration (FDA). Salicylic acid and benzoyl peroxide (and to a lesser extent sulfur, resorcinol and lactic acid) continue to be the major global workhorses. These ingredients increase cell turnover and fight bacterial contamination. These types of treatment require patient compliance over at least four weeks to see tangible results. When this does not work, an alternative is to switch to prescription treatments based on vitamin A derivatives or a combination of benzoyl peroxide and antibiotics. This prescription route is based on cell turnover and reduction in hair follicular plugging. There are other ingredients claimed to support the treatment of acne and seborrhea. Tea tree oil is sometimes considered a good substitute for benzoyl peroxide in fighting acne. Isotretinoin (13-cis retinoic acid) is also incorporated as a potent pharmacological inhibitor of sebum secretion.
Key Components: Salicyclic Acid and Benzoyl Peroxide
The FDA regulates the use of actives for anti-acne claims. On March 4, 2010, the FDA issued 75 CFR 9767, which included 21 CFR 333, a final rule on the classification of benzoyl peroxide as a generally recognized as safe and effective (GRASE) active ingredient in OTC topical acne drug products. In addition, the rule noted that approved OTC anti-acne drugs include salicylic acid, sulfur, sulfur combined with resorcinol and benzoyl peroxide and it required labeling to market all OTC topical acne products. Federal Register 76(120) 36307-36308 was later published, which summarizes 21 CRF 333 to serve as a guide for the industry.
Salicylic acid, a monohydroxybenzoic acid shown in Figure 1, is a lipid-soluble phenolic beta hydroxyl acid that is colorless with limited water solubility.6 It is found in plants such as white willow bark and poplar as a growth and development promoter, but it is synthesized via the Kolbe-Schmitt reaction for most anti-acne applications. In anti-acne products, salicyclic acid (and its lipophilic derivatives such as capryloyl salicylic acid and methyl salicylate) acts keratolyically, bacteriodally and comdolytically by affecting epidermal cells to shed more rapidly, thereby opening clogged pores and neutralizing bacteria to allow for enhanced cell growth. Salicyclic acid is used in different dosages dependent on the application. The FDA recommended use level of salicylic acid is 0.5–2% below pKa 3.0 to maintain an acid form for best performance. Temporary typical side effects of topical treatment of salicylic acid are skin dryness, redness, scaling, itching and burning. These effects typically dissipate in a few weeks, but if not, the label recommends discontinuing use.
Benzoyl peroxide, shown in Figure 2, can be used to initiate free radical polymerization, bleach hair and teeth, and prepare flour; however, it is also widely used in acne treatment to increase skin cell turnover, clean pores, reduce bacterial count and desquame skin. Benzoyl peroxide acts as a toxin on P. acnes and an exfoliant to remove excess dead cells and clear debris around cellular pores. Due to its lack of solubility in water and common personal care ingredients, it is incorporated as a slurry in formulas that are then deposited directly on the skin surface. Dimethyl Isosorbide, benzyl benzoate and hydrophase solubilization in an aqueous surfactant system are other ways to improve solubility. FDA recommended limits of 2.5–10% can be applied to the affected areas in gel or cream form. Research suggests that a 5–10% concentration is not significantly more effective than 2.5–5.0% and 2.5% is better tolerated.7, 8 Benzoyl peroxide has similar temporary topical side effects as salicylic acid. Both are recommended at low levels to start, which can be increased over a few weeks to a higher dosage to allow the skin to acclimate.
Recent Patents
Recent patents related to acne treatment include nano-sized silver, modulating the CIDEA protein, an anti-acne composition and α,ω-n-alkanedicarboxylic acid, which are described here.
Nano-silver acne treatment: The present invention combines nano-silver, salicylic acid and moisturizing and soothing ingredients to create a formulation that treats the underlying causes of acne (i.e., bacteria and oil) and also ameliorates or reduces the harsh effects of the treatment itself.9 Nano-silver is incorporated for its antibacterial properties of nano-silver while salicylic acid or another accepted acne medicine is included for its acne-treating properties. The term "nano-silver" encompasses silver particles of nano-scale size. For example, "nano-silver" may encompass silver particles of approx. 5–100 nm. The composition can also include moisturizing agents and cleansing agents.
Anti-acne composition: Disclosed is a composition for treating acne comprising an anti-acne agent, a cosolvent/ester mixture and a topical carrier. The ester has a melting point of at least 30°C and the mixture is substantially immiscible with the topical carrier.10 The present invention also features a method of treating a follicular disease by topically applying the composition. The compositions of the present invention are said to be useful for evening skin tone, smoothing the skin, reducing the production of sebum and reducing the appearance of oil, shine and/or pores on skin. Examples of such skin in need of such treatment include: skin having excessive pigmentation (such as freckles, post-inflammatory hyperpigmentation or pigmented scars); rough skin; oily skin or skin having large, visible pores.
CIDEA protein for hyperseborrhea: The invention relates to the identification and the use of compounds which modulate the CIDEA protein for treating acne, seborrhoeic dermatitis and also skin disorders associated with hyper-seborrhea.11 It also relates to methods for the in vitro diagnosis of or in vitro prognosis for these pathologies. The applicant discovered that the gene encoding the CIDEA protein is expressed preferentially in human sebaceous glands in comparison with the epidermis, and that the expression thereof is regulated in vitro by a mixture that promotes the differentiation of sebocyte precursors. This mixture contains the androgen metribolone (i.e., R1881 or methyltrienolone) at 1 nM and the peroxisome proliferator-activated receptors (PPAR) gamma ligand rosiglitazone at 100 nM in a primary culture of human sebocytes.
The inventors propose targeting the CIDEA gene or the expression product thereof, for preventing and/or improving acne, seborrhoeic dermatitis or skin disorders associated with hyperseborrhoea, in particular the greasy skin appearance.
Alkanedicarboxylic acids: The invention relates to the use of at least one α,ω-n-alkanedicarboxylic acid with 7 to 13 carbon atoms or its esters and at least one retinoid for the production of a pharmaceutical preparation to treat rosacea and other inflammatory skin diseases.12 Preferred are α,ω-n-alkanedicarboxylic acids or their esters that are selected from the following group: pimelic acid, suberic acid, azelaic acid, sebacic acid, 1,9-nonanedicarboxylic acid, 1,10-decanedicarboxylic acid and 1,11-undecanedicarboxylic acid.
Recent Commercial Product Launches
Key formulations in the acne treatment category are represented by cleansers, treatment lotions and clay masks. The following formulas are representative of the typical formulations utilized in this category.
A good acne treatment product requires minimal amounts of acne-fighting ingredients to provide the appropriate performance. If the product is designed to cleanse the face and remove excess sebum oil, then a good mild surfactant with low foam is needed. Adding soothing and calming agents to reduce inflammation and repair the skin barrier is also helpful. If the product is a leave-on treatment, there needs to be a P. acnes-fighting ingredient and an antibacterial agent.
University Medical Pharmaceuticals Corp.'s AcneFree Oil-Free Acne Pore Cleanser: This rinse-off foam, pictured in Figure 3, is formulated with 2.5% micro-benzoyl peroxide, which reportedly stays in the pores after rinsing. The product is said to kill 99% of acne bacteria on contact with rich, thick, deep cleansing foam. It reportedly fights acne all day. The ingredients incorporated into the cleanser along with their approximate amounts are provided in Table 1.
Garnier Skin Naturals Pure Exfo-Brusher Oil Control: This treatment, shown in Figure 4, cleanses skin with salicylic acid and Himalayan crystals. The product has an anti-blackhead formula and reduces excess sebum production to prevent new blackheads forming for 14 days. The Himalayan crystals, combined with the brush applicator, offer effective, gentle exfoliation. The ingredients incorporated into the cleanser, along with their estimated amounts, are shown in Table 2.
Avon's Mark Help Wanted Anti-Acne Exfoliating Cleanser: This cleanser, pictured in Figure 5, contains kaolin, (natural, oil-absorbing clay) apple and cinnamon extracts and salicylic acid. According to the manufacturer, this product draws out impurities; exfoliates skin's surface with a blemish-controlling microbead formula; brightens the complexion; helps clear up acne blemishes and prevent new ones from forming; and penetrates pores to eliminate most blackheads and acne pimples. The ingredients included in the product and estimated amounts are shown in Table 3.
Vichy Laboratories' Normaderm Triple Action Anti-Acne Hydrating Lotion: This lotion, shown in Figure 6, was formulated to fight acne blemishes, blackheads, clogged pores, dry skin and shine. According to the manufacturer, the salicylic acid acne treatment now offers new efficiency. The lotion is said to: clear and help prevent new blemishes; offer 24 hr hydration; give an instant matte effect; contain micro-exfoliating glycolic acid and LHA; contain silica and perlite to mattify; contain fortifying and soothing Vichy thermal water; leave skin clear, fresh and purified; and make pores appear tightened. The noncomedogenic, non-acnegenic, allergy- and dermatologically tested, oil-free, paraben-free product has been formulated for sensitive skin. The product's ingredients and their approximate amounts are given in Table 4.
Formulator Beware
Working with salicylic acid is difficult due to its limited water solubility. It is best to add salicylic acid to a glycol such as propylene glycol or alcohol, add it to a water phase that contains a slight alkalinity and phosphate, and heat to 80–85°C to complete solubilization. Alternatively, salicylic acid can be added to the oil phase, heated to 80–85°C and added to the water phase to make the emulsion. Because of salicylic acid's limited solubility, there may be a tendency for crystallization. If crystallization develops, either the salicylic acid level is too high for the formula or it needs to be adjusted with alcohol or glycol in water or a pH adjuster to reduce acidicity.
The solubility of benzoyl peroxide can be enhanced by the replacement of the polar solvent with a vehicle of lower dielectric constant. Watch out for alcoholic benzoyl peroxide systems, as this may cause increased skin irritation. Water-based benzoyl peroxide systems are less irritating. By improving solubility, it is possible to reduce the surface irritation potential typically associated with benzoyl peroxide residing on the skin surface in clumps.
The key issues with using anti-acne ingredients in products are the potential for skin irritation and skin sensitization. Incorporation of anti-irritants and skin soothing agents are helpful in minimizing these problems. Also, incorporation of the anti-acne active at the lowest effective dose is preferred.
References
Send e-mail to tpc2advisors@yahoo.com.
1. D Thiboutot, Regulation of Human Sebaceous Glands, J Invest Dermatol 123(1) 1–12 (2004)
2. H Pawin et al, Physiopathology of acne vulgaris: recent data, new understanding of the treatments, Eur J Dermatol 14(1) 4–12 (2004)
3. D Thiboutot, New Treatments and Therapeutic Strategies for Acne, Arch Fam Med 9 179–187 (2000)
4. H Gollnick et al, Management of acne: a report from a global alliance to improve outcomes in acne, J Am Acad Dermatol 49 S1–S37 (2003)
5. JS Strauss et al, Guidelines of care for acne vulgaris management, J Am Acad Dermatol 56 651–663 (2007)
6. MJ Fevola, Salicylic Acid, Cosmet Toil 126(7) 482 (2011)
7. OH Mills et al, Comparing 2.5%, 5%, and 10% benzoyl peroxide on inflammatory acne vulgaris, Int J Dermatol 25(10) 664–67 (1986)
8. CC Yong, Benzoyl peroxide gel therapy in acne in Singapore, Int J Dermatol 18 (6) 485–88 (1979)
9. US Patent Application 20110091572, Acne treatment compositions comprising nanosilver and uses, RE Davidson (Apr 21, 2011)
10. US Patent Application 20110082216, Benzoyl peroxide composition for treating skin, JM Wu et al (Apr 7, 2011)
11. US Patent Application 20110165168, CIDEA modulators in the treatment of acne, of seborrhoeic dermatitis or of hyperseborrhoea, J Aubert, et al (Jul 7, 2011)
12. US Patent Application 20110160306, Use of alkanedicarboxylic acids and retinoids for treatment of rosacea and other inflammatory skin diseases, T Zollner et al (Jun 30, 2011)