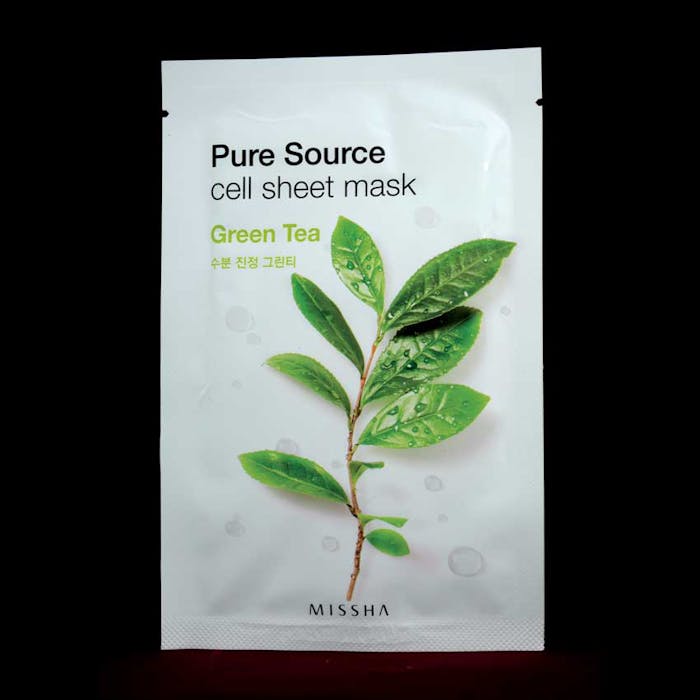 This sheet mask from Missha incorporates natural extracts and its compact cell fabric adheres lightly to the skin, effectively delivering active ingredients.
According to the label, green tea essence is used to keep sensitive skin moist and calm. This is due to green tea leaves being rich in water, reducing irritation and hydrating skin, leaving it bright and moist.
The product reportedly contains 210 mg of pure green tea essence. This column will review the ingredient listing for claims substantiation and functionality.
Water Base
The formula is a water-based system containing a humectant, glycerin and organic solvents: the viscosity-enhancing butylene glycol, antimicrobial ethanol and 1,2-hexanediol, which provides skin conditioning.
Lipids and Surfactants
The lipid phase consists of caprylyl glycol, a humectant and emollient, and hydrolyzed jojoba esters. Surfactants present in the system are betaine and trideceth-9. PEG-40 hydrogenated castor oil has solubilizing properties and phenyl trimethicone is a silicon-based occlusive polymer.
Active Ingredients
Active ingredients inclue the water-soluble molecules allantoin, with its soothing properties; sodium hyaluronate, a hydrating macromolecule; and sucrose, a humectant and soothing agent. Aspergillus/Camellia sinensis leaf ferment extract filtrate is obtained by the fermentation of C. sinensis leaf extract via the microorganism, whose anti-melanogenic and skin-whitening effects have been implicated in research.
Eriobotrya japonica leaf extract (loquat leaf extract) has anti-inflammatory activity and has been used traditionally to address skin diseases. Hydrolyzed chitosan has been shown to affect the activation and expression of matrix metalloproteinase-2 in human dermal fibroblasts, which suggests potential anti-wrinkle activity.
Additional Ingredients
Hydroxyethylcellulose adds film-forming qualities and increases viscosity, together with the gel-forming carbomer, and controls the formulation thickness. Disodium EDTA and phytic acid are chelating agents, and triethanolamine a pH adjuster. Mineral salts and hexadimethrine chloride further stabilize the formulation whilst tocopheryl acetate serves as an antioxidant.
The formula is preserved by ethylhexylglycerin and chlorphenesin, and caprylhydroxamic acid is a broad spectrum antifungal agent. Finally, the formula contains fragrance.
Conclusions
In my view, the ingredients support the claims for hydration, calming and brightening of the skin. However, for individuals having sensitive skin, caution should be taken with its use.