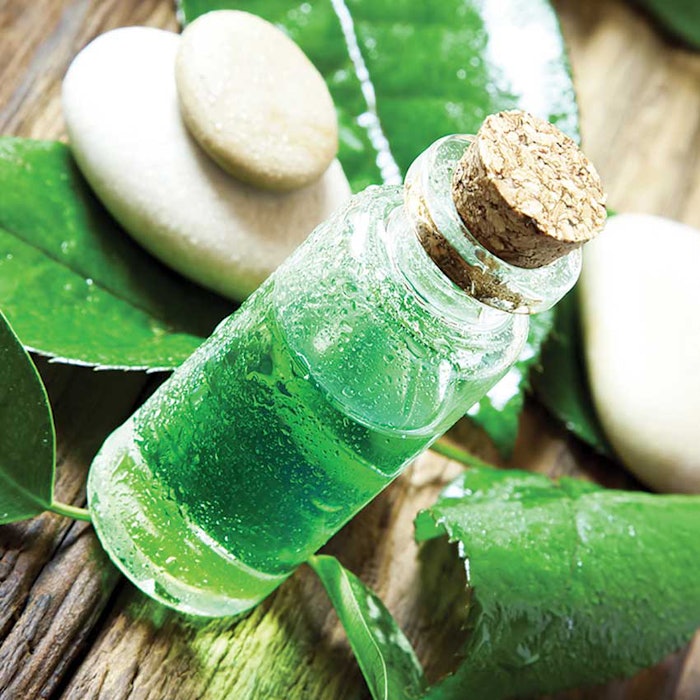 1. Ocea Defence
Biosil Technologies, Inc.
Ocea Defence (INCI: Caprylic/Capric Triglyceride (and) Laminaria Ochroleuca Extract (and) Tocopherol) is an oily extract of Laminaria ochroleuca extract in caprylic/capric triglycerides and supplemented with tocopherols. This marine solution for stimulating and protecting skin immunity improves cutaneous comfort of fragile and vulnerable skin, preventing premature aging and reducing UV-induced erythema.
2. SensAmone P5
Mibelle Group Biochemistry
SensAmone P5 (INCI: Pentapeptide-59 (and) Hydrogenated Lecithin (and) Butyrospermum Parkii (Shea) Butter (and) Phenethyl Alcohol (and) Ethyl Hexylglycerin (and) Maltodextrin (and) Water (aqua)) is a biomimetic peptide based on a component of sea anemone venom, designed to inhibit the pain receptor present in skin. This receptor is overreactive in sensitive skin, leading to itching and stinging. SensAmone P5 inhibits pain receptor activation and reduces sensitivity for more resistant skin.
3. ChiaProtect
MMP, Inc.
ChiaProtect (INCI: Salvia Hispanica Seed Oil) is a cold pressured extra virgin botanical oil extracted from Salvia hispanica seeds, loaded with high levels of phyto-nutrients, antioxidants and vitamins. Its properties include: maintaining a calming and anti-redness effect, reducing inflammation, providing hydration, restoring the skin barrier and having anti-aging due to its anti-free radical capacity.
4. Azeclair
Corum Inc.
Azeclair (INCI: Potassium Azeloyl Diglycinate) is an effective azelaic acid derivative that imparts a sebum normalizing effect and provides inflammatory protection against pollutants. Recent studies show this ingredient can inhibit various inflammatory factors such as interleukin-8 and matrix metalloproteinase or MMP-1, which are induced by urban dust PM2.5 and diesel particulate matter. Azeclair also acts as an oil control agent to normalize sebum production and brighten the skin.
5. Synastol TC
Sytheon Ltd.
Synastol TC (INCI: Terminalia Chebula Fruit Extract) stems from the edible fruits of Terminalia chebula, which controls inflammation by inhibiting and down-regulating two key inflammatory pathways: lipooxygenase and cyclooxygenase. Inhibition of these two pathways provides skin soothing effects. When combined with other ingredients, Synastol TC has the ability to provide hydration, barrier-building and skin-defending properties.
6. Izayoi
Ichimaru Pharcos Co., Ltd.
Izayoi (INCI: Rosa Roxburghii Fruit Extract) is a sun care active that acts via a newly identified inflammation pathway—keratinocytes damaged by UVB release denatured U1RNA—which is one damage-associated molecular pattern (DAMP). The surrounding non-damaged keratinocytes recognize such DAMPs and respond by initiating inflammatory reactions leading to signs of skin aging, such as wrinkles, age spots or pigmentation. Izayoi inhibits the inflammation cytokines induced by DAMPs.
7. Agascalm
Provital Group
Agascalm (INCI: Propanediol (and) Glycerin (and) Agastache Mexicana Flower/Leaf/Stem Extract) neutralizes negative effects caused by psychological stress such as skin inflammation and redness. It is a natural active from the plant Agastache mexicana traditionally used against "frightful and shocking" situations. An in vivo study of the ingredient showed a clear improvement in skin tone and radiance, in addition to reduced skin redness.
8. Hyalurosmooth
BASF
Hyalurosmooth (INCI: Cassia Angustifolia Seed Polysaccharide) helps to re-energize stressed skin. This ingredient is a botanical alternative to hyaluronic acid that provides skin rejuvenation properties. In vivo, it shows improvement in skin radiance and long-lasting hydration while in vitro, it moderates the stress mediator cortisol and stimulates collagen and hyaluronic acid.
9. Cropure Grapeseed
Croda Inc.
Cropure Grapeseed (INCI: Vitis Vinifera (Grape) Seed Oil) enhances the stability and esthetics of formulations with a nutrient-packed natural oil obtained from grape seeds through Croda's proprietary refining technology for absolute purity. This ingredient features oxidation stability and is used in a range of personal care products including cleansers, body care, conditioners and sun protection.
10. Granactive AR-1423
Grant Industries, Inc.
Granactive AR-1423 (INCI: Water (aqua) (and) Butylene Glycol (and) Camellia Sinensis (Tea) Extract (and) Aspalathus Linearis (Rooibos) Extract (and) Boswellia Serrata Extract (and) Honey Extract (and) Tetrapeptide-14 (and) Phenoxyethanol (and) Sodium Benzoate) contains tetrapeptide-14, a specific peptide sequence that can be used in cosmetic treatments to alleviate redness associated with rosacea or mild sun exposure. It acts to prevent inflammation and leaves a bright and even skin appearance.
11. Sirtalice
Lipotrue SL
Sirtalice (INCI: Bacillus Ferment) is an active marine ingredient derived via biotechnology. It helps to recharge skin energy and induce skin protein synthesis, improving strength and contraction. The ingredient stimulates the synthesis of proteins involved in mitochondrial respiration and energy production. It also induces key proteins for focal adhesions and cell interactions.
12. Tea Tree Oil
Arista Industries, Inc.
Tea tree oil (INCI: Melaleuca Alternifolia (Tea Tree) Leaf Oil) is used in personal care formulations for its antimicrobial, antibacterial and antifungal properties, as well as anti-inflammatory relief. It can be used as an antiseptic treatment for cuts, abrasions, pimples and mild acne. The oil also can be used in skin, hair and sun care products as well as soaps, deodorants and antibacterial hand and mouth washes.