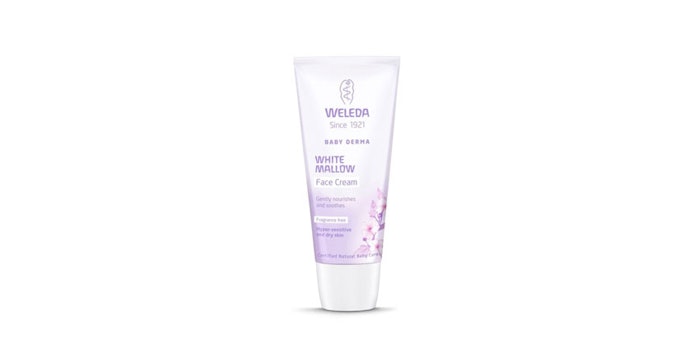 According to Weleda, with carefully selected natural ingredients, its Baby Derma Sensitive Care Face Cream in White Mallow is designed to sooth the face by providing moisture and relieving itch.
Organic white mallow and pansy calm skin prone to irritation. In addition, organic coconut and sesame oils provide intensive care. 
Fragrance-free and vegan in nature, the facial cream has reportedly been tested and shown to strengthen the skin's protective function. It also protects against harmful environmental influences, and according to the company, has been dermatologically proven to be skin-friendly on highly sensitive skin in both infants and adults.
Users are instructed to gently apply the cream to the baby's face daily. This column will review the ingredient listing for claims substantiation and functionality.
Editor's note: This article aims to provide an idea of the ingredients cosmetic manufacturers are using that could potentially support the stated product claims. Without specified use levels or access to clinical studies, the author is drawing conclusions based on speculation; albeit from years of clinical experience and, in some instances, evidence in the literature. The following is offered for your consideration and further verification.
Water Base and Natural Oils
The formula is a water-based system containing a number of emollient lipids of natural origin—plant oils and a wax. Coconut oil is composed of many free fatty acids, including mainly lauric, myristic and palmitic; it also has been shown to effectively address xerosis, atopic dermatitis and for promoting wound healing through faster epithelization.
Sesame oil contains significant amounts of lignans such as sesamin, sesamolin and sesaminol, which demonstrate antioxidative activity. The oil has been used in traditional Taiwanese medicine to relieve the inflammatory pain of joints and wounds as well.
Sweet almond oil imparts emollient qualities, which are effective at ameliorating the itching of striae. Further, borage oil contains high levels of ω-6 essential fatty acids, important in skin structure and function; and linoleic acid, which is effectively normalizes the skin barrier function in cases of seborrheic dermatitis or atopic dermatitis.
Safflower oil contains a large amount of the polyunsaturated linoleic acid (70%) and monounsaturated oleic acid (10%), and has impact on vasodilation, antioxidation, melanin production inhibition and immunosuppression.
Finally, the formula contains emollient sunflower oil and beeswax, also implicated in wound healing, and cetearyl glucoside and glyceryl stearate SE act as surfactants.
Conclusion
In my view, the ingredients support the claims for calming the skin, providing hydration and strengthening the barrier, as well as skin protection and itch relief.
Ingredients: Water (Aqua), Cocos Nucifera (Coconut) Oil, Sesamum Indicum (Sesame) Seed Oil, Glycerin, Alcohol, Prunus Amygdalus Dulcis (Sweet Almond) Oil, Beeswax (Cera Alba), Cetearyl Glucoside, Glyceryl Stearate SE, Borago Officinalis Seed Oil, Carthamus Tinctorius (Safflower) Seed Oil, Helianthus Annuus (Sunflower) Seed Oil Unsaponifiables, Hydrogenated Coco-Glycerides, Althaea Officinalis (White Mallow) Root Extract, Viola Tricolor (Pansy) Extract, Xanthan Gum, Lactic Acid, Glyceryl Caprylate.
References
Lin, T.-K., Zhong, L. and Santiago, J.L. (2017 Oct). Anti-Inflammatory and skin barrier repair effects of topical application of some plant oils. Intl J Mol Sci Review.
Source: Weleda website