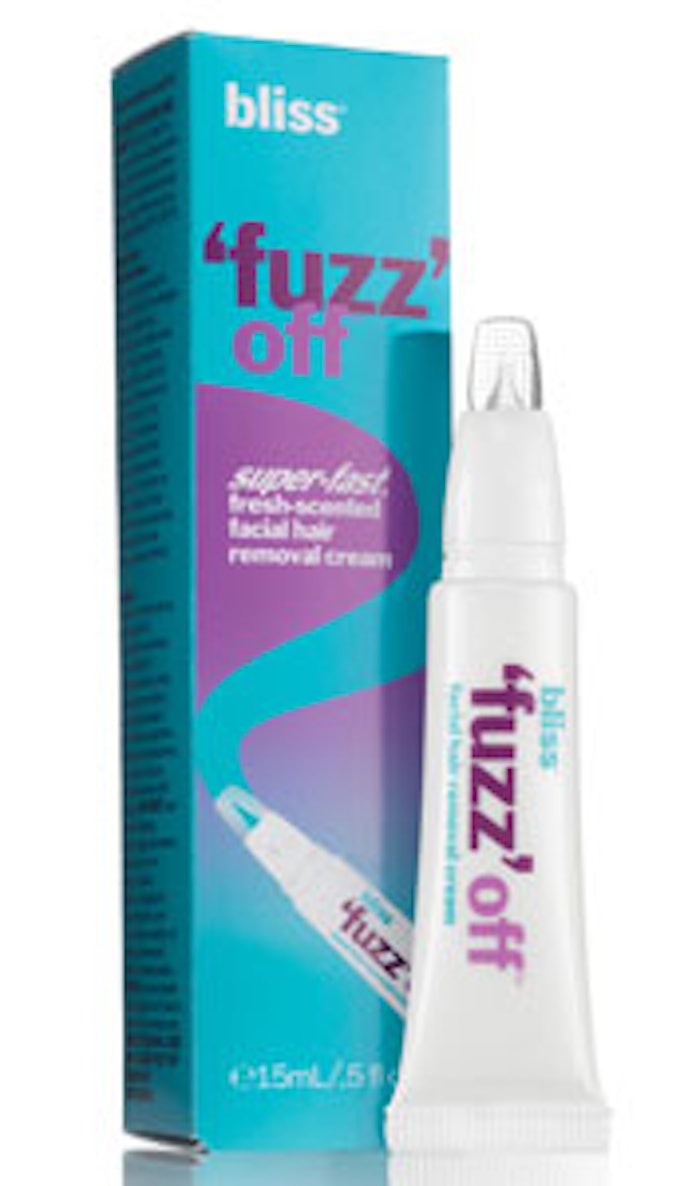 Bliss 'Fuzz' Off Facial Hair Removal Cream is a traditional thioglycolate depilatory that is specially formulated for the face with botanicals, moisturizers and vitamins. This column will review the ingredient listing for functionality and claims substantiation.
This is a w/o emulsion with mineral oil as the primary emollient, which holds up well in the alkaline pH system. The hair removal ingredient is calcium thioglycolate, and it is buffered with calcium and potassium hydroxide. Cetearyl alcohol and ceteareth-20 are the primary emulsifiers, and sodium lauryl sulfate is a co-emulsifier. Fragrance appears relatively high in the ingredient listing because it helps to mask the unpleasant sulfur odor that occurs during the depilatory process. This also helps to explain the "fresh-scented" claim as well as the listing of many other fragrance chemicals such as hexyl cinnamaldehyde, benzyl benzoate and hydroxyisohexyl 3-cyclohexene carboxaldehyde.
Butylene glycol is the humectant/moisturizer. The silicone derivative simethicone most likely helps to reduce the foaming that occurs from sodium lauryl sulfate during the rub-in application.
Disodium EDTA and BHT are chelating agents that help to boost the preservative effectiveness of benzyl benzoate, which also has a dual purpose of odor masking due to its faint, sweet, herbal scent.
Tocopheryl acetate (vitamin E acetate) soothes and protects; however, the aloe that is present in the claims is not in the ingredient list. The botanical extracts Citrus limon (lemon) fruit, Equisetum arvense (horsetail), Humulus lupulus (hops), Pinus sylvestris (pine) cone, Rosmarinus officinalis (rosemary) leaf and Epilobium angustifolium (willow herb) flower/leaf/stem provide the folkloric benefits of moisturizing, revitalizing, calming, and soothing. However, the "healing" and "anti-inflammatory" claims for the aloe and willow herb are drug claims that should not be made for a cosmetic product.
One big "oops" however, is that the product description refers to the soothing and healing properties of aloe, but it is not included in the ingredient listing.