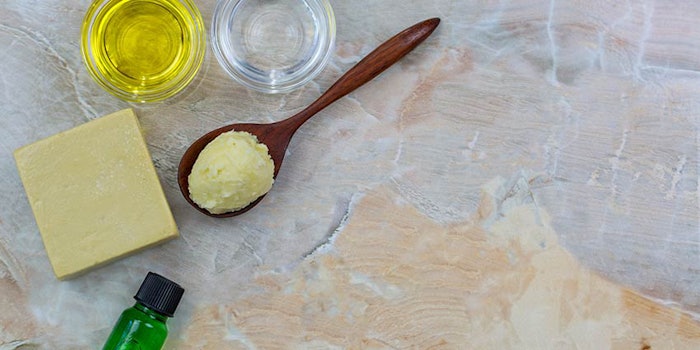 Jojoba Desert (A.C.S) Ltd. is making smooth moves at NYSCC Suppliers' Day 2019—the company is gearing up to debut its JD Jojoba Butter Vegan at the show.
Enabling silky textures in skip, lip, hair and sun care for vegan consumers, the butter shares the nonsticky texture of the original JD Jojoba Butter, as well as its properties for moisturization, restoration and regeneration. The vegan option contains a high concentration of JD Jojoba Oil, is oil-miscible and is free of preservatives and coloring agents.
Related: Jojoba Desert Opens U.S. Outpost
Along with JD Jojoba Butter Vegan, the company will showcase products including:
JD Pure Line—This line comprises extra virgin oils extracted via an automated cold-press process in order to produce a natural liquid wax. It includes both naturally-scented and odorless versions of JD Jojoba Golden Oil; JD Jojoba Colorless Oil; JD Jojoba Organic Golden Oil; and JD Jojoba Organic Colorless Oil.
JD Rich Line—A line of bases which pairs JD Jojoba Oil with other ingredients to create JD Jojoba Butter; JD Jojoba Silk-like Powder, a velvety-textured Tapoica starch; and JD Jojoba Beads, a wax-based exfoliant, among others.
JD Care Line—Utilizing JD Jojoba Oil to create novel and versatile formulations, this range features JD Jojoba Rejuvenating Peeling Butter, including jojoba beads; JD Jojoba Moisturizing Lip Balm; JD Jojoba Soothing Baby Oil; and JD Jojoba Oil Enriched with Multi-vitamins.
Jojoba Desert can be found at booth 1074 during NYSCC Suppliers' Day, to be held May 7-8, 2019 at New York City's Javits Center.