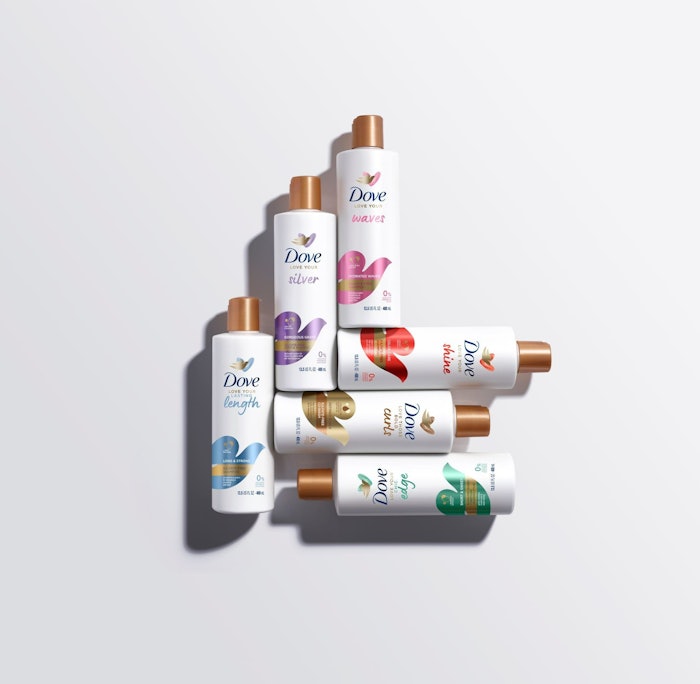 Dove has launched its Love Your Hair collection, featuring a range of products catering to six different hair profiles: short, curly, wavy, long, silver and color-treated. 
According to the brand, this collection was developed to make tailored hair care more widely accessible, and effectively nourish a range of hair textures, types, lengths and colors, with the mission of celebrating the unique beauty of hair and encouraging women to proudly wear the hair that makes them, them.
The gentle, science-driven formulations are infused with skin care-inspired ingredients like biotin complex and bamboo extract. 
The full collection includes:
Love Your Silver Purple Shampoo & Conditioner for silver hair
Love Your Waves Shampoo & Conditioner for wavy hair
Love Those Bold Curls Co-Wash & Leave-in Cream for curly hair
Dove Love Your Lasting Length Shampoo & Conditioner for long hair
Dove Love Your Chic Edge All In 1 Shampoo, Conditioner & In-Shower Styler for short hair
Dove Love Your Shine Shampoo & Conditioner for color treated hair
Dove also announced two initiatives for the silver-hair community, which includes Love Your Silver Storytellers and the Love Your Silver Specialist Directory.
Love Your Silver Storytellers is a group of five women partnering with Dove to amplify their journeys to embracing their silver hair, with the intention of empowering others considering the same.
The Love Your Silver Specialist Directory is an online resource housed on Dove.com that features the hair specialists that Love Your Silver Storytellers trust, and will be built out throughout the year with other silver specialists across the United States to meet the needs of silver-haired women nationwide.
Love Your Hair is available at Walmart and Walmart.com.
Bérengère Loubatier, global vice president, Dove Hair, said, "Our mission at Dove is to make a positive beauty experience universally accessible to all, and we continue to support women through our products and purpose initiatives to do so. As women are too often encouraged to change their hair to fit societal standards, our goal with the Love Your Hair collection was to launch a range of expert products that enable every woman to 'celebrate the hair that makes you, you. That's why Dove Love Your Hair is providing innovative products, infused with skin care-inspired ingredients that offer custom levels of nourishment to care for hair, however women choose to wear it."
Beth Labrecque, senior scientist for Dove Hair, said, "When developing the Love Your Hair collection, it was important to us to identify the unique care needs across different hair types and then provide a solution to help women achieve their hair goals. The formulations within the Love Your Hair range provide the care and nourishment each specific hair type needs to feel and look healthy, backed by science and efficacious ingredients. For instance, Love Your Silver products were created in response to consumer feedback to give gray, white and silver hair a boost with purple pigment and ultra-light yet nourishing conditioner, infused with biotin complex for volume and shine."