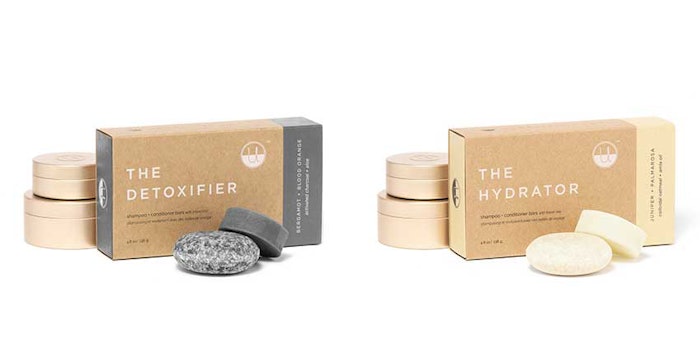 Unwrapped Life
More companies are becoming eco-conscious in their manufacturing of products—specifically those that are 'plastic-free' and 'zero-waste.' Unwrapped Life is a company abiding by this ideology with its hair, body and baby care products that are package-free and waterless.
Related: Formulating on Trend: Waterless Cosmetics
Unwrapped Life is aiming to raise eco-awareness and cut down on common single-use items and excessive packaging waste, all without compromising on quality and performance. According to the company, only 9% of plastics are recycled and 12% are incinerated, leaving more than 79% of plastics produced accumulating in landfills and waterways. In response, it has developed shampoo, conditioner, lotion, etc., in the form of package-less solid bars.
The company explained it took traditional ingredients used to cleanse and benefit the hair, scalp and body and removed the water from them to make concentrated bars. These solid-form cleansers and moisturizers reportedly do what a liquid shampoo and conditioner are usually marketed to do—i.e., cleanse, add volume and sheen, protect hair and add moisture.
As the bars are made from concentrated ingredients, they become activated when mixed with water in the shower or bath. For example, when shampoo bars make contact with water, they lather up and can be worked through the hair to cleanse without stripping away moisture. With conditioners, consumers do not feel that "slippery" sensation until the bar is exposed to running water and comes in contact with the hair.
Previously: No Eco-scuses: Packaging Can Conform with Natural Tenets
The company underlines another benefit of the bars is that consumers can use less product per application—and with proper care, the products last longer. This is because by using shampoo or conditioning bars, it is more difficult to use too much, especially when applying the bars directly to one's head. The shampoo bars do not suds up the hair too much, so consumers can accurately achieve the desired lather. Also, the conditioner bars take effort in order to coat hair strands enough for the product to feel slippery. This helps to extend the life of the product by preventing over-application.
The company also offers bars for babies and children. For delicate and safe cleansing and moisturizing, its shampoo bar and calming sea salt soap use ingredients that are gentler to skin.
Ingredients (The Hydrator Shampoo): Sodium Coco Sulfate; Coconut Oil; Cocoa Butter; Essential Oils of: Coriander Seed, Juniper Berry, Orange Sweet, Palmarosa, Geranium, Cardamom and Patchouli; Colloidal Oatmeal; Amla Oil; Shea Oil; Hemp Seed Oil; Apricot Seed Oil; Dimethicone Copolyol; D-Panthenol.