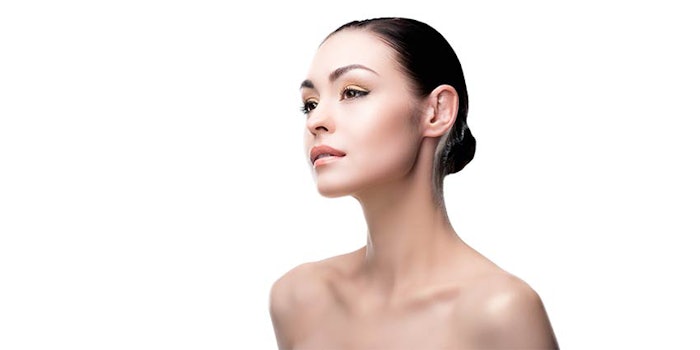 Clariant debuted its BeautyForward –Edition III collection of ingredients and textures at in-cosmetics Global 2018.
BeautyForward—Edition III is a personal care industry guide, featuring four trend discoveries and skin and hair care formulations inspired by them.
"Through BeautyForward, Clariant helps customers to be one step ahead in their development activities," said Clariant personal care global marketing manager Nicolas Lasbistes. "The trend guide embraces what matters most to consumers and provides exciting and innovative formulations to help formulators respond, including natural ingredients. It's setting a new standard in the personal care industry and we are excited to be unveiling our third edition."
Trends, and their corresponding formulations, include:
Blue Gold—Water scarcity has inspired environmentally-conscious consumers to change how they shop, requiring companies to create formulations that are neither formulated with water nor require its use.
Formulation: Water- and alcohol-free Dry Powder Shampoo, which removes oil, refreshes hair and boosts scalp help with ingredients including Pataùa Oil to care for a tired scalp, Coguar 113 for conditioning and Octopirox to reduce dandruff.
#Consciousbeauty—Consumers are seeking creative solutions for bettering the world, in the form of products that are at once natural, ethical and sustainable but maintain their cleansing and caring benefits.
Formulation: The Good Stuff Hair Mask, which features a blend of ethically sourced Community Trade ingredients—such as babassu butter and pequi oil—and the 100% natural based hair conditioner agent Genadvance Hydra. The once-a-week treatment is also silicone-free.
Guardian Angel—Everyday consumers are seeking protection, balance and easy solutions to environmental threats including climate change, and, as such, products that offer complete protection.
Formulation: Multi Defense Lotion SPF 15, which protects from UV rays, air pollution and insects including mosquitos (via DEET). A 3-in-1 formulation, Multi Defense is a key player in anti-aging solutions featuring Eclipsogen UV filters as part of a comprehensive sun damage defense system, with RedSnow and Eosidin for protection against outdoor and indoor pollution.
Redefining Eden—Blurring gender lines has led for increased demand in gender-neutral beauty products, as male beauty regimens become more complex and men add "female" products including foundations and concealers to their routines.
Formulation: Clariant's Neutral Facial Cleanser features a mild surfactant chassis for sensitive skin with GlucoTain liquiflex and a no-rinse formula. It can be applied with a wipe or a towel and includes the skin soothing benefits of MultiEx BSASM.
Clariant will be located at booth H90 RAI during in-cosmetics Global 2018, held April 17-19 in Amsterdam.