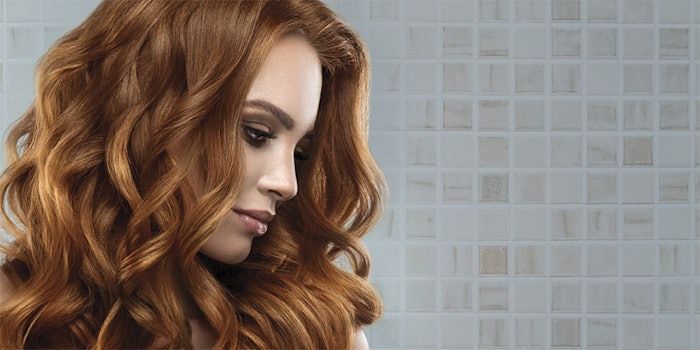 Daily skin moisturizers, introduced in the early 1900s, play a leading role in today's consumers' beauty rituals. Following in the footsteps of this category, hair care has put forth formulas and products to counteract the feeling of dry, rough or brittle hair. In fact, 22% of the 200,000+ hair care products launched to date carry the claim moisturizing or hydrating, according to Mintel's Global New Product Database;1 the proportions of moisturizing hair care products currently on the global market are shown in Figure 1.
It is worth noting that 23% of shampoos, 29% of hair treatments and as many as 35% of hair conditioners, in particular, carry these claims. Key markets for these launches were Asia, for shampoo; and Latin America, for hair treatment products and conditioners.
However, as much as leave-on cosmetics can protect, maintain or improve the skin's hydration levels, the effects of water in hair are different. For one, with the exception of the follicle and bulb within the scalp, hair fibers are not living tissues whose well-being depends on water. Only low amounts of water are required to help maintain the right hydration levels for keratin in the hair cortex; any additional water compromises the fiber's strength and aesthetics.2
For example, as individuals who have travelled to hot and humid climates may have noticed, high humidity makes hair frizzy and unruly—so while the volume increases, so does the difficulty of maintaining any hairstyle. This effect is more visible in damaged hair, which is more permeable to environmental water. Specifically, the absorption of water by the hair disturbs the balance of hydrogen bonds, which are one of the main forces responsible for hair fiber shape and strength.
As such, moisturizing hair care products should not add water to hair fibers. Instead, they should deliver the feeling of moisturization and associated sensory experiences during and after use.
To better understand what this means to consumers, an online questionnaire was developed to find correlations between scientific descriptors and consumer language. Test subjects in the U.S., France and Brazil were asked what "moisturized" versus "hydrated" hair means to them; results indicated most did not differentiate between the two, and that both descriptors related to soft, repaired and smooth hair—in other words, conditioned hair.
Besides the widespread use of glycerin as a claim-based ingredient, most moisturizing hair care technologies essentially deliver good conditioning to dry (i.e., not wet) hair, and a few prevent water from entering the hair fibers while creating a humidity-impenetrable film/barrier. The benefits of one such material, lauryl/myristyl polyricinoleatea, are explored in the work described here.
Form and Function
Originating from a family of natural skin care moisturizers, lauryl/myristyl polyricinoleate is a long-chain nonionic polyester made from raw materials containing 100% renewable carbon: Roundtable on Sustainable Palm Oil (RSPO)-sourced palm kernel oil and castor oil. Furthermore, lauryl/myristyl polyricinoleate is produced via a process that involves no chemical modification other than condensation. As will be shown, this ingredient demonstrates the unique ability to deliver conditioning effects on hair that are superior to the industry-standard and commonly used quats cetrimonium and behentrimonium chloride.
This is due to its molecular structure, whose symmetry allows it to form lamellar-structured liquids (see Figure 2), supporting good conditioning effects. Here, SEM shows the microstructures of a top-selling hair-conditioning brand (left) based on behentrimonium chloride and another conditioner based on lauryl/myristyl polyricinoleate (right); images are on a micrometer scale and clearly show lamellar layers (sheets) and occasional vesicles.
Lamellar-structured liquids, when deposited onto wet hair, swell and produce parallel "sheets" of material on the hair fibers. When rinsed, the slip effect between the sheets generates detangling effects as well as a slippery feel on hair. In addition, any component of the lamellar liquid having a strong affinity to hair withstands rinsing and remains, generating benefits for dry hair—mainly, improved lubrication, which translates as repair and moisturization effects.
Lamellar-structured liquids deposited onto wet hair swell and produce parallel "sheets." When rinsed, the slip effect between the sheets generates detangling effects.
The density of the lamellar liquid not only ensures conditioning performance, but also is responsible for product stability. As self-suspending lamellar liquids, hair conditioners rarely contain rheology modifiers because well-designed lamellar structures keep the products stable. Until now, the optimal lamellar hair conditioners, typically rinse-off conditioners, were based on fatty alcohols—e.g., cetyl and stearyl—and quaternary ammonium salts. This is because quats are not only able to act as emulsifiers in the product, but also provide good deposition on negatively charged hair due to their positive charge. Previously, no nonionic ingredients have been known to provide properties similar to quats—insofar as their ability to remain stable as lamellar liquids—to detangle and impart a moisturized after feel to hair.
Conventional vs. Lauryl/Myristyl Polyricinoleate
To assess the efficacy of this nonionic ingredient, its conditioning effects were compared with typical ingredients in test shampoos and conditioners. A standard shampoo based on either quaternized guar/silicone or lauryl/myristyl polyricinoleate was developed (see Formula 1) and used as described below, and the detangling forces required during combing were measuredb. In addition, a simple and typical rinse-off conditioner chassis was tested, containing: 4% active cetearyl alcohol; 1.6% lauryl/myristyl polyricinoleate; and 0.4% cetrimonium chloride (CTAC) or behentrimonium chloride (BTAC) as the emulsifier.
Test protocols: For shampoo testing, swatches of bleached hairc were prewashed with a 14% solution of sodium laureth sulfate, and washed and rinsed 2x with the shampoo. Combing-force measurements were taken on wet and dry hair after 12 hr of drying in a controlled atmosphere (22°C, 45% RH). To test the conditioners, swatches of bleached hairc were prewashed with a 14% solution of sodium laureth sulfate, treated with the hair conditioner and rinsed. Combing forces were measured on wet and dry hair, also after 12 hr of drying in a controlled atmosphere (22°C, 45% RH).
Results: Results for dry combing are shown in Figure 3 for the shampoos (top) and conditioners (bottom). A significant reduction in the required combing force was observed in the formulas based on lauryl/myristyl polyricinoleate, in comparison with conventional quats and other chassis.
Demand for products that counteract rough- and brittle-feeling hair drives the innovation of technologies to impart a hydrated, soft feel to hair.
Benchmarks vs. Lauryl/Myristyl Polyricinoleate
Based on these results, a fully renewable natural hair conditioner based on lauryl/myristyl polyricinoleate was formulated (see Formula 2) and its detangling efficacy was compared with current natural market benchmarks using the same protocol described. Comparisons were made with: Benchmark 4, a repair and care conditioner; and Benchmark 5, a nourishing hair conditioner—both leading natural brands in Germany (see Benchmark Ingredient Disclosures sidebar).
Results: The results, shown in Figure 4, indicated that the ease of detangling for the simple and natural formulation—with lauryl/myristyl polyricinoleate and containing only 14 ingredients—was as good as (during wet combing) or better than (during dry combing) fully formulated natural consumer products containing 25-30 ingredients.
Natural Nonionic Conditioning
Assuming a nonionic material is hydrophobic enough, as in the case of lauryl/myristyl polyricinoleate, it can demonstrate good affinity to hair without requiring a positive charge. Further, contrary to other nonionic conditioning ingredients, such as oils or silicones, lauryl/myristyl polyricinoleate was not easily washed out during rinsing in the shampoo test; instead, it efficiently deposited onto hair to provide exceptional after feel. This effect fits the predefined market need identified for "moisturizing" hair care products.
Beyond the demonstrated hair-conditioning effects, nonionic materials offer formulators added benefits. First, they are more compatible with other ingredients since they cannot form salts that would precipitate. As such, nonionics can be used in many formats, including both oil- and water-based shampoos or conditioners, rinse-off and leave-on conditioners, etc.; examples are provided in Formula 3 and Formula 4. (Editor's note: see Bonus Hair Care Formulas 5, 6 and 7, exclusively in our digital edition.)
This overcomes the current limitations of quats, which are rarely used in shampoos due to their risk of precipitating in the presence of anionic surfactants.
Second, nonionics usually display much better consumer safety profiles in terms of skin irritation.3 Thus, in comparison with quats, which have regulated usage limits, lauryl/myristyl polyricinoleate can be used at higher concentrations, in leave-on hair care products and in products for children or individuals with sensitive skin.
Lauryl/Myristyl Polyricinoleate in the Environment
Compared with quats and silicones, lauryl/myristyl polyricinoleate also is safer for the environment (see Table 1). As a readily biodegradable material, it does not accumulate and has no effect on aquatic organisms including algae and crustaceans; in other words, it demonstrates no environmental toxicity. Furthermore, lauryl/myristyl polyricinoleate is made from raw materials containing 100% renewable carbon and using a process based on condensation. It therefore fits into Cosmos-certified cosmetics.
Conclusions
The market demand for products that counteract rough- and brittle-feeling hair drives the innovation of technologies to deliver a smooth and soft after feel to dry hair. In consumers' language, this translates to "moisturized" or "hydrated" hair. In relation, the segment for natural cosmetics is growing and the industry continues to look for relevant sustainable, renewable and biocompatible ingredients, formulations and packaging without compromise; i.e., they expect eco-friendly products to deliver the same effects and claims as traditional mass brands.
In response, lauryl/myristyl polyricinoleate was developed as a unique hair care conditioning ingredient that introduces new opportunities for nonionics and challenges conventional conditioning options. The ingredient is not only 100% renewable, biodegradable and nontoxic to aquatic life, it is also compatible with most hair care formats—and most importantly, is capable of delivering a moisturized, smooth and conditioned feel to hair. The material therefore combines the best of two worlds: safety and technical performance.
References
Mintel's Global New Products Database (GNPD). Retrieved from www.gnpd.com
Evans, T. (2012, July 10). Water Content and Moisturization. Retrieved from www.cosmeticsandtoiletries.com/research/chemistry/161976615.html
Maibach, H. I., and Effendy, I. (1995). Surfactants and experimental irritant contact dermatitis. Contact Dermatitis, 33(4), 217-25.