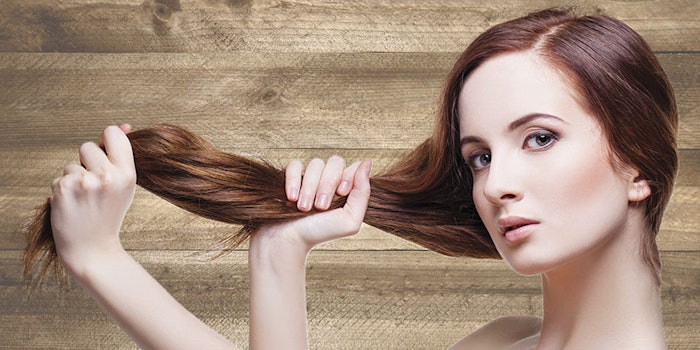 Hair oils have been used for centuries by women in eastern countries such as India.1 However, only recently have people in the western world come to realize the benefits of oiling the hair. 
According to Transparency Market Research, the hair oils market is growing significantly due to consumer demand for the strengthening, nourishing, growth and anti-hair loss benefits touted by these products. Consumers in North America and Europe are also using oils as hair or scalp treatments, although the Asia-Pacific region is the largest consumer of hair oil in the world.2 Perfumed oil and coconut oil notably comprise the two main segments of the hair oil market, while the main drivers for growth are consumers converting from unbranded to branded products, as well as the demand for lighter hair oils.3
In Indian tradition, women wore long tresses and nurtured them regularly using pure oils such as mustard in the north or coconut throughout India. Such oils are nutritionally rich and believed to impart medicinal and curative properties.4 Through this practice, the Indian head massage developed as a grooming technique to strengthen and improve the fullness of the hair by stimulating pressure points on the scalp and reduce stress. The technique, in many senses, became part of everyday life, practiced by young and old alike. It was handed down as a tradition through generations.
With a history dating back thousands of years, the use of hair oils is nothing new—but the formulas, extracts and technologies have improved. This article reviews the benefits of hair oils, as well as some popular oil types and their known effects. It also highlights a few modern products and formulations, which have drastically changed from centuries ago to current day.
Benefits of Hair Oils
Conditioning and strength: Oil has an innate ability to soften and condition the hair, giving it healthy shine. Oil mimics the natural action of sebum. Consider how the scalp is constantly producing oil that travels from hair's root to its tip. Adding oil to hair fibers therefore affords protection by serving as a barrier against moisture loss from within. From without, oil also reduces the amount of moisture regained by hair, as well as the diffusion rate of moisture in fibers.5
Regular application of oil is also known to increase the strength of hair since it maintains hydration to keep it from becoming brittle and breaking.6 Further, as might be expected, the application of oil lubricates hair and reduces the force required to comb, thereby preventing breakage.
Repair and protection: Hair oil also can repair hair, which is especially important considering the growing number of consumers using chemical and mechanical hair treatments; e.g., coloring, relaxing, curling, straightening, etc. Furthermore, pre-conditioning hair with oil before such treatments can protect it against further damage. Indeed, consistent hair oiling has been shown to prevent the loss of protein from chemically treated hair, helping to maintain its thickness and tensile strength even after chemical treatment.
Hair oils even meet the latest demand for anti-pollution protection, as they coat the hair shaft and thereby act as a barrier to pollutants such as dirt, dust, UV rays, etc., which can damage hair.7 Indeed, in one study, a preparation of herbal hair oil using amla, brahmi, tridex, shikakai and neem showed antioxidant activity in hair.8 To protect against UV damage, many of today's formulations also include oil-soluble UV absorbers.
Growth and scalp care: Hair oils also have been shown to speed hair growth and in some cases, treat baldness.8 This is due, in part, to the massaging action during application, which increases circulation, as well as the moisture imparted to the scalp, which maintains its heath and, in turn, the health of hair.9 Oils also provide essential nutrients required to maintain the normal functioning of sebaceous glands, which further promotes hair growth.9
Research has shown, for example, that a hair oil based on extracts from Azadirachta indica leaves, Semecarpus anacardium fruits, Trigonella foenum graecum seeds and Cocos nucifera oil improved hair growth and even diminished hair loss.10 Of course, some modern formulas also incorporate hair growth-promoter ingredients.
Coconut oils hold the highest hair oil market share.
Health and Sensory Considerations
Contrary to popular western belief, hair oiling can promote hygiene by cleaning dust from the scalp. It also, as mentioned, can prevent dandruff and hair loss, as well as infection and irritation.1 Regarding sensory aspects, hair oils do not necessarily promote greasiness or stickiness. Some traditional oils may be heavier, so formulators must balance formula parameters to keep them from feeling sticky. But many of today's popular oils have a lightweight feel.11
Hair Oil Types
In India, the Bureau of Indian Standards12 categorizes three main types of hair oils based on their composition. These divisions were created to differentiate products solely for regulatory purposes.
Type 1: contains vegetable oil as the base oil;
Type 2: contains only mineral oil as the base oil; and
Type 3: contains a mixture of vegetable oil and mineral oil as the base oil.
From a global market perspective, four main categories of hair oil are differentiated based on composition as well as sensory characteristics.
1. Coconut hair oils. Coconut oils hold the highest market share, compared with the others. They are popular in the south as they are easily accessible since coconut is grown there.
2. Amla hair oils. The heavy Indian gooseberry or amla hair oil is primarily an urban-driven market and therefore tends to be geographically concentrated in the northern parts of the country.
3. Light hair oils. Lighter hair oils have experienced significant growth in recent years as consumers opt for lighter and more modern hair products.11 According to Nielsen, between 2009 and 2013, light hair oil was the fastest-growing segment in India, registering a CAGR of 25%, whereas the overall hair oil market grew by 19% over the same period. Interestingly, nearly 40% of light hair oil sales were reported in rural areas.
4. Cooling oils. As the name suggests, these oils are meant to cool the scalp to provide relief during harsh summer months.
In 2014, Technavio13 described another hair oil category: "value-added." These oils are reportedly designed to provide extra care for hair; e.g., to treat hair loss and damage caused by hair coloring. These are considered premium products, rising in both prices and popularity due to the benefits of their natural ingredients. According to the group, demand for value-added hair oils is mainly in professional centers such as beauty salons and spas. This market is anticipated to expand in India at a CAGR of 19.90% from 2014 to 2019.
Traditional Indian Hair Oils and Benefits
Some of the most well-known hair oils and their benefits include the following.
Castor oil: Castor oil is rich in vitamin E, proteins and minerals. This very viscous oil is difficult to wash off hair, but this is really the only disadvantage. Castor oil has antimicrobial properties that help to control dandruff and other scalp issues. It contains ricinoleic acid, which treats scalp inflammations and diseases. It also moisturizes and softens hair by maintaining moisture levels. Castor oil also aids in blood circulation, to promote faster hair growth; and since it is moisturizing, it can be used to treat dry scalp.
Bhringraj oil: Bhringraj oil is a combination of Eclipta alba and sesame oils. This oil helps to reduce hair loss, prevent premature graying and aid in faster hair growth.
Olive oil: Olive oil is a highly moisturizing oil. Rich in vitamin E, it helps to promote hair growth. Olive oil contains a high concentration of antioxidants. It is also lightweight and contains oleic acid, which easily penetrates the hair shaft and locks in the moisture. Olive oil is the best natural conditioner available and will make hair touchably soft and smooth with regular use. Since this oil has anti-inflammatory properties, it can also treat dandruff, reduce hair loss and aid in subsequent hair growth. Further, it nourishes and strengthens hair and promotes elasticity.
Sesame oil: Sesame oil is used as a base oil in many ayurvedic preparations for hair growth. Since is holds antimicrobial properties, it also can treat fungal or other scalp infections. Sesame oil is most beneficial when used as a hot oil treatment. It conditions hair, nourishes the scalp, reduces dandruff and its vitamin E content boosts hair growth.
Argan oil: Argan oil has recently surged in popularity. It hydrates and moisturizes hair by penetrating the hair shaft, providing deep nourishment. Argan oil is rich in antioxidants, vitamin E and vitamin F, which repair damaged hair, mend split ends and impart luster. The oil is known as "liquid gold" for these various properties.
Amla oil: Promoting hair health is what amla oil does best, be it for hair loss treatment, premature graying or a simple hair care regimen. It also promotes hair growth and removes unwanted flakes from the scalp.
Jojoba oil: Jojoba oil is highly beneficial for both hair and skin due to its moisturizing and healing properties. Regular use with the oil makes hair lustrous and frizz-free. It also aids in hair growth by supporting the growth of new hair cells, and helps to prevent dandruff and hair loss. It also can be used to soften and moisturize dry hair, improving combability.
Coconut oil: Perhaps the best hair oil, coconut makes hair soft and lustrous. It is a natural conditioner, rich in vitamin E and antioxidants, which repair damaged hair. Coconut oil is known to penetrate hair follicles, stimulating growth and moisturizing dry hair. It also lubricates hair, improving its combability. Further, coconut oil components such as magnesium, potassium, calcium and iron provide benefits to hair.
Rosemary oil: Rosemary oil is especially useful to treat flaky dandruff problems.
To develop a hair oil, it is important to consider hair and scalp conditions.
Formulating and Commercial Examples
To develop a hair oil, it is important to consider consumer hair and scalp conditions, as well as sensory preferences. Coconut oil scalp massages, or champis, for example, were once regarded as the secret to healthy hair. And while the next-generation consumer still embraces oil scalp massages, the "magic" ingredients seem to be changing.
The best hair oils today are multi-tasking and can do the job of a leave-in conditioner, styling cream, frizz serum and shine spray in one. Hair oils have greatly transformed from traditionally oily, heavier or greasy-feeling to lighter ones that incorporate novel actives for hair growth, conditioning, etc. A small sampling from the commercial market is described here.14
Khandi Natural Revitalizing Hair Growth Oil is designed to massage into the scalp to strengthen the hair roots and make hair thicker. It is also reported to prevent dryness and hair loss. The product contains sesame oil, coconut extracts, rosemary drops and Indian licorice.
G Drops Castor Oil, Cold-Pressed is said to help hair grow longer and thicker, as castor oil has always been known to do.
Vagad's Khadi Maha Bhringraj Herbal Hair Oil is reportedly packed with botanical extracts, aromatic oils and nutrients that help boost hair growth.
Soulflower Coldpressed Olive Carrier Oil is promoted as an organic hair oil that deeply conditions and simultaneously controls dandruff. The product incorporates olive seed oil extract and contains vitamins E, K and D3.
VLCC Hair Strengthening Oil aims to strengthen hair from root to tip, heal the scalp and "protect hair from sudden climatic changes."
Unique Naturals Cold Pressed Castor Oil includes a blend of castor oil and other natural ingredients to prevent split ends, boost hair growth, prevent hair loss and impart a healthy shine to hair. Apart from using it on scalp hair, it is suggested for use on the eyebrows and eye lashes to thicken and strengthen them.
Earth Organic Amla Hibiscus Hair Oil incorporates hibiscus, amla and fenugreek extracts as its main ingredients. The natural protein in amla is said to promote hair growth, while hibiscus reduces hair loss and fenugreek controls dandruff.14
Hair for Sure hair oil, featuring the "breakthrough" Rutexil Growth complex,15 is reportedly India's first hair oil to be approved by the World Medical Trichologist Association. According to the company, the product's active agents along with fusions of vitamin B3 and pro vitamin B5 reactivate hair follicles, stimulate growth and improve hair health. The company's patented Rutexil ingredient is said to "oppose perifollicular fibrosis and prolong the anagen phase of hair by preventing rigidification of collagen."
The product is marketed for its powerful antioxidants, but also the active molecules in Rutexil ingredient, which is said to calm inflamed tissues and itching caused by DHT sensitivity—according to the company, a key to treating hair loss. The composition for this ingredient is not disclosed, although the full ingredient disclosure on the product label is as follows: Ingredients: Water (aqua), Aloe Barbadensis Leaf Juice, Propylene Glycol, Dimethyl Isosorbide, Diaminopyrimidine Oxide, PEG-12 Dimethicone, Disodium Rutinyl Disulfate, Niacinamide, Panthenol, Glycerin, Oleth-20, Thermus Thermophylus Ferment, Fragrance (parfum), Methylisothiazolinone, Imidazolidinyl Urea.
Finally, Kesh King Ayurveda Hair Oil is designed not only to protect and nourish the hair, but also to prevent premature graying, dandruff, hair loss and split ends, as well as sleeplessness and headaches. According to the company, this product acts on both the hair follicle, the center of biological activity for hair growth and pigmentation, and on the hair shaft by penetrating the medulla. It is said to work like a tonic and nourish hair matrix cells, which removes weaker hair fibers and activates new fibers, resulting in stronger, longer and denser hair.16
Conclusions
The Indian market for hair oils is diverse. As some consumers purchase up the value chain, many others will continue to use basic coconut oil. Regardless of the type, one can anticipate traditional hair oil champi, or massage treatments, to continue in popularity, especially as growing stress levels in consumers push them back to traditions.
References
(All websites accessed May 17, 2017)