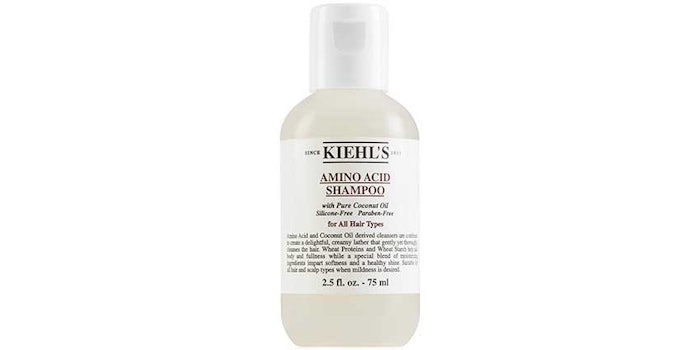 This edition of 'Read the Label' focuses on gentle scalp cleansing. The product in review is Kiehl's Amino Acid Shampoo—one of the company's best sellers. Kiehl's started in 1851 as an apothecary pharmacy in New York's East Village and later branched out into cosmetic products.
Related: Comparatively Speaking: Shampoo vs. Body Wash Formulation
As the name suggests, the shampoo contains amino acids and coconut oil to create a creamy lather that gently, yet thoroughly, cleanses the hair. It's enriched with wheat proteins and wheat starch to help add body and fullness to the hair, and is suitable for all hair and scalp types when mildness is desired.
A small amount of product should be applied on wet hair and gently massaged through the scalp area. Then the hair should be rinsed with warm water and the whole process repeated if desired.
Shown below is the full ingredient disclosure; those listed in bold are the ones I believe are strongly contributing to product performance and claims:
Ingredients: Water (Aqua), Sodium Methyl Cocoyl Taurate, Sodium Coco Sulfate, Sodium Chloride, Coco-Betaine, Fragrance (Parfume), PPG-5-Ceteth-20, Sodium Lauroyl Glutamate, Lactic Acid, Propylene Glycol, PEG-55 Propylene Glycol Oleate, Salicylic Acid, Benzoic Acid, Guar Hydroxypropyltrimonium Chloride, Coconut Alcohol, Cocos Nucifera (Coconut) Oil, Coumarin, Hydrolyzed Wheat Protein, Wheat Amino Acids, Hydrolyzed Wheat Starch.
Editor's note: While the "Read the Label" series provides an overview of the ingredients cosmetic manufacturers use and their related claims, without use levels or access to clinical studies, the author is drawing conclusions based on speculation—albeit from training, formulating experience and, in some instances, evidence in the literature. The following is offered for your consideration and further verification.
Sodium Methyl Cocoyl Taurate
This is the primary surfactant in the formula that has a high flash foam (instant foaming upon lathering) and is classed as a mild surfactant. It can be used to create clear formulas and it rinses easily. As a primary surfactant, its use level is typically ~30% and it is stable at extreme pH levels, so it is a good choice for AHA cleansers or intimate washes. Sodium methyl cocoyl taurate will thicken with electrolytes and betaines, too, so is effective at building viscosity. It also is a naturally derived surfactant.
See related: Sodium Methyl Cocoyl Taurate, Biosurfactant in Action
Sodium Coco Sulfate
This ingredient is used as the secondary surfactant to boost foam and create a rich lather. Some consumers tend to dislike the ingredient sodium laureth sulfate (SLES) and I personally believe it's because it is often mistaken as sodium lauryl sulfate (SLS), which can be irritating if left on the skin for long periods of time. Due to this, I have seen a rise in the use of sodium coco sulfate (SCS) when in fact, it is pretty much the same thing as SLES. The main difference is that SLES is made using lauric acid and SCS is made using coconut oil, which consists of predominantly lauric acid. 
Sodium Chloride
This ingredients is used for thickening the surfactants in the formula. Salt is used to change the charge in the formula, which in turn changes the shape of the surfactant micelles, which increases viscosity. 
Coco-Betaine
This ingredient is similar to cocamidopropyl betaine (CAPB) in terms of performance, but coco-betaine is higher in naturality. It is also amphoteric and is mild on the skin. CAPB is mostly used to increase mildness as a co-surfactant. 
PPG-5-Ceteth-20
This is a water-soluble emollient that can be used to solubilize fragrances and oils in surfactant formulas, whilst keeping the formula clear. This will help solubilize the lactic and salicylic acid used in the formula, since salicylic is particularly difficult to solubilize, as well as the coconut oils, fragrances and wheat proteins/amino acids.
Sodium Lauroyl Glutamate
Sodium lauroyl glutamate is a naturally derived anionic surfactant that comes from L-glutamic acid, a naturally occurring amino acid. It is a mild surfactant that is non-irritating and readily biodegradable. This helps to enhance the feel of the foam and leaves a soft skin feel after rinsing, making it ideal for baby or sensitive skin cleansing products. 
Guar Hydroxypropyltrimonium Chloride
This is a naturally-derived conditioning agent that can be used in shampoos and conditioners. When this Kiehl's shampoo is rinsed off, the guar hydroxypropyltrimonium chloride (GHPC) precipitates onto the hair shaft and leaves a conditioning effect on the hair. It also works as a depositing agent due to its cationic charge, which allows other oils within the formula to coat the hair shaft rather than being rinsed off. This leaves the hair soft, glossy and smooth. It has a low build-up effect on the hair and repairs damage whilst increasing combability.
Cocos Nucifera (Coconut) Oil
Coconut oil contains a high level of fatty acids to nourish the scalp whilst increasing shine and smoothing damaged cuticles in the hair. It is often solid at room temperature and melts upon contact with the skin, or is a clear and colorless oil. 
Hydrolyzed Wheat Protein
Wheat grain contains a high amount of proteins (7-18%), which is extracted and used for its conditioning properties. This ingredient has similar conditioning properties to GHPC but the wheat proteins are higher in naturality. If you are wanting to increase the natural percentage of your overall formula, you can reduce levels of other conditioners and increase levels of this ingredient.
Wheat proteins help to improve hair feel, and increase shine and softness. They also help to reduce tangling by increasing hair suppleness. This ingredient is often a pale-beige liquid in water or a pale, yellow powder.  
Wheat Amino Acids
Wheat amino acids are smaller molecules than wheat proteins, which means they are able to penetrate deeper into the hair shaft. They are humectants, so they draw in moisture from their surroundings into the hair to leave it moisturized from the inside out. 
In-use Testing
I've not used many Kiehl's products in the past as I've been put off by the high price tag but after reviewing this formula, I am completely impressed. Kiehl's has been very clever in its formulation of this product. The company has avoided ingredients like SLES and CAPB, which some consumers have a negative opinion of, and instead used materials that perform in a very similar way under more "user-friendly" INCI names, such as SCS and Coco-Betaine. I think this is a great play on chemistry knowledge and it means they can create a high-performing product that keeps everyone happy. 
When using the product, I found it foamed well and created a nice, rich lather. Although it's a gentle cleanser, it did clean well and even left my hair with a few flyways on the surface. After drying, my hair was shiny and soft and had a pleasant coconut fragrance that I smelled throughout the day. I would recommend this product for people who like to wash their hair daily as it left my hair feeling light and clean but didn't irritate my scalp, even though I was expecting it to with the use of lactic and salicylic acid. 
This shampoo is retailed at £19.50 for 250 mL ($20 for 8.4 fl. oz.) and you can buy this online or at Kiehl's stores/concessions. 
Source: Kiehl's

Disclaimer: This article was produced in the UK, therefore the INCI listing and INCI names comply with European labeling requirements.