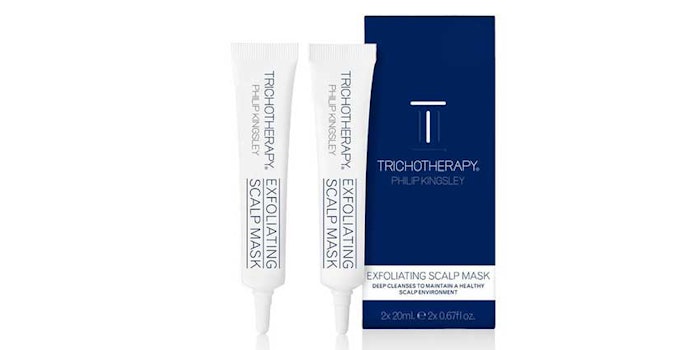 This edition of 'Read the Label' reviews Philip Kingsley's Exfoliating Weekly Scalp Mask. The brand enlists trichologists to address hair and scalp concerns and conditions.
Related: Expert Opinions: Hair, Scalp and Gentle Cleansing
Healthy scalps are the focus of this "Read the Label" column, highlighting Philip Kingsley's Exfoliating Weekly Scalp Mask. Philip Kingsley started his career in London's East End, where he swept the hair from the floor of his uncle's hair salon. He later studied trichology and went on to found hair clinics and products that focused primarily on hair health. Philip Kingsley created many products, some of which were personal favorites by royalty and celebrities such as Audrey Hepburn.
The Exfoliating Weekly Scalp Mask addresses common concerns such as dandruff and an itchy scalp.The brand's website talks about these concerns in more depth, i.e.: "dandruff describes scalp flaking. However, there are various degrees of severity ranging from common dandruff, i.e., loose or tight flakes, to more severe seborrheic dermatitis. The most common type of dandruff is pityriasis capitis simplex or pityriasis steatoides. It usually comes and goes and you may find it flares up under stress. Mild to moderate dandruff is easily treated with over-the-counter shampoos, toners and scalp masks."
The product is claimed to deliver a deep clean with exfoliating BHAs and zinc, which help to clear away flaky skin and reduce the oiliness of the scalp. It should be used as part of a weekly treatment to remove product build-up and keep the scalp clean.
To use this scalp mask, users are instructed to ensure the hair is damp and to apply the product to the scalp in partings approx. 1 in (3 cm) apart, working from the front of the head to the back, and gently massaging the scalp. Once applied, the product is left on for 10-20 min, rinsed well and washed off using shampoo, conditioner and scalp toner, if desired.
Looking at the ingredients list below, I can see this formula is a classic emulsion, where the emulsifiers have been carefully selected to match the HLB value of the oil phase. The ingredients in bold are the ones I believe are strongly contributing to product performance and claims.
Ingredients: Water (Aqua), Propylene Glycol, Cetearyl Alcohol, Glyceryl Stearate, PEG-100 Stearate, Betaine Salicylate, Olea Europaea (Olive) Fruit Oil, Dicaprylyl Carbonate, Polysorbate 80, Phenoxyethanol, Coco-Caprylate, C10-30 Cholesterol/Lanosterol Esters, Allantoin, Sodium Hydroxide, DMDM Hydantoin, Xanthan Gum, Cupressus Sempervirens Oil, Cetyl Acetate, Zinc PCA, Oleyl Acetate, Stearyl Acetate, Limonene, Acetylated Lanolin Alcohol, Aloe Barbadensis Leaf Juice Powder, Tocopherol, Linalool.
Editor's note: While the "Read the Label" series provides an overview of the ingredients cosmetic manufacturers use and their related claims, without use levels or access to clinical studies, the author is drawing conclusions based on speculation—albeit from training, formulating experience and, in some instances, evidence in the literature. The following is offered for your consideration and further verification.
Betaine Salicylate
This oil-soluble, white, crystalline-powder BHA has a low molecular weight. This means it is able to penetrate deep into the epidermis and loosen some of the bonds holding dead, flaky skin cells together. This exfoliates the scalp to help remove dead cells, creating a smoother scalp surface and also reducing sebum levels. The removal of skin cells is known to encourage the growth of new, healthy skin cells. Betaine salicylate also has antimicrobial properties.
Olea Europaea (Olive) Fruit Oil

Olive oil contains a high level of fatty acids, which are essential for our skin moisturization and barrier function, including typically: ~70% oleic acid, 10% linoleic acid (omega-6), 15% palmitic acid, 5% stearic acid and 0.5% α-linoleic acid (omega-3).
It is also known to contain traces of squalene. Cleansing the scalp often means stripping these fatty acids from the skin, which can cause dryness and irritation to worsen dandruff symptoms. Olive oil is used to replenish the scalp with vital emollients, keeping it nourished, soft and moisturized. 
Dicaprylyl Carbonate
This is an emollient that improves the spreadability of the product. It has strong solubilizing properties and reduces the crystal formation that can cause a gritty-feeling product.  
C10-30 Cholesterol/Lanosterol Esters
I'm surprised to see an animal-derived ingredient in a fairly new product. The recent trend is for vegan products but in my opinion, this is somewhat of a shame because well-known ingredients such as lanolin are forgotten.
Lanolin is a waxy substance that comes from the wool of sheep. It is a by-product and is otherwise thrown away if not used. It is very similar to petroleum jelly in terms of moisturization and is often used in lip products to treat extreme dryness. This ingredient blend is used in this formula to provide moisturization to the scalp and to leave the scalp and hair feeling soft. 
Allantoin
This ingredient is a skin conditioning agent and protectant. Allantoin provides a soothing effect and reduces itching and dry skin. It can be used at low levels in the formula (0.5%) and is effective but it can crystallize out of formulas—so it is best to add it to an emulsion during the cooling phase and use appropriate solubilizers.
Xanthan Gum
Xanthan gum not only works as a natural thickener, but it also helps to stabilize emulsions. Low levels are required < 1% but this additional gel network helps to keep the emulsion structure in place and reduces the likelihood of instabilities occurring. 
Cupressus Sempervirens Oil
This is cypress oil, an essential oil with a herbaceous, woody pine scent. It is included in the product to provide a natural fragrance, but it also is known to reduce oily skin, improve mood and to impart antimicrobial properties.  
Zinc PCA
This is a well-known anti-dandruff active and is the main active used in this formula. Zinc PCA is a strong anti-seborrheic agent, meaning it significantly reduces excessive sebum production in the skin so it is less oily. It has antimicrobial properties to prevent bacteria growing on the scalp and it provides an anti-inflammatory effect to calm irritation and relieve itchiness. 
Finally, the product incorporates aloe. The leaves of Aloe vera are harvested, filleted and then dried to form leaf juice powder. Adding the powder to water during formulation simply rehydrates it. This ingredient is known for its soothing properties and is often used in after-sun products to reduce inflammation and to cool and soothe the skin. It is commonly used in hair care to soothe irritated scalps and to provide moisturization.
This scalp mask is retailed at £19 for two, 20 mL ($29 for two, 0.67 fl. oz.) and you can buy this online, in chemists/drug stores or at Philip Kingsley clinics. 
Source: Philp Kingsley

Disclaimer: This article was produced in the UK and therefore the INCI listing and INCI names comply with European labeling requirements.