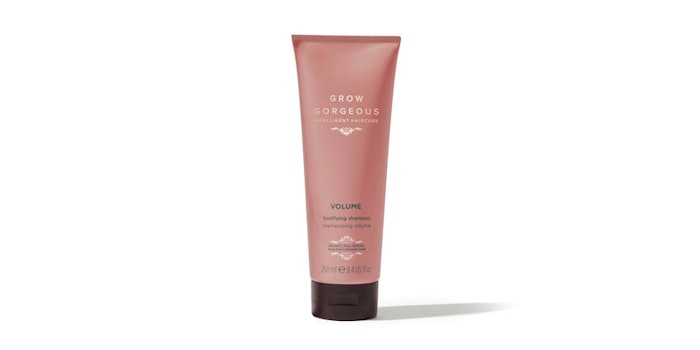 This edition of Read the Label explores hair cleansing. The product under review is the Grow Gorgeous Volume Bodifying Shampoo (£14 for 250 mL), which is said to cleanse the hair and scalp while plumping hair strands.
In addition to this, the brand claims the product wakens up roots with a stimulating boost; it soothes, moisturizes and conditions hair and scalp; and it increases shine and visibly increases hair volume, promoting healthy looking hair. The product uses both skin and hair care ingredients in order to carry out such claims and is designed for fine hair types. A generous amount of product should be worked into wet hair, lathered well and massaged into the scalp and through to the ends before rinsing.
After looking at the product's INCI listing, I was surprised by the high amount of active ingredients and amino acids being used. Typically, anything listed after parfum or preservatives is less than 1% in the formula (although this is not always the case); however, most active ingredients can work best at low levels, and increasing the concentrations can sometimes have no effect on efficacy.
I have highlighted some key ingredients in this shampoo that are fulfilling product performance:
Ingredients: Aqua/Water/Eau, Sodium Cocoyl Isethionate, Sodium Methyl Cocoyl Taurate, Cocamidopropyl Betaine, Fragrance (Parfum), Hydrolized Pea Protein, Sodium Chloride, Caffeine, Coconut Acid, Acrylates/C10-30 Alkyl Acrylate Crosspolymer, Lauryl Glucoside, Sodium Benzoate, Potassium Sorbate, Sodium Isethionate, Hydroxypropyl Guar Hydroxypropyltrimonium Chloride, Hydrolyzed Rice Protein, Sodium PCA, Sodium Lactate, Allantoin, Disodium EDTA, Arginine, Aspartic Acid, PCA, Leuconostoc/Radish Root Ferment Filtrate, Butylphenyl Methylpropional, Limonene, Glycine, Linalool, Alanine, Citric Acid, Serine, Valine, Isoleucine, Proline, Threonine, Histidine, Phenylalanine, Sodium Hydroxide.
Editor's note: This column reviews the ingredient listings on products for claims substant­­iation and function­­ality. In addition, the product was tested personally by the author; she offers the below insights. While the "Read the Label" series provides an overview of the ingredients cosmetic manufacturers use and their related claims, without use levels or access to clinical studies, the author is drawing conclusions based on speculation—albeit from training, formulating experience and, in some instances, evidence in the literature. The following is offered for your consideration and further verification.
Sodium Cocoyl Isethionate
This is the primary surfactant being used within this product. It produces a high volume of foam (and is often used in bubble baths), as well as a rich, dense lather. It is naturally derived and is stable at neutral pH. This material doesn't thicken by adding electrolytes, so you either need to add a rheology modifier to the formula to increase viscosity and/or add co-surfactants that do thicken with electrolytes.
Sodium Methyl Cocoyl Taurate
Taurates are good for increasing flash foam within a surfactant system. As a consumer, I find it frustrating having to lather a product for what I feel is a long time before I see any bubbles forming, so to avoid this perception, I think taurates are a good option; specifically if you have to avoid sulfates. Sodium methyl cocoyl taurate will thicken with electrolytes and betaines, too, so it is effective at building viscosity; it is stable over extreme pH levels; and most grades on the market are derived from coconut.  
Cocamidopropyl Betaine
Formulating with natural, sulfate-free surfactants can be difficult but adding this raw material can make things easier. It is amphoteric, naturally derived and mild on the skin. It is mostly used as a co-surfactant as its foam performance is standard but it thickens with electrolytes, so it plays a crucial role in the viscosity in sulfate-free systems. There are many grades of cocamidopropyl betaine (CAPB) on the market but they can differ slightly. Some are manufactured with a wide chain length of fatty acids and are cheaper to buy; however, they sometimes require higher usage levels to achieve the correct viscosity. There are also grades manufactured with a specific chain length of fatty acids that are more expensive to buy, but these create higher viscosity results in sulfate-free systems.
Hydrolyzed Pea Protein
This natural protein has a high affinity with the hair as it has a similar amino acid content as keratin, so it binds to it and provides intense moisturization, conditioning and it repairs damage. Due to its high moisturization properties, it makes the hair shaft more flexible and in turn, less likely to break. This raw material can also work well in skin care products so is beneficial for the scalp, too.
It seems to be a big trend at the moment for traditional skin care ingredients such as vitamin C and hyaluronic acid to be included in hair care formulas.
Caffeine
Caffeine is commonly used in hair growth products as it is a stimulant that encourages cells to produce more ATP energy. This increase in ATP can speed up the hair growth cycle, particularly the anagen or growth phase. Caffeine has a low molecular weight and can penetrate the skin easily, which is why it is often used in pharmaceutical and cosmetic studies that investigate the transport of ingredients through the skin. 
Hydroxypropyl Guar Hydroxypropyltrimonium Chloride
This is a powerful, naturally derived conditioning agent. It works through coacervation when the shampoo is rinsed off, where it precipitates onto the hair shaft and leaves a conditioning effect on the hair. It also works as a depositing agent and allows other oils/silicones within the formula to attach onto the hair shaft rather than being rinsed off. It has a low build-up effect on the hair and repairs damage while increasing combability, resulting in even less damage when the hair is both wet and dry.
Allantoin
Allantoin is commonly used in leave-on skin care as a moisturizer, so I'm surprised to see it present in a rinse-off product. It is, however, a soothing ingredient so perhaps it is to prevent any irritation occurring on the scalp. It is known to relieve symptoms of dryness so it could also help to retain moisture in the hair. It seems to be a big trend at the moment for traditional skin care ingredients such as vitamin C and hyaluronic acid to be included in hair care formulas.
Amino Acids: Arginine, Glycine, Alanine, Serine, Valine, Isoleucine, Proline, Threonine, Histidine, Phenylalanine
The formula contains a high number of amino acids. These will improve moisturization in the hair and scalp, leaving both in better condition.
Leuconostoc/Radish Root Ferment Filtrate
This naturally derived moisturizing and antimicrobial ingredient is derived from kimchi (Korean fermented cabbage). It provides an acidic environment to prevent microbial growth and works as a moisturizing ingredient for the scalp.
Discussion
As far as I'm aware, there is not one, sole surfactant that ticks all the boxes within the personal care industry. Each surfactant performs differently, and mixing separate surfactants together creates a synergy to help tick the boxes the formulator and consumers require. Even traditional sodium laureth sulfate (SLES) systems often contain cocamidopropyl betaine (CAPB) as a co-surfactant and the reason for this is to create a milder formulation, amongst other things.  
In-use Testing
Not only is the Grow Gorgeous shampoo SLES/SLS-free, it is completely sulfate-free, too, which can drastically reduce product performance and stability. In my opinion, though, this product foams nicely with a quick flash foam and continued foaming upon lathering. The bubbles are medium-sized, which produces a dense layer of foam and a rich-feeling lather that rinses from the hair easily. This incredibly dense foam made me feel as though I was receiving value for the money, as it portrays luxury to me.
The fragrance Grow Gorgeous uses across its range of hair care smells ozonic, slightly masculine and fresh, which is suitable for all users. After using this product, my hair was soft, shiny and slightly more voluminous than usual. My hair becomes greasy quickly, so I usually wash it every day, if not every second day, so I was worried that changing to a milder surfactant system would not clean my hair as efficiently. In fact, it cleaned just like a traditional SLES system; I even managed two days before having to wash it again on the third day.
I usually spend less than £5 for shampoo, so £14 was bit costly considering I have long hair that requires frequent washing. Sulfates, and in particular SLES/SLS, can be cheap raw materials, so creating a high-volume product such as shampoo using sulfate-free surfactants will be more expensive to do. As a completely sulfate-free system, though, I do think the price point is still affordable, especially compared with other sulfate-free shampoos on the market.
Source: Grow Gorgeous website
Disclaimer: This article was produced in London, UK, and therefore the INCI listing and INCI names comply with European labeling requirements.