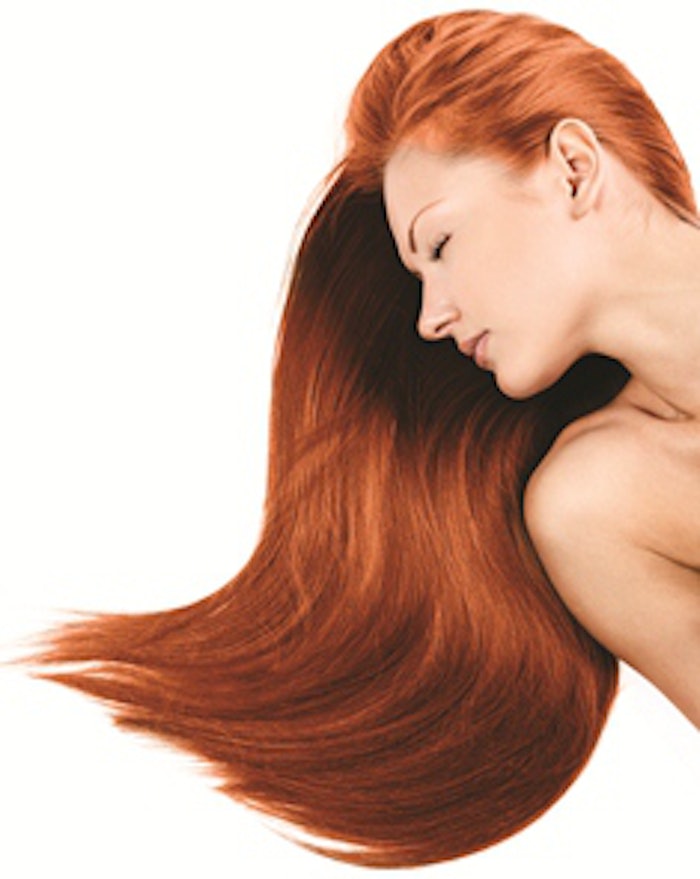 Hair care maintenance requires a substantial investment in both time and money. On average, hair grows at a rate of 0.5 millimeters per day and 0.5 inches per month. Visiting a salon every three months will render an average of 1.5 inches of new hair growth, exposing stubborn grays and unattractive roots. As any consumer will tell you, the cost of looking beautiful strongly outweighs the downside of feeling unattractive.
Changing hair color is like changing clothes; every season provides new fashion and beauty trends. Just as care is taken to protect and maintain clothes, the same care is taken to ensure healthy, beautiful hair. For consumers, changing hair color is a way to transform their look, whether in a subtle or bold way. The objective is to find a product that will keep hues long-lasting and bright whether at a salon or for in-home use.
Between Jan. 1, 2012, and Dec. 31, 2012, according to Mintel, 2,149 products focused on hair colorants were launched throughout the world—a 6.8% increase over 2011. But as technology continues to advance, consumer demands for effective and long-lasting solutions have significantly complicated both the science and the art involved in developing finished products for hair color retention.
New Hair Color Retention Technology
Through advancements in protein chemistry, TRI-K has discovered new benefits that effectively retain hair color through a natural and sustainable platform. Quinoa Pro EX (INCI: Hydrolyzed Quinoa) is a hydrolyzed protein that penetrates the hair shaft to prevent damage while adding control and manageability. Quinoa is considered a complete protein with all eight essential amino acids (See Table 1), which is necessary for tissue growth and repair. In addition, this botanically derived ingredient is paraben-free and gluten-free, making it ideal for natural formulations.
Hair Color Retention Studies
Goal: To assess the effectiveness of TRI-K's Quinoa Pro EX in hair color studies
Methodology:
Several leading hair dye brands were used in the experiments;
All hair dye brands were of the red or red copper family;
Natural blonde hair swatches were dyed according to manufacturer instructions;
Studies #1, #2, #3, #5: Swatches were washed using 10% active SLES solution;
Study #4: Swatches were washed with commercial shampoo for color treated hair;
All swatches were washed between 10-15 times.
Instruments used for testing:
Spectrophotometer to measure absorbance of washing solution;
Konica Minolta CR-400 Colorimeter for measuring overall change in L*a*b color coordinates of hair swatches.
Study #1:
After 30 minutes of continuous washing of the hair (estimated at 15 individual washes) and based on the spectrophotometer reading of the hair washing solution absorbance at 485nm, there was a 14% reduction of hair color wash out, as shown in Figure 1.
In addition, the results of measuring ∆E as an overall change in L*a*b coordinates of washed hair swatches also showed a 13% reduction of color wash out (See Figure 2). Based on readings of both spectrophotometer and colorimeter, the results articulate that using 1% Quinoa Pro EX has beneficial properties in reducing the hair dye color loss.
Study #2:
Test Methods:
Agent #1: (control) Commercial conditioner included with original hair dye;
Agent #2: (placebo) TRI-K conditioner with no Quinoa Pro EX;
Agent #3: TRI-K conditioner with 1% Quinoa Pro EX.
Based on the measurement of ∆E as an overall change in L*a*b coordinates, results showed TRI-K conditioner with 1% Quinoa Pro EX had a 19.82% reduction of color wash as compared to the box conditioner (control) over a period of 10 washes, as shown in Figure 3.
Study #3:
Test Methods:
Agent #1: (control) Commercial conditioner included with original hair dye;
Agent #2: Commercial conditioner with added 1% Quinoa Pro EX.
Hair was washed a total of 15 times, followed by treatment with conditioner after every five washes (three treatments with conditioner total). Comparing Agent #1 against Agent #2, TRI-K results show (see Figure 4) there was a 10% improvement in color retention by adding Quinoa Pro EX based on ∆E*ab (C).
Study #4:
Test Methods:
Agent #1: (control) Brand shampoo positioned for hair color protection;
Agent #2: Brand shampoo with added 1% Quinoa Pro EX.
Tests were run to assess the cumulative effectiveness in hair coloring and re-coloring using a brand shampoo to determine hair color wash out. Upon the first application of color, results showed 4% color retention improvement using Quinoa Pro EX versus control. Based on the second application of color, there was a 23% color retention improvement. Overall, studies clearly indicate stronger retention of hair color with continued use of Quinoa Pro EX, as shown in Figure 5.
Study #5:
Test Methods:
Agent #1: (placebo) Red hair color dye;
Agent #2: Red hair color dye with 1% Quinoa Pro EX.
To assess the effectiveness on the color uptake, 1% Quinoa Pro EX was mixed into red hair dye immediately before the coloring process. Based on measuring a*(C), there was a 25% stronger red color uptake vs. the placebo (see Figure 6). Retention of the red color was also measured after a period of 10 washes measuring placebo vs. placebo + 1% Quinoa Pro EX. Based on da*(C), red color stay resulted in 20% better red color retention vs. placebo alone, as shown in Figure 7.
Conclusion
The goals of these studies were to investigate the mechanism associated with Quinoa Pro EX to assess the effectiveness of hair color retention. After testing hair color absorbance and overall changes in L*a*b color coordinates in hair swatches, test data indicates the use of TRI-K's Quinoa Pro EX in leading hair dyes garners stronger results in hair color retention overall. An examination of the studies indicates that by using Quinoa Pro EX, hair color retention is improved in shampoos and conditioners ranging from 10-23%, based on the individual tests. The effectiveness of the red color uptake in hair color dyes is improved by 25% vs. placebo, and the retention of red color gave 20% better results than the placebo alone.
TRI-K's Quinoa Pro EX provides numerous benefits that have been tested for hair care applications in the cosmetic industry. To order a sample, please visit the Quinoa Pro EX listing in the Cosmetic Bench Reference.
Additional Studies & Benefits
TRI-K studies with additional Quinoa Pro EX benefits include:
Substantivity on hair;
Hair protection and repair;
Significant increase of hair gloss and shine;
Conditioning effect for reduction in combing forces on wet/dry hair;
Improved definition and retention of curls in ethnic hair.
Suggested Applications for Quinoa Pro EX
Hair colorants
Products enhancing hair color retention
Post chemical treatment products
Revitalizing conditioners
Conditioning shampoos
Products for shine enhancement
Products for curly hair
To order a sample, click here.
Disclaimer:
The above paid-for content was produced by and posted on behalf of the Sponsor. Content provided is generated solely by the Sponsor or its affiliates, and it is the Sponsor's responsi­bility for the accuracy, completeness and validity of all information included. Cosmetics & Toiletries takes steps to ensure that you will not confuse sponsored content with content produced by Cosmetics & Toiletries and governed by its editorial policy.