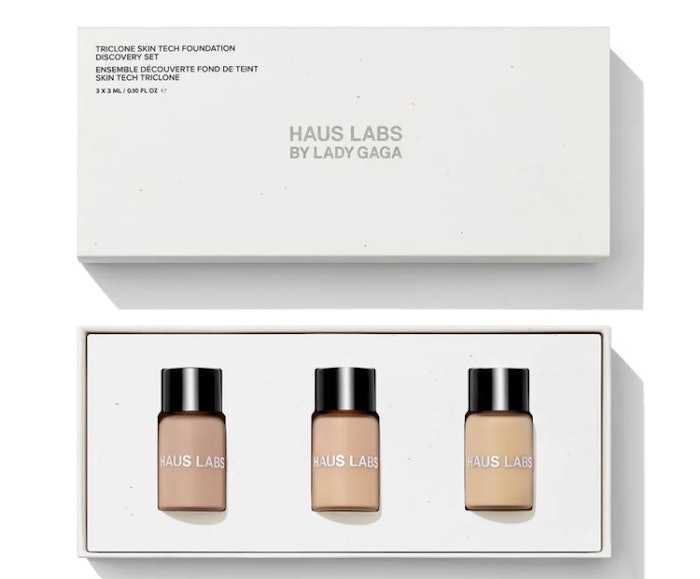 Haus Labs is offering the Discovery Set, which helps customers shade match at home for its Triclone Skin Tech Foundation, featuring 51 shades.
Available in curated sets for each shade family, the sets include three deluxe samples and a shade finder tool.
The Discovery Set will be available exclusively on Hauslabs.com and comes complete with QR codes that link consumers directly to purchase the shade match and learn more.
Customers can purchase the full-size foundation within 21 days of Discovery Set order or be charged $12 plus tax for the Discovery Set at the end of the trial period.
Kelly Coller, Haus Labs CMO, said, "Our new Discovery Set product is a groundbreaking way for new customers to test, try, and shade match our foundation at home and through our DTC site. This new offering provides ease and options for our customers whether they want to find their match in-store or online, they can shop however they feel most comfortable."
Ben Jones, Haus Labs CEO, said, "We don't stop at product innovation—we continually push the boundaries of digital innovation, blending tech and beauty. At Hauslabs.com, we started with our game-changing digital Foundation Shade Finder which provides more than 1.3 million unique answer combinations, giving consumers targeted personalized results. Now, with our Foundation Discovery Set, consumers can uniquely 'try before you buy' at hauslabs.com. We offer six different discovery sets that come with three samples each, complete with QR codes to find the ideal match and get more intel. It's an intuitive, seamless digital point-of-purchase program. We believe it will take the guesswork out of online foundation shopping and set the bar for a new way to shop for foundation."