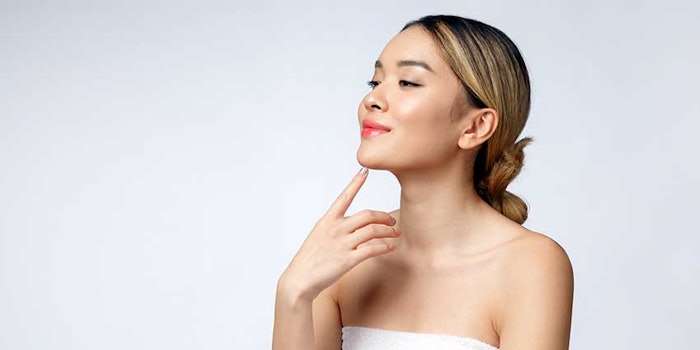 Chinese cosmetic consumers are hungry for innovation, whether it is bred in Asian markets or borrowed from Western beauty ideals. The region's trends straddle tradition and innovation, helping to create a unique beauty identity.
At PCHi 2019, ingredients to achieve these trends were put in the spotlight. Keep reading for the top nine standout trends from the event.
1. Anti-pollution Action
It is not hard to fathom why anti-pollution beauty is a leading trend in Asia; on the second day of PCHi 2019, the PM2.5 air pollution levels clocked in at 170 in Guangzhou, compared with just 53 at Cosmetics & Toiletries' and Global Cosmetic Industry's Chicago offices.
One ingredient created to combat the impact of this pollution is Clariant's BioDTox (INCI: Propanediol (and) Aloe Barbadensis Leaf Extract (and) Bioflavonoids (and) Brassica OleraceaItalica (Broccoli) Extract), which leverages users' circadian rhythms to reduce pollutant adhesion to skin. The company's Eosidin (INCI: Propanediol (and) Water (aqua) (and) Citrus Unshiu Peel Extract) also targets indoor pollution damage.
Meanwhile, Shanghai Huiwen Biotech Corp.'s marine Thiotaurine (INCI: Thiotaurine) inhibits oxidation, repairs cell damage, resists pollution-induced inflammation and inhibits melanoma cell growth.
Known for its skin detoxifying properties, charcoal powders were also displayed at the show, including Kobo Products' natural absorbant Charcoal Powder (INCI: Charcoal Powder) and Wanglin Biological's bamboo charcoal powder-containing mask formulations.
2. Color Considerations
Color applications are on the rise with Chinese consumers, according to Shiseido China Innovation Center president Shohei Tamura. Instead of simple routines, consumers are now spending more time (and money) on their makeup; they have added primers, foundations, finishing products and, more than anything, lip color.
J-beauty's transparent, dewy skin values are also followed in China. To achieve this look, Croda's Moonshine Effect Pigments (INCI: Varies) may be used in primer and foundation applications to achieve this glowing appearance. The company's Crystalide (INCI: Not Available) uses epigenetic regulation in skin care formulations to create a similar effect on the skin.
Sensient's displayed pigments at PCHi 2019 were intended to benefit skin, and went through additional testing to ensure the products are both food- and cosmetic grade for the Chinese market. The thought behind this positioning? If you are willing to put an ingredient in your mouth, it should be safe for skin.
3. Infant Care
China eased its long-standing one-child policy in 2016. After decades of this birth restriction, the country now has the potential for higher birth rates and a larger infant population than past generations, opening the door to targeted infant personal care.
Evonik's Rheance One (INCI: Glycolipids) launched in China at this year's PCHi. The fermented ingredient provides mild cleansing for a myriad of applications, including oral care and facial cleansing; not to mention baby care products such as mild shampoos and cleansing wipes.
4. Clean Beauty
Today's Chinese consumers are checking ingredient lists more frequently, according to Echo He, corporate communications manager at Clariant, and want quality products filled with natural ingredients they trust. In short—they are looking for clean beauty.
Cargilll's System 1.0 Skin Care formulation range uses three key ingredients meant to improve skin hydration and homogeneity, and target the values of "GreenEthic" and clean beauty-conscious consumers; these include animal welfare, ingredient transparency and brand commitment. One such formulation is Radiant Pearl, a lightweight, fast-penetrating serum designed for Asian skin.
5. Approaching Aging
Anti-aging is one of China's leading trends, and can be approached through various channels.
The "light medical beauty" concept makes use of noninvasive cosmetics that provide an immediate and visible impact, as opposed to invasive esthetic procedures. DSM tackled this concept with three formulations to mimic lightening, hydration and lifting effects. These formulations include the company's filler-like Syn-Hycan (INCI: Tetradecyl Aminobut­yroylvalylaminobutyric Urea Trifluor­oacetate) and Syn-Ake (INCI: Glycerin (and) Water (aqua) (and) Dipeptide Diaminobutyroyl (and) Benzylamide Diacetate) ingredients.
Another light medical beauty-fulfilling formulation is Givaudan Active Beauty's S3D Pro'Fill product concept. It includes PrimalHyal Ultrafiller (INCI: Not Available), which reportedly mirrors the effects of hyaluronic acid fillers. 
Based on well-aging principles, Seqen's Evolu'age (INCI: (Water (aqua) (and) Propanediol (and) Alpina Speciosa Leaf Extract) active was created with getto leaves, which are found among Japanese populations with long lifespans.
Finally, Greaf's Rejutime PTC (INCI: Water (aqua) (and) Pamitoyl Oligopeptide (and) Hydrolyzed Collagen (and) 1,2-Hexanediol (and) Ethylexyglycerin) takes another approach to effecively rebuild younger skin by interacting within its various levels.
6. The 'Smart Consumer'
Chinese consumers are willing to trade-up their routines in favor of more expensive, higher-quality cosmetics than in the past, especially if those products utilize what consumers perceive as a trustworthy ingredients. 
R&D teams must develop market-based products in order to stay in line with consumer values, according to Tamura. Beauty brands and suppliers can connect with consumers on social media (for instance, through China's WeChat platform) to determine the products that would add new value to their lives. These include the aforementioned anti-pollution products, along with cushion formulations and others.
7. Skin Lightening
For many Chinese beauty consumers, lightened skin is a beauty standard. Tamura links this to the high social position that is culturally portrayed by lighter skin in China, leading consumers to try to banish yellow tones from their skin.
BASF's DN-Aura (INCI: Not Available) is meant to epigenetically reduce pigmented spots on the skin, and is based on Lansium domesticum leaf extract in order to reduce melanin intensity. The company substantiated the ingredient's results through an in vivo study comprising female Chinese volunteers, highlighting its potential in the region.
8. Cannabis Potential
CBD has strong potential to be just as trendy in China as in Western markets. Hemp and cannabis have long been utilized in traditional, medicinal applications in the country, so ingredients such as Freshine's high purity CBD powder and cannabis full-spectrum oil attract consumers with their anti-inflammatory, soothing and anti-aging effects.
9. Skin Microbiome Possibilities
Concern over skin microbime health is not a large issue for Chinese consumers—yet. Since Chinese beauty trends tend to start in Western markets, Silab expects microflora-friendly formulations to gain speed in China within a few years, providing time for product development. Until then, the supplier's Ecobiotys (INCI: Yeast Extract) is meant to balance the microbiota of mature skin in order to rebalance and protect.
PCHi was held in Guangzhou, China, from Feb. 26-28, 2019.