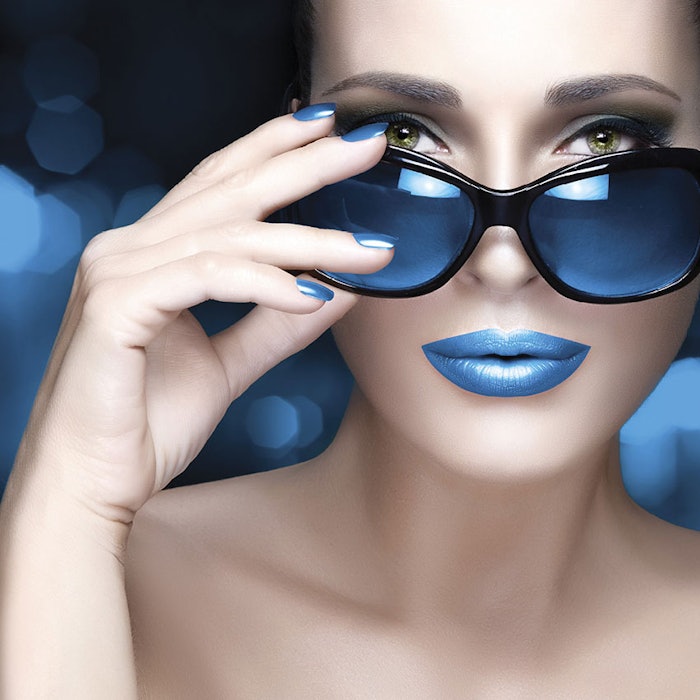 High definition (HD) or high resolution is the main aim for all modern tools able to reproduce images: televisions, cameras, video cameras and smartphones. This means that all of these tools are able to broadcast clear and realistic images, full of fine details. While this is an advantage for the viewer, it could represent unexpected problems for those appearing in these next-generation pictures and movies.
These high definition images capture pictures that are at least three to four times sharper than the old format. Indeed, they reveal details of any imperfection in the subject's skin or the applied makeup layer. When the government replaced the traditional analog signal with a digital one, professional makeup artists were presented with a challenge. Newly enhanced evidence of fine details led to the judgement of their professional capability to make clients look good on the HD screen.
In this age where "selfie fever" is growing, beauty-loving consumers are chasing the HD look using different approaches (apps, tutorials, etc.) and new, efficient makeup products. The five key rules of these makeup products are explained below.1–3
1. Moisturization: Skin must be well moisturized.
2. Coverage: Covering power must be high while maintaining a natural look with the capacity to improve the skin's appearance.
3. No shine: Skin must appear radiant not shiny with the use of the right highlighters to avoid enhancing imperfections.
4. Flexibility: The product should create an elastic film, able to adapt to the changing shape of the skin. Overly matte formulations can lead to a dry or flaky skin appearance.
5. Brows: It also is important to not to forget the brows, since they are "as individual as fingerprints." As such, each step in the treatment of HD brows is "completely bespoke from the personal consultation and shape design to tailoring and the aftercare process."4
The Oil Phase
Oil and fatty ingredients provide body to emulsion formulae, e.g., foundation, mascara, etc., and structure anhydrous products such as lipstick. They restore skin lipids, wet the pigments, develop colors and allow their easy distribution over the skin. Moreover, they give water resistance to the applied film and long-lasting effects.
In pigmented formulae, the most important property required is homogeneous color spreading and easy distribution capability, which are also related to the lubricity performance of the whole product. As a matter of fact, the most frequently used oils are easily spreadable. Since a non-greasy feel is desired after application, the evaporation of volatiles or absorption into skin of the emulsified oils is also frequently sought.
The choice of individual fatty ingredients can be difficult. All polarity classes of oils and fats are represented in the oil phases of marketed products, making selections difficult. Certainly, for obtaining a thin film, volatile silicones still remain the most commonly used ingredients. However, the most represented category is that of esters: multi-branched chains, including Guerbet alcohols, and long iso-aliphatic chains.
Modified silicone is often suitable to match the typical performance of heavy emollients: non-migration, transfer resistance and long-wear with the comfortable sensory properties of a light emollient; i.e., low tack, high degree of slip and easy to spread. Quantitative Structure-Activity Relationship (QSAR) modelling based on properties including the coefficient of friction, permittivity interfacial tension, contact angle and viscosity can be successfully used to tailor-make the desired characteristics by selecting emollients for the best solution.5
The main concern of makeup products before the 2000s was coverage. It has now become naturally enhancing skin appearance.
Polymers
Polymers play more than one important role in color cosmetics. The large difference of specific weights between pigments and the formula's remaining ingredients can easily lead to progressive pigment settling. Specialized thickeners of the continuous phase can prevent this occurrence. Moreover, the right blend of rheological ingredients allows formulators to adjust payoff, influence the drying time of the applied film and avoid the caking of powders, all while firmly holding the pigments to the skin surface for many hours. Evidently, this list of properties describes something more than just "stabilizing the emulsion."
Another aim of polymer producers is to extend their functionality so as to solve the problem of pigment wetting. Frequently, there are incompatibilities between water-soluble thickening polymers and certain pigments. For example, polyacrylic acids lose their thickening ability when combined with zinc oxide pigments. This is because the zinc cations on the surface of zinc oxide pigments interact with the carboxylic acid groups (anion) of the polymers, which can easily form aggregates.6, 7
In relation, the properties of the hydrophobically modified hydroxyethylcellulose (HHM-HEC, INCI: Sodium Stearoxy PG-Hydroxy-ethylcellulose Sulfonate) are quite noteworthy. Interestingly, HHM-HEC forms a hydrogel by self-association of the alkyl chains in water, where, at a concentration range above 0.6%, it is able to form an elastic network structure.8 Research on this elastic characteristic has led to a significant number of patent applications.9
In contrast, the recently developed bis-octyldodecyl dimer dilinoleate/propanediol copolymer is able to not only to improve the long-lasting capacity of the film, but also the wetting of both inorganic and organic pigments, leading to stable pigment suspensions with very high pigment loads. An example mascara formula (see Formula 1) containing the polymer at 1.00–2.00% reportedly defines the lashes and shows increased lengthening and curling effects; fluid foundations show higher coverage effects using the same amount of pigments (not shown).10
Silicone polymers also can offer the right performance. One of the most frequently cited ingredients is a crosspolymer derived from the combination of a dimethicone chain and a vinyl dimethicone. Used alone or in combination with fillers such as silica and/or beeswax or stearyl dimethicone wax, it imparts a smooth skin appearance and soft focus benefits when incorporated into a foundation formulation (see Formula 2).
Natural skin radiance is universally desired. HD makeup products should leave a light and smooth film with a skin-like finish.
Pigments and Pearls
In the 1980s, the appearance of coated pigments was revolutionary news. Since then, the aim of the formulator has been to choose pigments that are both compatible with a formula's external phase and whose levels can be reliably scaled up to consistently produce the desired color.11 Initially, standard coatings were made based on alumina and stearic acid. Since then, different coating possibilities such as silicone, silicone polymers, cellulose, lecithin and amino acids have become available.
Specific to HD color, innovative pigments developed from the deposition of titanium dioxide at variable thicknesses and/or iron oxide on mica or synthetic mica provide one of the best solutions. These options improve the color reproducibility of the finished product, enhance the natural look with the correct covering capacity, and provide a luminous effect for high face definition.
A plate-shaped pigment may be selected to achieve maximum shine due to the light reflection capability of the particle; however, such pigments can also emphasize the brightness difference of uneven surfaces, making lines and wrinkles more noticeable. In contrast, spherical pigments are often used to disguise fine lines and wrinkles in products such as foundations. According to Shiseido, a spherical pearl agent with a two-layer structure—consisting of a spherical powder of uniform particle size at the core surrounded by a layer of pearl particles—can allow the pigment to both disguise the wrinkles and create a vivid shine.12 Interestingly, much like their soft focus effects, the line between the chemistries in this latest generation of pigments vs. pearling ingredients is blurring.
Soft Focus
Soft focus components are crucial in anti-wrinkle/anti-imperfection products. As many formulators know, the optical phenomenon they impart is known as a soft focus effect, which is derived from a technique often used in photography to modify image contrasts so they reach a deliberate blur where the contours become less clear and visible.
In young skin, light reflected from the surface is largely diffused naturally. This effect contributes to the visual perception of softness and firmness.13 With increased age and cumulative photo damage, however, this natural soft focus effect is lost and negatively affects the perception of skin. In addition, skin surface contrast is increased as a result of shadows formed by the development of topographical features such as lines, furrows and wrinkles, further increasing the perceived age.14, 15
If the main concern of makeup products before the 2000s was coverage, it has now become a natural look; and it this expected to last for some time. Consequently, materials with scattering properties and the ability to disperse light and create soft-focus effects are receiving significant attention. In fact, today's formulation designs are focused on decreasing the amounts of titanium dioxide they contain due to its high refractive index, as well as the use of spherical particulates for high blurring effects.
Some studies of new materials are also focused on hybrid technologies combining transparent powders having a low-refractive index, e.g., mica or boron nitride, with materials having a high-refractive index such as titanium dioxide. These give the skin a natural look by evenly distributing the titanium dioxide across the skin surface.16 Furthermore, highly blurring materials including polymethyl methacrylate (PMMA) and silica can be treated with titanium dioxide, which also gives a natural appearance by evenly distributing and diffusing light.17
From spherical nylon to boron nitride platelets, a full array of surface and shape characteristics is available, including: plastic powders, sericite, PMMA, glass spheres, silicone rubber balls, cellulose (fibrous or globular), etc.; Formula 3 provides an example of some of these in a sample foundation.
HD makeup is meant to cover imperfections while maintaining a natural texture.
Finished Effects
The textures of foundations, similar to those of a primer or BB Cream, are clearly visible under HD conditions. Consequently, these formulas do not contain pearling ingredients, which as stated, can impart shiny properties and an oily appearance, emphasizing small wrinkles and skin irregularities. Further, powder products should be applied carefully to avoid a chalky or floury appearance. The airbrush makeup method is now widely used, especially in the cinema industry, because it gives a natural, clean and clear look to the face.
Natural skin radiance, whether white, brown or yellow, is universally desired. As such, HD makeup should leave a light and smooth film with a skin-like finish. Not too matte or dewy, the layer should aim to mimic the skin texture and be invisible; in other words, a perfect compromise between coverage, comfort and finish while keeping the natural look of the skin.
To counteract dark spots, redness and dark circles, or to dampen undesirable undertones of the skin, fillers are a perfect option, as they are capable of balancing discoloration and giving freshness to the appearance.18 These ingredients, called interference pigments, do not give a pearl finish. They are extremely fine and, consequently, opaque. They do not contribute to the visual appearance of the finished product, but they affect the color after application.18 According to the laws of physics and the rules of color mixing, the yellow/blue and red/green combinations cancel each other out in a white/silver effect. This means that in case of skin redness, the use of green interference pigments can be used successfully, or a yellow undertone can be attenuated by using a blue interference tone.
Finally, the lips should not be forgotten. HD lip products deliver a beautifully natural, wet shine finish. The may also be enriched with vitamins and emollient oils to moisturize the lips and give a visibly plumped look; the texture should also be creamy, with adjustable coverage, and comfortable to wear. Formula 4 represents this type of composition.
References
(All websites accessed December 2017)
rewardme.in/beauty/makeup/article/master-the-hd-makeup-technique
enotalone.com/health/19646.html
tinytouchups.com/makeup-forever-hd-foundation-review-11422/
beautyinhighdefinition.com/what-are-hd-brows/
B Moran et al, Performance of a heavy ester with the comfort properties of a light ester, IFSCC Magazine 4 (2012)
M Kosmulski, Chemical Properties of Material Surfaces, Marcel Dekker, Inc., New York, USA (2001) pp 150–151
T Ashida, Development of water-dispersible ultraviolet scattering agent, Fragrance Journal 9 (2013) 36–40
E Akiyama, Y Yago and K Fukuda, Development of a water-based long-lasting makeup: Dispersion of hydrophobically surface-treated pigments in an oil-in-water emulsion, IFSCC Magazine 3 (2014)
worldwide.espacenet.com/?locale=en_EP (key words: polymer, make-up, elastic, cosmetic)
Rigano Laboratories Srl R&D Report: CosmoSurf DDG 20 (INCI: Bis-Octyldodecyl Dimer Dilinoleate/Propanediol Copolymer) (Mar 2017)
P Tsolis, Troubleshooting stability, uniformity in foundations, Cosm & Toil (May 8, 2013)
shiseidogroup.com/newsimg/archive/00000000000971/971_k1a93_en .pdf
PJ Matts and ND Solechnick, Predicting visual perception of human skin surface texture using multiple-angle reflectance spectrophotometry (abstract), American Academy of Dermatology 58th Annual Conference (2000)
PJ Matts, Review: New insights into skin appearance and measurement, J Invest Derm Symposium Proceedings 13(1) (Apr 2008)
RR Anderson, Polarized light examination and photography of skin, Arch Dermatol 127 1000–1005 (1991)
S K Choi et al, A study of the optical properties of cosmetics measured by polarized light goniophotometry, J Optical Society of Korea 16(1) (Mar 2012) pp 36–41
T Okuura and Y Isiguro, Development of composite powder for 3-dimensional facial appearance and evaluation of the optical properties, Fragrance Journal 39 33–39 (2011)
M Becker, C Schmidt, V Hochstein and X Petsitis, Measuring and pre-selecting functional filler pigments, Cosm & Toil 127(5) 390–396 (May 2012)