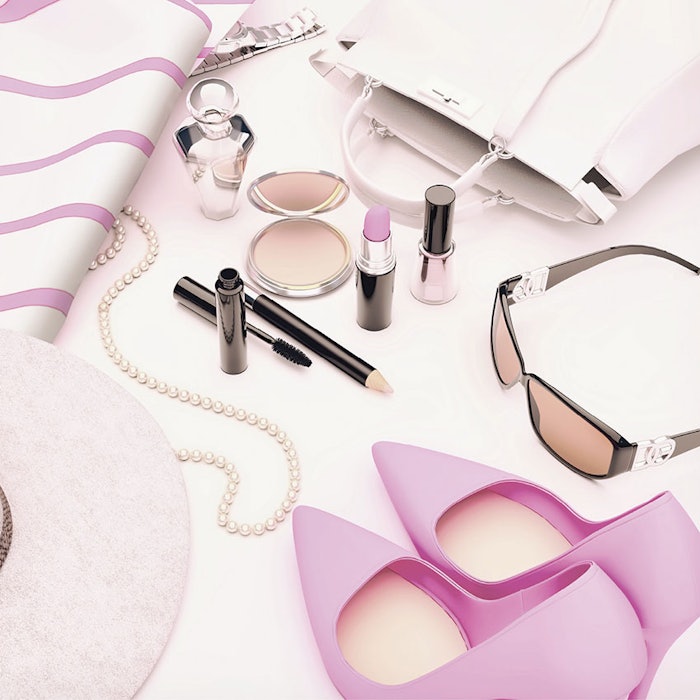 Color cosmetics capture consumers' purchase intents through need and desire. Color evokes an emotional connection; e.g., a lipstick blended in the perfect combination of organic reds and red iron oxides can conjure a fresh, bright red apple or deep, sleek red vinyl heels.
Conveying the right color and imagery can therefore fulfill consumer desires to project a given persona. Making this color connection is up to not only consumers, but also product developers to select and design pigment combinations for consumer appeal. This article describes tips and tricks to ensure successful shade-matching.
Shade-matching Basics
Regardless of the application category, the process of shade-matching for color cosmetics can be simplified if the appropriate resources and tools are available and leveraged. Initially, it is important to understand the regulatory restrictions of pigments based on the body site of application and region where they will be distributed. This will identify the available pigment selection for matching shaded prototypes and ensure the pigments are appropriate for a given formula and processing equipment. Optimal pigment performance is a critical aspect of shade-matching, as it enables reproducibility on the bench and during scale-up.
The art of matching a color cosmetic can be challenging, especially when no initial information is given regarding pigment combinations or use levels. Therefore, prior to receiving benchmarks, if the base formula was not previously shade-matched, it is helpful to set up a basic shade library to determine color extremes and see how color behaves in the formula.
Such a shade library should be developed for each formula base, since color will not translate identically. Color depends on formula type, the opacity of the bulk, wetting agents and ingredient ratios in the formula, among other factors. Thus, understanding the capacity of the formula's limits—i.e., maximum color concentration use levels and chemical interactions, will save time and effort.
Creating a Shade Library
To set up a shade library, document the results achieved with an actual set of color samples to reference the color combinations as they are created. Begin with iron oxides and titanium dioxide, then incorporate other permitted inorganic and organic colorants that might be used. Take eye shadow, for example. First determine what percentage of the formula will be allocated to colorants and fillers. Fillers play an important placeholder role—often referred to as quantum sufficit or "enough"—to help maintain a consistent texture and rheology.
Start by adding the highest amount of pigment that could potentially be used. If only 20% color is allotted in a formula, add 20% of a single pigment as the monochrome standard, then press the sample in the appropriate pan, conduct a drop test and evaluate the product's application to determine if it performs well. If this use level is acceptable, reduce the pigment to 5% using the filler for balance, then repeat the evaluation. If this is acceptable, then incorporate pigment combinations to observe the color developed; for example, a 1:1:1 ratio of red, yellow, and black iron oxide. Introducing other colorants at variable levels will identify how color interacts with and influences the formula.
Note that approaches to shade-matching as well as the pigments use can vary with product categories such as liquid foundations that compliment a range of skin tones and undertones; powder blushes bursting with organic colorants; or anhydrous eye shadows incorporating colorful pigment combinations and layered with effects pigments and pearls.
Typical colorants used in color cosmetics for shades in foundations, concealers, pressed powders for the face, eye shadows, lipsticks, lip gloss and eye and lip liners include red, yellow and black iron oxide, and titanium dioxide. Organics include FD&C Red 6, 7, 33, 28, 40; Yellows #5 and #6; and Blue #1. There are also carmine, ferric ammonium ferrocyanide, chromium oxide green, chromium hydroxide green, ultramarines and manganese violet. However, not all are permitted across every category or for use in all regions the product may be sold.
Creating a 2 × 2 chart on the forearm to apply color and compare with a standard gives perspective of how the shade appears at different angles.
Regulatory Constraints
Regulatory requirements for inorganic and organic colorants permitted in respective cosmetic categories are regulated by governing bodies in the United States, European Union, Mercosur, Japan and China for their respective markets. For current differences between permitted colorants and use levels, it is recommended to refer to each region's legislation. As stated, understanding the regulatory rules for the pigments used from the beginning will save time when selecting colorants to match shades.
Shade Benchmarks
Shade inspirations come from various sources, ranging from products on the market, paint chips, Pantone colors, pictures, trends or even the sunset. After a color cosmetic shade benchmark is selected, it will become easier to estimate pigment starting points once the product is developed and applied. Application to the forearm gives a better understanding of the top color tone, i.e., looking directly at the applied shade, as well as the undertone or supporting color beneath it—observed by changing the viewing angle.
The reproducibility of color is critical. The color developed on the bench must yield the same in repeat batches and in scale-ups. Formula processing is one aspect vital to color reproducibility; for example, adding more energy to a batch can develop a color further, so processing the same formula with the same level of pigments may produce a different color if the same energy is not employed.
When selecting colorants to match shades, a remedial should be considered in the event that the color is off during production and manufacturing, or if quality control accepts a lot that is within acceptable color tolerances but not an exact match. Using a remedial with supporting pigments will help to adjust the shade to match the lab or previous production, and is helpful even if only used in amounts as low as 0.001%.
Stability Considerations
In addition to color, the addition of pigments to a formula base will also affect its stability and rheology. Therefore, not only is the challenge to develop the desired color and ensure it abides by a regulatory set list, but it also is to confirm that no adverse effects in the formula occur by attaining this goal.
Testing shades and shade extensions is vital to ensuring that catalysts like heat, pH and light do not change the product. Also consider product placement on the commercial market into your stability testing; i.e., if the formula will be sitting on shelf in a drugstore. Testing color stability in a light box to replicate what may occur will also help to minimize consumer returns and complaints. Potential weather influences such as high humidity and variable temperatures should also be considered, especially when shipping the finished goods for distribution to sale sites.
Evaluating Color
The most reliable tool we have for evaluating color is the human eye. While each evaluator sees color slightly differently, we still are able to compare a sample to a standard for differences. If possible, drawing down the batch against the standard with a metal spatula, or using a drawdown bar on a black and white Leneta card can identify differences. These drawdowns can be measured using a spectrophotomer to give L*a*b* results with the degree of lightness, red/yellow, green/blue, color strength and hue delivered in the batch.
In vivo application also can demonstrate how the color produced fares with what was expected. Creating a 2 × 2 chart on the forearm to compare with a standard gives perspective of how the shade appears even at different angles. Also, applying the products to the palm of the hand or even the intended application site will capture how the products look, comparatively.
A lipstick blended in the perfect combination of organic reds and red iron oxides can conjure a bright red apple or deep, sleek red vinyl heels.
Tools to Improve Performance
Depending on the system, formulating with untreated pigments may, at times, yield undesirable results; for example, incomplete color development, instability, breakage in a pressed powder, settling in an emulsion, and poor skin feel and performance. This is due to the surface of an untreated pigment, which contains polar hydroxyl groups having adsorbed moisture, contributing to the agglomeration of particles, in turn causing poor skin feel and potential instability.
While wetting agents and emulsifiers can help with pigment development, formula limitations may not permit pigments to be consistently scaled up. Also, as noted, during shade adjustments, more energy is applied during formula processing, which causes untreated pigments develop further. Color dispersions or hydrophobic surface-treated pigments can help to address many of these problems.
Surface treatments often are used in the cosmetics industry to improve adhesion and wear, enhance physical and chemical stability, diminish the dusting of powders and to aid in pigment dispersion in various media. This helps to better control rheology and create textures that are more consistent with the shade range selected.
Color dispersions enable high pigment loads otherwise not be possible to be dispersed into formulas with relative ease. Dispersions offer benefits of uniform color, consistency and convenience while helping to provide the desired intensity and optimize product payoff. The use of pigmentary dispersions in shade-matching helps to circumvent time consuming intermediate steps to attain desired shades.
Conclusions
Color-matching is an art that results in a colorful masterpiece. Developing a shade library, however, supports the art with the science behind pigment interactions, to approximate what the anticipated shade will be. Ensuring the selected pigments conform to regulatory restrictions and formula stability/rheology requirements will open the door to a wide range of successful and marketable shades.
References
www.fda.gov/ForIndustry/ColorAdditives/ColorAdditiveInventories/ucm115641.htm
www.fda.gov/cosmetics/labeling/ingredientnames/ucm109084.htm
https://data.europa.eu/euodp/en/data/dataset/cosing-list-of-colorants-allowed-in-cosmetic-products