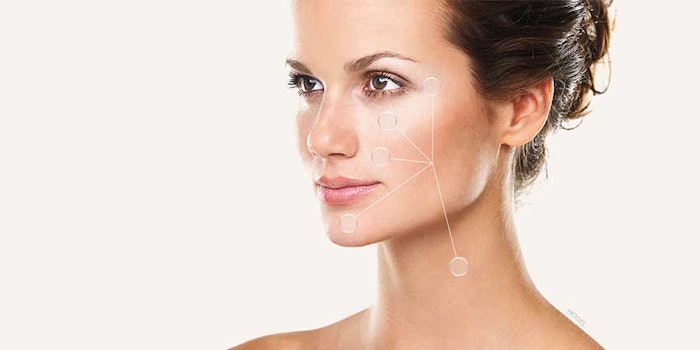 Aesthetics Biomedical announced scientific findings for its SoME skin care product, which is based on platelet rich plasma (PRP).

According to the company, the field of personalized aesthetics and the use of PRP to effectively achieve aesthetic outcomes is expanding, providing new opportunities to advance cosmetic science. For example, Aesthetics Biomedical developed all-natural cosmetic serum that combines proprietary skin care ingredients with the consumer's own PRP.
To determine the product's efficacy, a controlled, blinded, eight-week study was recently published in the Journal of Cosmetic Dermatology. Results indicated the proprietary SoME cosmetic base, when combined with autologous PRP, demonstrated identifiable clinical improvements in signs of facial aging, e.g., luminosity, radiance, smoothness, reduction in redness and skin lightening, after four weeks of product use. Enhanced performance was observed after eight weeks vs the control base alone. Notably, the product was tolerated by all skin types and incorporates a preservative system for antimicrobial and antibacterial properties.
The cosmetic base is designed to keep the SoME product and PRP stable for 90 days. As a point-of-care product, users visit their physician's office and have blood drawn that is centrifuged to obtain the PRP. The PRP is then added to three, 1-oz bottles of the SoME cosmetic base, providing for three months of twice-daily, at-home application. The user also receives a mini cosmetic refrigerator to store the product.
Lawrence Rheins, Ph.D., chief scientific officer of the company and one of the authors on the publication stated, "our ongoing studies continually provide critical evidence on the growing role of the platelet in aesthetic medicine and other skin indications." He noted an additional focus for 2020 will be to evaluate the role of the SoME product as a simplified anti-aging treatment to reduce the need for multiple skin care product regimens. In addition, future work will explore, "…the value of using the body's own platelet-rich biomolecules as the key source to provide a comprehensive regenerative aesthetic appearance."
For more information, see Aesthetics Biomedical.