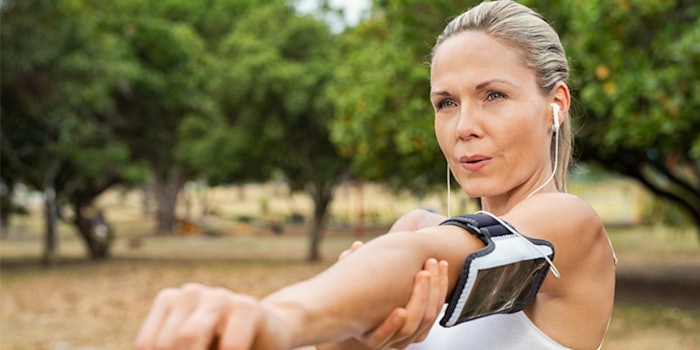 IFF/Lucas Meyer Cosmetics features a botanical active previously shown to reduce the appearance of wrinkles that has now been found to reduce excessive sweating after exercise. 
IBR-Snowflake is provided in two grades: NP 1001 and all natural 1003 (INCI: Leucojum Aestivum Bulb Extract (and) Water (aqua) (and—for all natural 1003) Glycerin), and imparts a Botox-like action to reduce facial muscle contraction. By relaxing facial muscles, and without movement of these muscles, the ingredient helps wrinkles to appear softened and reduced. In the same way, affecting muscle contraction around sweat glands reduces sweat excretion. These combined benefits from a single active are appealing for multifunctional skin care products. 
The Leucojum aestivum bulb extract underlying this product is based on an anti-aging technology originally from IBR Ltd., now a part of IFF/Lucas Meyer. The technology captures and transfers the flower bulb's dormancy capabilities to rejuvenate the skin. This has been shown to slow cell proliferation by preserving telomeres, in turn preserving cellular youth and improving skin appearance. 
IBR-Snowflake also was found to increase the natural defenses of skin through increased expression of the antioxidant enzyme superoxide dismutase. 

For more information, contact IFF/Lucas Meyer.